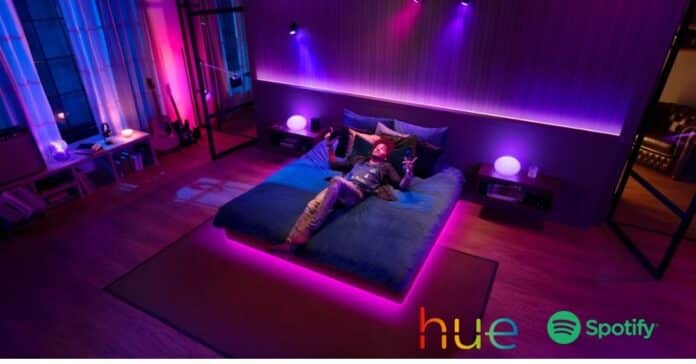 Advertisement
[adrotate banner="23"]
The first-ever deep integration of lighting and music presents users with an experience like no other. The new feature was rolled out, among Philips Hue App 4 users from September 1, 2021. This new algorithm creates an advanced light script for each song, the lights match the beat of the song along with the song mood, genre, and tempo.
A world leader in lighting, Signify announced, Philips Hue and Spotify, together provide consumers around the globe, with an immersive light and music show in the privacy of their homes. The Philips Hue system is further enriched with a new algorithm, that analyses the individual metadata of any song to create the light effect in terms of flashing, dimming, brightening, and colour-changing to reflect the song's rhythm and mood.
Advertisement
[adrotate banner="34"]
Spotify & Philips Hue have teamed up to enable this awesome experience through the Philips Hue app itself. With the addition of a Sync tab in the Philips Hue app, the experience is easily personalized.
"As a world leader in smart lighting, we are constantly looking for new ways to keep offering our Philips Hue users the most advanced smart lighting experience. Entertainment, of which audio is an important ingredient, is a key focus for Philips Hue. By innovating with Spotify as a leading industry partner, we are proud to offer our users an immersive integration of music and light in a way never done before." said Jasper Vervoort Business Leader Philips Hue at Signify.
The Philips Hue and Spotify integration are free to use with the Philips Hue App. Consumers require a Hue Bridge and colour-capable Philips Hue lights to truly enjoy the experience. The integration is embedded in the Philips Hue app, this ensures that the lights react to the music without any interfering background noise. Providing users with the complete flexibility of using any other applications on their cell phones. It works with any Spotify-compatible audio device, such as a speaker, smartphone, or computer.
"At Spotify, we're always working to create the best listening experience for every moment, via any device, throughout your day. We're looking forward to introducing our innovative integration with Philips Hue, where smart lighting will add another dimension to enhancing your next listening session," says Sten Garmark, VP of Consumer Experience at Spotify
For more information and specifications, please visit www.philips-hue.com/earlyaccess.
Advertisement
[adrotate banner="30"]