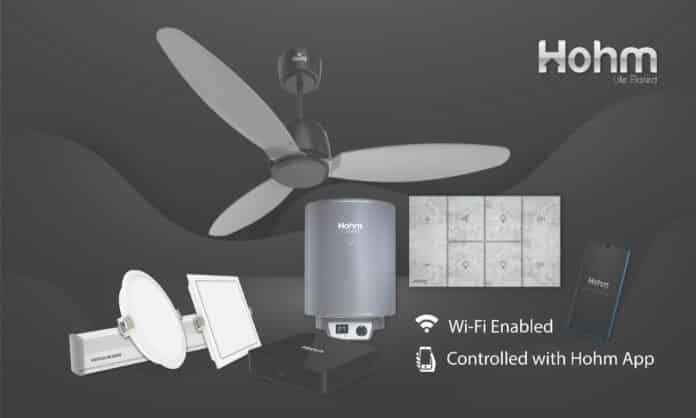 Advertisement
[adrotate banner="23"]
How do you play your songs or call a Cab ? by talking to the Virtual assistant on your smartphone or calling out the virtual assistant on your smart speaker at home.
Imagine the same virtual assistant also helping you convert your existing home to state of art "Smart Home" where all your home appliances, lights, the fan can be switched on or off as per your preference by simple voice command.
Advertisement
[adrotate banner="34"]
Presenting Hohm- smart automation solution from the house of Polycab India Ltd – Leaders in Wires and Cables and having a diverse range of FMEG Product portfolio. Polycab India has 25 in-house manufacturing facilities with strong Backward Integration and PAN India distribution.
With Hohm smart automation solutions, you can design a living space that obeys your every command. Now control your comfort, convenience and entertainment from any room in your house or any place on the planet.
Hohm's competence in automation spans products like Fans, Lighting, Switches, Water Heaters and other evolving solutions. Using state-of-the-art mobile app and voice control, you can enjoy your home experience to the fullest and make your life more comfortable, more efficient, and more secure.
Hohm Switchboard and Vivere Smart integrated panel designs blends with your interior and are available in various designs and finishes like Concrete, Brick, Marble, Glass, Corean & Wooden. These can be customized to match your floor, preferred colour or design. Hohm smart product range includes the following
Hohm Lanre Smart Plug
Hohm Zuerst Smart Water Heater
Hohm Lusiant Smart Panel
Hohm Avenir Smart Batten
Hohm Avance Smart Bulb
Hohm Stolz & Stolz-i Smart Fan
Hohm Krasa Smart BLDC Fan
Hohm Lighting product is your perfect companion and uplifts your mood with its various colours like warm white, cool white of colour of your choice. Your existing home appliances with Remote control can be converted to a smart device by HOHM Mirai IR Blaster which has compatibility with different types of Remote controls across the world. Conversion to a Smart home doesn't require any alteration in the existing set of wiring.
You can also reduce your carbon footprint by analysing the electricity spent with Hohm Smart Plug. Now stay aware of the electricity being used by your appliances through your smartphone. The geo-fencing feature turns off your devices when you leave your home and helps you save energy. Your smart home is ready with your desired preset and ambience when you are about to reach your home.
All HOHM products can communicate with each other and can be controlled via HOHM Mobile App. With a standard warranty of 12 months, HOHM gives you complete peace of mind with our dedicated customer service team providing service within 24 hours. Visit us on https://polycab.com/Hohm or call our helpline 1800-267-008 (From 9:30 AM to 5:30 PM Monday to Saturday) or email us at customercare
Advertisement
[adrotate banner="30"]