Advertisement
[adrotate banner="23"]
Most of us would have a vivid memory of seeing projectors in our schools/college auditoriums or conference rooms. Once regarded as bulky and inconvenient devices, Home Theatre Projectors have transformed themselves into sleek and compact devices that are very much in demand for home theatres and conference rooms.
There are several factors for the popularity of Home Theatre projectors, foremost among them is the improvement in technology and lower prices, more and more people are now investing in projectors for personal use. Another important factor is that projectors today are lightweight and portable with high resolutions, and produce colour accurate images that recreate an experience of a theatre in your personal space.
Advertisement
[adrotate banner="34"]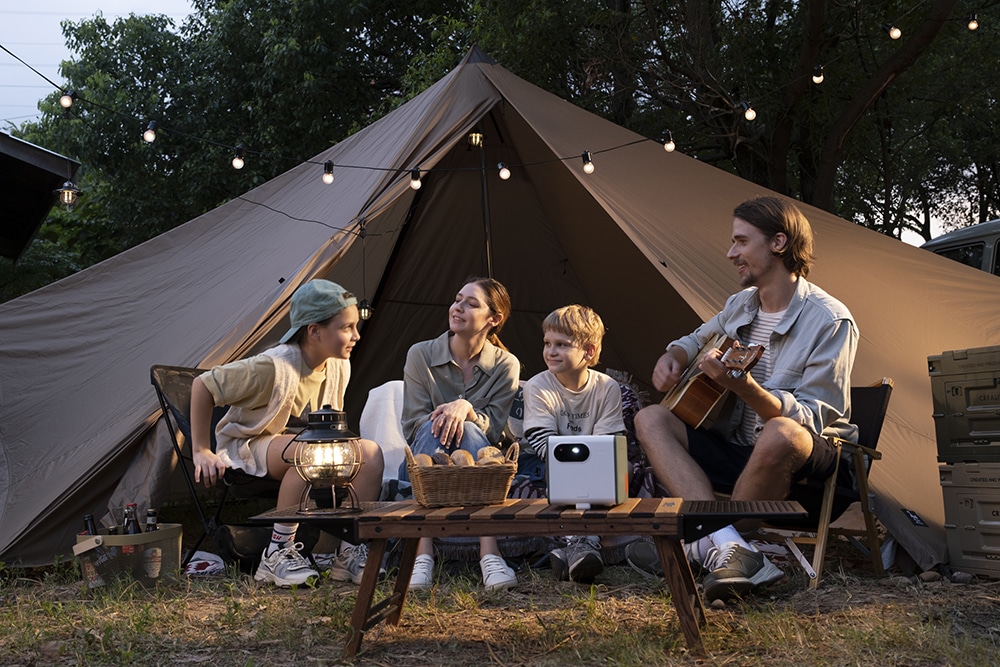 There are many different types of projectors available in the market including LED Projector, Full HD, LED, 3D, Mini and many more. But for the readers, Smart Home World has broadly classified them into three types based on their display property:
Cathode Ray Tube (CRT)
Liquid Crystal Display (LCD)
Digital Light Processing (DLP)
Cathode Ray Tube (CRT)
A CRT projector is basically a video-projecting device. It uses a tiny cathode ray tube that has high brightness for image generation. A lens is kept in front of the CRT face which focuses the image and enlarges it onto a big projection screen. A CRT projector focuses on the image or video with its lens to project it onto the screen. These images are processed with help of three separate coloured (red, green, and blue) CRT tubes.
CRT projectors are not portable as they are huge in size and heavy in weight. Their electricity consumption is also high because of the three light guns. In the initial stage, it may be difficult and tricky to set up a CRT projector, but the user's feedback is that CRT projectors have brilliant and outstanding picture quality.
Liquid Crystal Display (LCD)
A Liquid Crystal Display uses liquid crystal to project an image or object. This type of projector is generally used in computers, Laptops, TVs, portable video games, and cell phones. Displays in LCD technology are much thinner as compared to CRT technology.
Digital Light Processing (DLP)
DLP comes in two noteworthy structures i.e. 1 chip DLP and 3-chip DLP. Digital Light Processing makes use of micro mirrors called Digital Micromirrors. This device reflects light and shading onto a screen. These micro-mirrors are situated in a semiconductor chip and are little.
Essential Features to look for in Projectors:
Technologically upgraded features like the revolutionary 4K projector technology, futuristic sound, plug-and-play ease, and compatibility are some of the most common features of new-age projectors.
Home Theater Projectors: A typical home theater video projector should have a brightness of 2,000 lumens and offer at least the 16:9 or 16:10 aspect ratio for PC widescreen. It can also provide aspect ratios for NTSC (1.33:1), HDTV (1.78:1), Cinema (2.35:1), Video (4:3), Square (1:1), and Letterbox (1.85:1). The different aspect ratios cover the different screens you might need and the different video types your projector is capable of projecting.
It should also have a complete variety of video ports such as HDMI, VGA (D-Sub 15), DVI, Composite Video (RCA), S-Video, Component Video (YPbPr), LAN, USB-A, USB-B, Audio In (3.5mm) for projectors with audio included, and 5BNC. It's mostly used for projecting HD television and playing movies in your own mini-theater at home. It can also be used for Internet streaming and video games.
Smart Home World gives you a quick update on the latest options available in the market.
Optoma's CinemaX D2 features 4K UHD resolution and supports eARC audio, offering the ultimate cinematic experience. The ultra-short throw technology allows you to enjoy up to 120 screens just inches away. With amazing colours and 120 percent of Rec.709 gamut coverage. D2 can deliver rich colour performance and makes pictures even more realistic. With its enhanced gaming mode, it supports up to 240Hz refresh rate at 1080P and 60Hz at 4K UHD and is extremely low input lag down to 4ms. The ability to implement four-corner adjustments, 2D keystone correction, digital zoom, and warping at 3*3 matrix, allows CinemaX D2 to be installed anywhere.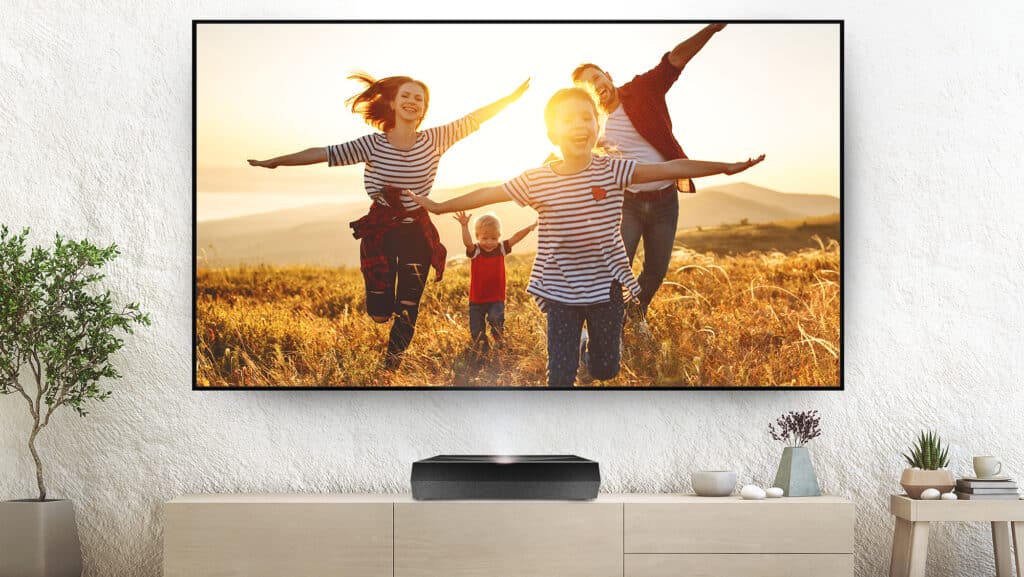 Product Features:
Projection System: Laser Dura Core
Resolution: 4K UHD
Brightness: 3,800 lumens
Video inputs: HDMI, USB, SPDIF, Analaog
Display Size: 120"
Tabletop or Ceiling Mount: Both
Different mode of Display: None
Connectivity Option: Wired or wireless – both
ViewSonic M2e Portable LED Projector
The ViewSonic M2e Instant Smart 1080p Portable LED Projector is the latest addition to ViewSonic's M series. The compact, stylish, lightweight projector contains a built-in streaming mechanism and can become a perfect day-out plan. The M2e is equipped with features like fast On/Off feature, auto keystone, and easy open stand for customized projection angles. M2e connects to your devices quickly and easily.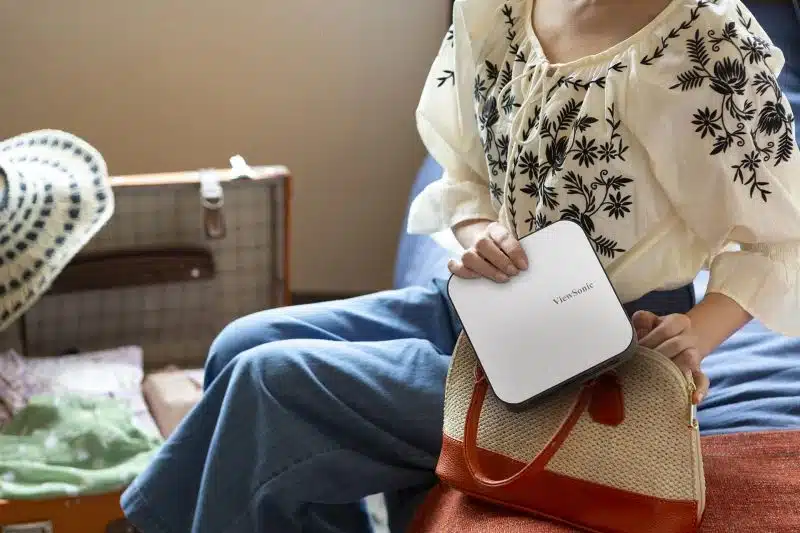 Projector's Features:
Installation: Easy to set up with instant autofocus and auto keystone
Extreme Portability: Only 1kg and small enough to fit in a handbag or backpack
Engaging Visuals: Cinema SuperColor+™ in Full HD resolution
Exceptional Sound: Integrated speakers customized by Harman Kardon
Expanded Connectivity: Wi-Fi, Bluetooth, USB Type-C
Eye-Friendly: Virtually free of blue light
Projection System: DLP based LED Technology
Resolution: 1920×1080
Brightness: 1000 (LED Lumens)
Video inputs: HDMI – 1, USB Type A – 1, Type C – 1 & Micro SD Card
Dimensions: Dimensions (WxDxH) with Adjustment Foot: 184x184x54mm
Display Size: 24″-100″
Tabletop or Ceiling Mount: Table Top
Different modes of Display: Presentation, Movie, Games, Brightness, HDR Mode
Connectivity Option: Wireless
XGIMI Aura is an excellent replacement for a TV. It has speakers with 15w each for crisp highs, dynamic, midranges and surprising bass. With built-in sound and streaming capabilities, these smart projectors can simplify a home theatre set-up. Aura instantly eliminates extra cables, soundbars and streaming dongles. Advanced lens technology allows them to throw huge images from short distances UST projectors altogether remove the need for complicated installation or rear positioning, extending the possibility of giant cinema screens to those in smaller homes. The Aura offers five default picture modes: Movie, Football, Office, Game, and Custom. Aura's giant 4K projected image really springs to life. Aura has Chromecast support built-in but the experience pales in comparison to a local App, and performance is inconsistent. The Aura has built-in eye protection that quickly cuts the laser light source if it detects interference. The 3D entertainment and gaming experience. The laser light source inside its Aura projector can last up to 25,000 hours.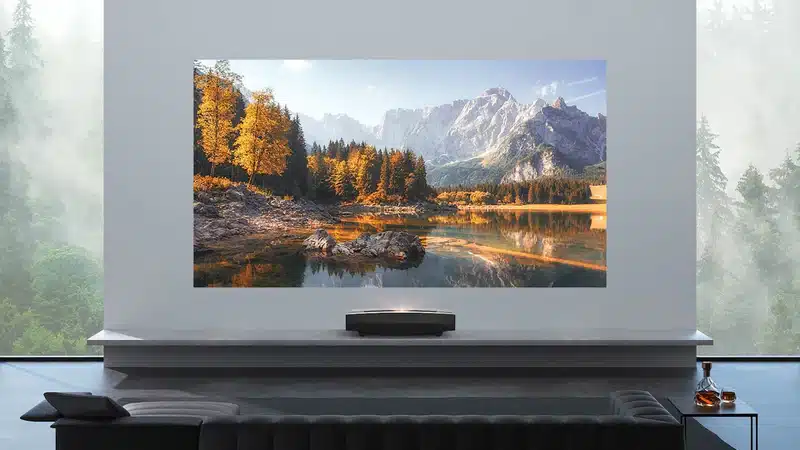 Product: AURA Ultra Short Throw Projector
Features: XGIMI AURA, Power Cord, Remote Control, (with Google Assistant), User Manual, Adaptor
Brightness: 2400 ANSI lumens
Video inputs: 3 HDMI 2.0, 3 USB 2.0, 1 headphone, WiFi, and Bluetooth 5.0
Dimensions: 0.9 by 3.9 by 3.9 inches
Display Size: 150-inch max display
Tabletop or Ceiling Mount: Table Top (8inch from the wall)
Different modes of Display: Laser TV, Android 10 Tv, 4K UHD
GS50 is a smart wireless portable projector with a rugged design, 2.1 channel speaker, Android TV and 2.5 hours of battery life. It comes with FHD resolution and 500 ANSI lumens with LED light of 20,000 hours lamp life in normal mode and 30,000 hours mode in Eco mode. The projector has USB-C display port and reader along with HDMI 1.4a. With 15-degree tilt adjustment, the projector can be quickly set up and has an autofocus for clear images and 2D keystone/Auto V- keystone for corner correction.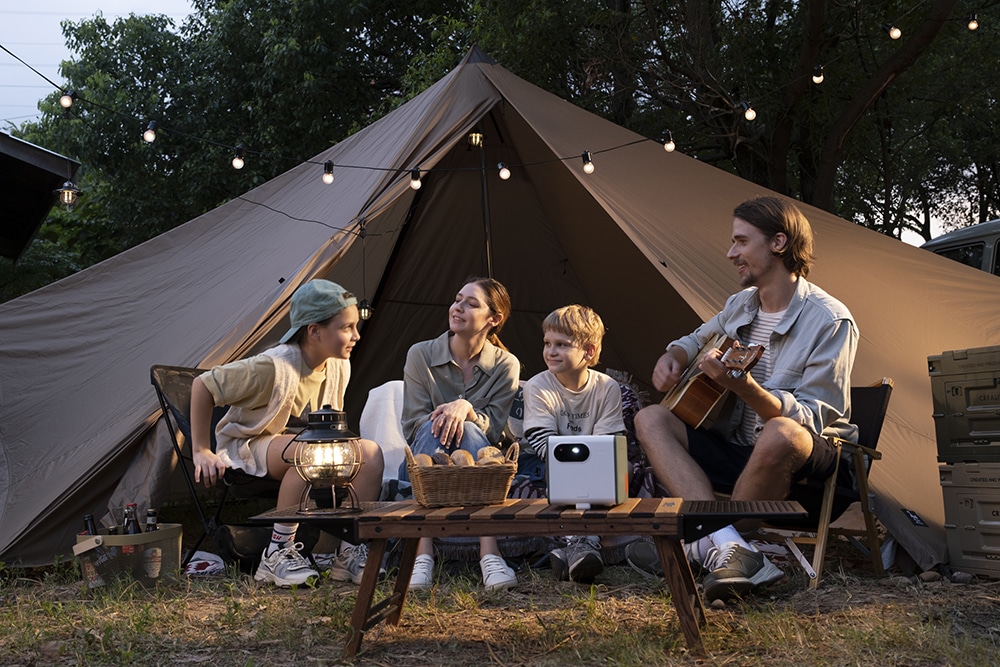 Projection System: DLP
Resolution: FHD (1080P) resolution
Brightness: 500 ANSI Lumens
Video inputs: HDMI, USB A, USB C, Aux Out, Bluetooth, Wi-Fi enabled
Dimensions: 186*154*146 mm/Weight: 2.3kg
Display Size: 30″ ˜ 100″
Tabletop or Ceiling Mount: Portable projector
Different mode of Display/Picture Modes: Powered by Android 9.0 dongle to stream Online content Airplay & Chromecast supported/ Bright, Camp Fire, Cinema, Day Time, Game, HDR10, HLG, Living Room and Sports.
Connectivity Option Wired or wireless: Wireless projection for multiple OS and devices
Compact 1-Chip DLPTM Projectors deliver smooth, detailed images for an insightful visual experience. Some of the main features are it has Quad Pixel Drive, Panasonic's original 2-Axis Pixel-quadrupling technology, which creates crisp, sharp and smooth 4K images. Frame rates up to 240 Hz/1080p are supported with 8ms latency or less. Rich colour enhancer produces deep, accurate colours for artwork. Flexible, simple to use, and easy-to-integrate 02 Wide-range V/H Lens-Shift and 2.0x zoom enhance installation flexibility while two CEC-compatible HDMI® inputs and Digital Link simplify operation and integrate the projector into 4K system infrastructure. The projector is highly reliable with a heat-pipe cooling system that enables the implementation of full hermetic sealing for the airtight optical block, eliminating the need of a filter for 20,000 hours of maintenance-free projection. Multi-Monitoring and control software with optional early warning functions enhances reliability and prevents unexpected downtime by sending an alert before problems occur.
Projection System: Laser 1-Chip DLP™ projector
Resolution: 4K (3840 x 2160 pixels) (With Quad Pixel Drive)
Brightness: 6,000 lm / 6,200 lm (Center) 4
Dimensions: 498 x 168 x 492 mm (19 5/8˝ x 6 5/8˝ x 19 3/8˝)
Screen Size: 1.02–7.62 m (40–300 in), 16:9 aspect ratio
Tabletop or Ceiling Mount: Table Top / Ceiling Mount Supported
Connectivity Option: Wired or Wireless: Wired and Wireless Option is available with Dongle
This projector has FULL HD UHD 4K 8.3 Megapixel Iris Mode that is designed for both bright and dark environments. It has exceptional picture quality advanced wireless connection latest technologies for home entertainment. With 8.3 megapixels utilizing 4K UHD Laser technology, LG CineBeam delivers impeccable precision and detail up to 300 (762cm) screens. With a 2,000,000:1 contrast ratio Black level, it can express the deep black. And it accurately represents colours, thanks to a wide colour gamut 97% of DCI-P. The eARC delivers up to 32 channels of audio, including 8-channel, 24-bit/192KHz uncompressed data stream at speeds of up to 38Mbps. You can share the screen and sound conveniently with AirPlay (for iOS devices), Screen Share (for wireless Miracast® supporting devices), and Bluetooth pairing. The projector displays hi-resolution and hi-information images by HDMI 2.1 connection, can output 10-bit images with 444RGB specifications. You can share the screen and sound conveniently with AirPlay (for iOS devices), Screen Share (for wireless Miracast® supporting devices) and Bluetooth pairing.
Features: Wisa /Auto Calibration/12v trigger
Light Source: DUAL LASER
Resolution: 4K UHD (3840 x 2160)
Brightness: 2700 ANSI Lumens
Video Inputs: HDMI x 3, USB Type-A x 2, RJ45 x 1
Dimension: 337 x 410 x 145
Display Size: 40″-300″
Connectivity Option: EARC – OPPTICAL OUT HDMI WIRELESS
Projection System: Projection System DLP
With technically upgraded, compact and competitively priced options that equipped to recreate a cinematic experience at your home, we are sure Home Projectors are no longer restricted to the luxury segment but we would vouch that they are very much an affordable luxury.
Advertisement
[adrotate banner="30"]