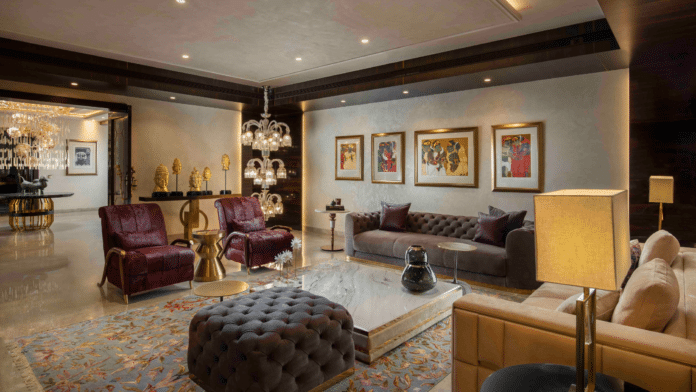 Advertisement
[adrotate banner="23"]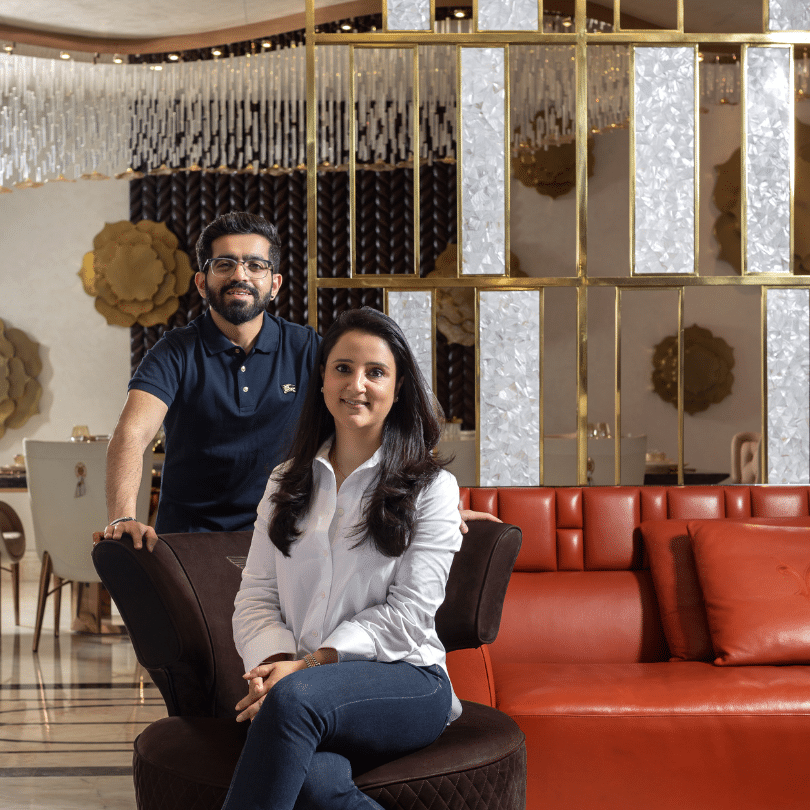 Design Deconstruct masterfully blends opulent design with the convenience and innovation of smart technology in crafting this exceptionally luxurious home, perfectly mirroring their distinctive lifestyle.
Rishabh Kapoor and Monica Chadha, Director and Principal Designers of Design Deconstruct are seasoned professionals renowned for crafting opulent living spaces for their clients. They have embarked on their most personal and captivating project to date: designing their own lavish dream home.
Advertisement
[adrotate banner="34"]
Seamlessly blending the allure of plush design with the convenience and innovation of smart technology every corner of their home is a testament to their vision of opulence, where sumptuous fabrics, exquisite materials, and artistic details coexist harmoniously with cutting-edge automation and intelligent systems. "It's a fusion where timeless elegance meets the future, where comfort is elevated by the touch of a button, and where our passion for design and technology intertwine to redefine modern living," says Rishabh Kapoor, Director and Principal Designer of Design Deconstruct.
This luxurious farmhouse located in Delhi's Chattarpur Farms is spread over an area 2,150 sq. meters built-up area spread over five levels with six bedrooms, six bathrooms and five powder rooms for a family of four. The home boasts flamboyant design elements such as a floating crystal art piece, ceiling-hung paintings, and floor-to-ceiling chandeliers, creating a larger-than-life ambiance and seamless smart technology.
Design Highlight
Bold architectural features like expansive double-height decks with balconies and a towering double-height ceiling on the second floor give the house its extravagant character. Designed by Monica Chadha, Director and Principal Designer of Design Deconstruct, the space balances opulence with practicality, emphasizing clean aesthetics and ease of maintenance.
The layout caters to both formal and informal guest entertaining while ensuring clear separation between public and private areas for privacy and efficient housekeeping. The upper ground level features a serene Buddha statue, a chic urban-industrial lounge, a study, and a pantry.
On the first floor, the formal drawing room boasts distinct seating clusters and striking artwork. The adjacent dining room stands out with a remarkable crystal art piece suspended from the ceiling over a unique onyx dining table. The space is adorned with exquisite furniture and stunning chandeliers, adding an exclusive touch.
The residential quarters span the second and third floors, housing spacious master bedrooms with walk-in wardrobes and en suite bathrooms. A double-height family lounge and a beautifully done-up puja room highlight the second floor. The third floor holds additional bedrooms, maintaining a connection with the second-floor lounge.
The lower ground floor is a hub of recreation and entertainment, featuring an indoor swimming pool, a versatile party hall, a well-equipped gym, and a 10-seater home theater with automated recliners.
Custom-made furniture by Design Deconstruct lends a unique touch to each space, while statuario marble staircases with rose gold railings exude elegance. This carefully crafted design allows for a distinctive and appealing atmosphere throughout the farmhouse.
Smart Automation Products Integrated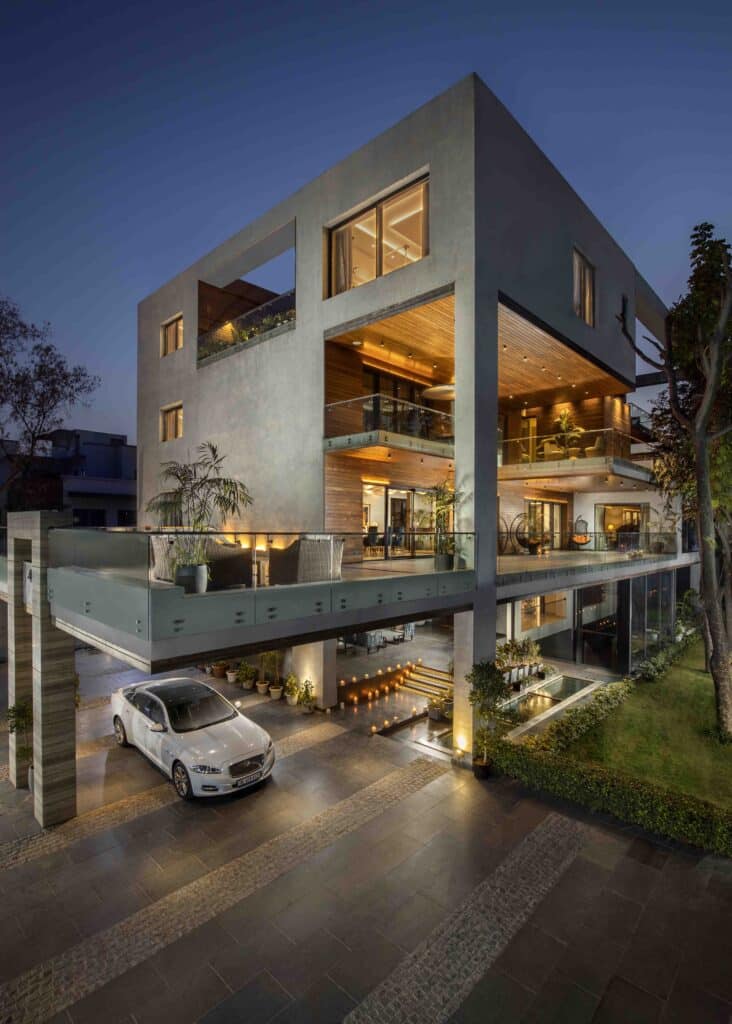 The designer duo trusted the job to Technexy Home Automation to seamlessly integrate technology into their plush home. In the living and dining area, the designers have seamlessly integrated advanced smart lighting control systems, featuring renowned brands like CONTROL4 and ABB. These systems provided effortless adjustments to the ambiance and mood at the mere touch of a button. Complementing this, motorized curtains and blinds were incorporated for a harmonious blend of natural light and privacy control.
Elevating the home theatre experience, cutting-edge automation technology took the spotlight. The theatre boasted automated recliners, paired with top-tier sound systems, creating an unparalleled cinematic immersion. Bedrooms were not left untouched by the wave of smart home automation. This enabled personalized management of lighting, temperature, and entertainment devices, using brands like Yale Lock, Hikvision, and Peplink for networking.
Envisioning a centralized approach, the team implemented an overarching home automation system that streamlined various facets of the farmhouse. From HVAC controls to security and surveillance, the entire spectrum was unified under a singular system. This breakthrough allowed remote access via smartphones or tablets, adding convenience and peace of mind.
Reflecting on their experience, "The journey of curating this luxury farmhouse at Chattarpur Farms was truly exceptional for Design Deconstruct. Marrying opulent design elements with functionality, we crafted a visually striking space that harmonized seamlessly with the family's lifestyle. The fusion of luxury and minimalism ensured an inviting environment that was both aesthetically pleasing and easy to maintain." adds Monica Chadha, Director and Principal Designers of Design Deconstruct.
Incorporating standout design features such as the suspended crystal art piece and majestic chandeliers, we infused exclusivity into the decor. With meticulous planning and unwavering attention to detail, each floor gained its distinct character, culminating in an elegant and cohesive haven for the family.
Encouraging the budding professionals to opt for Smart Automation Monica says, "Our advice is to embrace the power of Smart Automation, as it can revolutionize the functionality and comfort of any space. Prioritize understanding your client's unique needs and lifestyle, as this forms the bedrock of successful implementation. Smart Automation, thoughtfully integrated into specific areas, imparts substantial value to home interiors."
Photograph Credit: Atul Pratap Chauhan
Reference Guide:

Location: Chattarpur, New Delhi
Built Area: 23,000 sq ft
Architect/Interior Designer: Monica Chadha
Systems Integrator: Technexy Home Automation
Automation System Used: ABB & CONTROL4
Lighting: Zaillux Lighting
Security Cameras: Hikvision
Digital Locks: Yale Lock
Biometrics: Yale
Smart Locks: Yale Lock
Networking Devices Used: Peplink
Advertisement
[adrotate banner="30"]