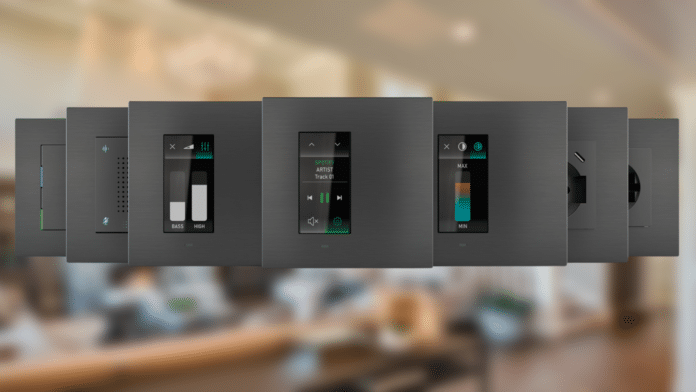 Advertisement
[adrotate banner="23"]
Ekinex, the Italian-based Home Automation and Electronic Device manufacturer, launched Signum, a new line of wall control devices. This new line introduces a different way of interpreting the wall control concept. 
The new Signum "virtual" push-button controls, have a full-colour visual display, haptic feedback, a tactile interface, and Bluetooth LE, allowing users to customise text and graphics from mobile apps.
Advertisement
[adrotate banner="34"]
The Signum series is manufactured to order and offers a higher level of personalization by allowing users to design their own virtual button, where functions and visuals can be selected separately. It is a KNX standard "virtual" button, built on a borderless IPS display, with the ability to modify each button via a dedicated app.
Through the Ekinex configurator, each element can be customized and inserted into your project up to the generation of a request for a quote that is sent to the sales team together with the details of the chosen products. Even after installation, users can alter the position, symbols, and texts of some keys' characteristics.
The pushbutton with a touch display from the Ekinex Signum family is a KNX device for command-and-control functions such as lighting device dimming, motorized drive control, and utility on/off control.
Thanks to the embedded temperature sensor, it can also be used as a temperature controller for a space or environment. The device is designed to function with KNX home and building automation systems. It is designed to be installed flush against a wall on a round or square surface and contains a KNX bus communication module. mounting box with 60 mm-diameter centre-to-centre fastening holes.
A deep or surface series plate is required to finish the button. The dedicated Ekinex tool software allows for customization of each button through Bluetooth low energy (BLE), and various button features, such as text and symbols, can be changed even after installation.
The lighting and other features ensure optimal readability when using the pushbutton and enable visual comfort at night thanks to the proximity sensor built into the plate (must be ordered separately).
The device is powered by the KNX bus at a self-30 VDC voltage and does not need an additional power source.
For More Information Visit: Ekinex.in
Advertisement
[adrotate banner="30"]