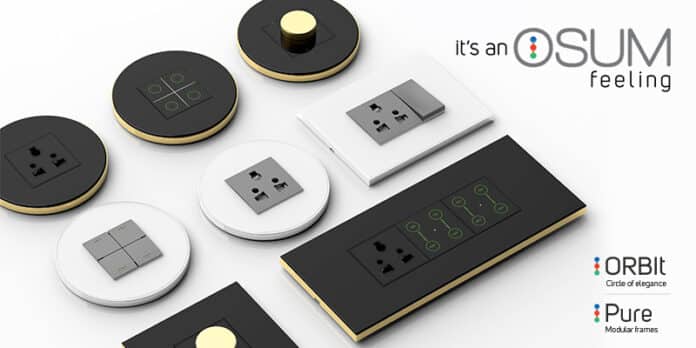 Advertisement
[adrotate banner="23"]
Considering the peculiarity and the customisation demand of the Indian market, Sachin Motwani, Director, Osum Smart Innovations feels that a hybrid model of home automation is ideal for this market.
What, according to you, are the major impediments, which are restricting the switch to smart homes in India?
Advertisement
[adrotate banner="34"]
In India, everything works through switches whereas in the US market even in a bedroom or living room, barring one or two switches in a conventional home, the rest is operated by way of remote control. Indians are used to the wall controls. Secondly, Indians don't have the mindset to fix things themselves. We are dependent on an assistant for everything. So, wireless automation in India is not very successful because they are not very durable. There will always be some glitches and people don't know how to fix it. On the other side, in the wired solution, European brands offer guaranteed durability and stability. But the wiring is very complex and the cost is also on the higher side. So, a hybrid product model is more feasible for the Indian segment. Yet people have not understood this. Then comes the luxury aspect; people want luxurious interiors and opt for smarter products. Customisation is key for the Indian market. And we make sure everything is matched with the interiors.
India is a price-sensitive market, does that cause a hindrance?
Home automation segment has a different customer base. Our customers are those who are willing to spend more on interiors. And lighting plays a significant role in enhancing the interiors. It is natural that this segment looks for smarter controls and better lightings. People are learning the benefits of smart homes. And they are ready to spend a little more for such smart homes.
How compatible are your products for retrofit?
It's almost like a retrofit. We also offer a complete retrofit wireless solution. Also, the bouquet offers a combo of wired and wireless products. Wired are recommended for large homes with 50-60 switches, as it is a durable solution. Wired solution is nothing but a single paired wire that is needed from board to board. It gives you stability. Every module has a Wi-fi chip inside, thus it gives the best of both worlds.
What kind the different types of control devices you offer?
We offer all kinds of control devices – switches, controller, access through app control, voice control, and command-free control. So a customer can choose according to his/her preference. For example, when you return home from work, you know that you want to take a hot bath and you want your room to be chilled. So when you are 2-3 kms away from home your geyser and AC will turn on automatically. You don't have to go to the app to turn it on. When sunsets in your location, you want certain window lights or living room lights to come on at 30% or 40% or your garden lights to be on, it can be individually programmed. Customisation is possible to a great extent.
Can you highlight the benefits of shifting to smart homes?
There are multiple benefits: controlling multiple devices with a help of a single device, convenience, access through your smartphone, set lighting according to different usage and occasions, controlling the curtains etc. All this leads to cost-saving.
Can you quantify the savings?
While it depends on the usage, anywhere between 25-30% of savings can be made.
What are the fast-moving products?
The Scene-Controllers are popular as architects and designers prefer this over the large panels or multiples switches. This is a small device that controls the entire house.
Advertisement
[adrotate banner="30"]