Advertisement
[adrotate banner="23"]
Smart and intelligent building solution have evolved rapidly in the past 5 to 10 years with a global shift from stand-alone building automation systems to advanced integrated systems with building performance optimization capabilities keeping personalized experience and occupant's well-being at the center of the design. The pandemic has reinstated the criticality of the new smart building narrative and accelerated the adoption of such solutions in the past one year.
"Smart and intelligent building strategies need to be designed with a long-term vision to deliver enterprise-level performance optimization prioritizing energy, comfort, security (physical and cyber) and productivity", says Anirudh Bhaskaran, Senior Industry Analyst- Energy & Environment, Frost & Sullivan.
Advertisement
[adrotate banner="34"]
"Some of the sophisticated smart building solutions available in the global market are cloud hosted; leveraging AI/ML capabilities to integrate IT and OT data to automate operational processes, assets, and people ensuring business address critical challenges related to performance, sustainability and safety. The expected outcomes of such smart building solutions are an increased energy cost savings, reduced operating expenses and enhanced occupant experience. It also provide a healthy building environment and create a sustainable built environment", he adds.
The buildings in India equipped with legacy building automation and building management systems are capable enough to provide the first two outcomes mentioned above, if operated efficiently and diligently. However, the majority of the building operators in BAS or BMS-equipped buildings use the legacy systems for only basic purposes such as set point management and time scheduling due to lack of skills and lack of awareness on the actual system capabilities.
The scenario is fast changing in the Indian building technologies industry as the building operators undergo various training programmes and workshops on the building automation and building management systems. The increasing awareness on the value generated by smart and intelligent buildings; increasing penetration of transformational technologies such as AI/ML, IoT, Cloud in buildings; India's continued commitment towards climate change and compliance to Paris agreement; and ever expanding commercial segment of the Indian construction industry is expected to drive the Indian smart and intelligent building market to grow at a CAGR of 12% to 17% from 2020 to 2025.
The large commercial offices, airports and luxury hotels have the maximum adoption of smart and intelligent building solution with integration and optimization capabilities, whereas high residential complexes, public institutional and industrial buildings have high growth potential for future adoption. Some of the famous smart buildings promoting energy efficiency, sustainability and safety are Cisco's Smart Campus in Bangalore, Indira Gandhi International Airport in New Delhi, Chhatrapathi Shivaji International Airport in Mumbai, ITC Maurya in New Delhi, Apollo Hospitals in Ahmedabad, Indian School of Business in Hyderabad, DLF Mall of India in Noida, DLF Infinity Tower in Gurgaon, Omkar 1973 residential tower in Worli and The 42 residential tower in Kolkata.
AI with machine learning and deep learning capabilities is key for transforming smart buildings to cognitive buildings that deliver enterprise-level performance optimization with personalized experiences without compromising occupant's comfort.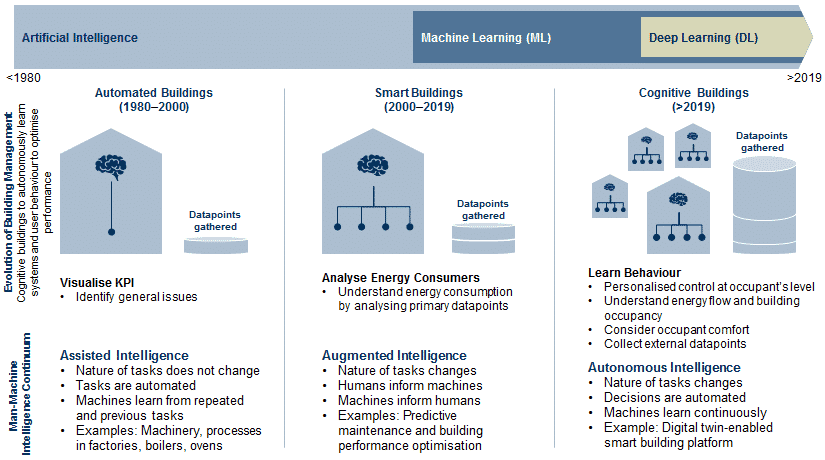 Healthy buildings is another key service that gained momentum in 2020 due to the pandemic which forced the leading building technology and HVAC companies to launch healthy building services on top of their existing solution to explore new opportunities in both advanced and emerging markets. Some of the healthy building services and post-COVID-19 applications available in the market are Face mask detection, temperature scanning, social distancing, contact tracing, compliance monitoring, IAQ-based ventilation, and UV-C disinfection.
The growth environment and opportunities are huge for building technology players offering smart building solutions targeting the Indian market in the post-COVID-19 environment. However, the flexibility of smart building players to customize offerings with attractive payment model, installed base of legacy systems and the widespread reach of its distribution channel partners would determine the success of smart building players in the Indian market.
Advertisement
[adrotate banner="30"]