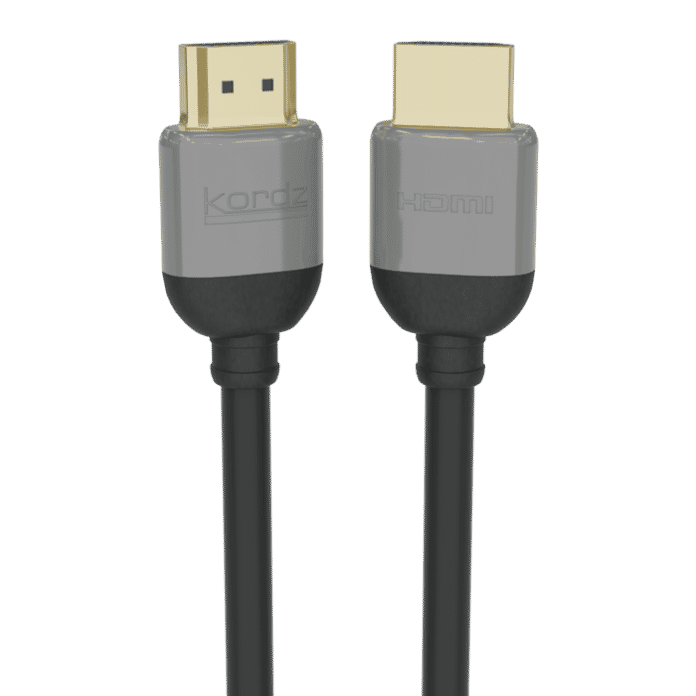 Kordz revealed its Ultra High Speed certified PRS4 HDMI Cable series at Integrated Systems Europe (ISE) in Barcelona as a sturdy, certified cable solution that satisfies the rigorous needs of professional AV integrators. The new range of HDMI cables combines Kordz's signature reliability with the full features and benefits of the latest HDMI standards across the whole range. It also fully supports eARC for immersive audio.
Kordz PRS4 HDMI Cables address market concerns caused by uncertified and unreliable HDMI devices that claim to fulfill Ultra High-Speed HDMI Cable standards but fail to do so. Reliable 48Gbps capable HDMI cables are becoming one of the more frequently requested products by distributors and their customers. Kordz's sophisticated manufacturing procedures have allowed for increased product durability without sacrificing performance in a cable that further provides a solid video signal.
Advertisement
[adrotate banner="34"]
"Achieving 48Gbps support up to 20m without external power is amazing," said James Chen, Managing Director, Kordz. "For immersive audio, it is now mandatory to fully support eARC in HDMI cables, so we have beefed everything up whilst maximizing flexibility, robustness, and using compact connectors that fit firmly. This is all consistent with our belief at Kordz that professional integrators should be able to work faster while offering flexible solutions in a more effective product that's robust enough to stay in the wall for years."
The Kordz PRS4 HDMI Cable range features the high-level finish and quality that AV professionals expect from Kordz. They are manufactured using safe materials and every cable is individual performance tested to ensure absolute confidence in the Kordz two-year guarantee for long-length active optical cables and lifetime warranty for PRS4 passive cables.
Each Kordz PRS4 HDMI Cable is engineered and constructed to assure integrators of installation success and ease. Featuring precision-engineered diecast perfect fit connectors and robust materials to ensure reliable connectivity, Kordz PRS4 HDMI Cables are available in installer-friendly lengths of 0.5m, 1m, 1.5m, 2m, 3m, 4m, 5m, 10m, 15m, and 20m, all supporting 4K HFR and 8K devices plus dynamic HDR.
The new Kordz PRS4 HDMI Cables were displayed at ISE 2022 in Barcelona from May 10-13, at the Kordz stand 2P200, Hall 2, Fira de Barcelona, Gran Via.
Advertisement
[adrotate banner="30"]