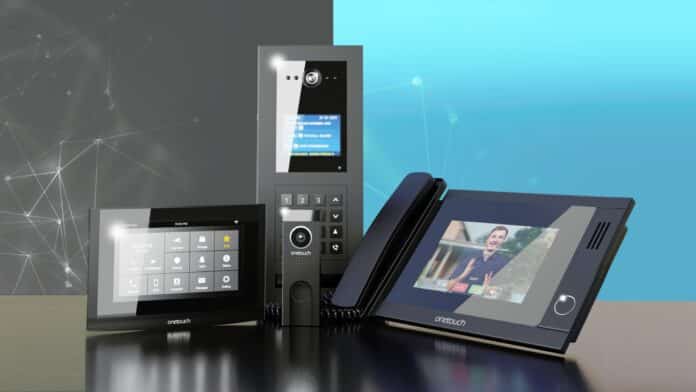 Advertisement
[adrotate banner="23"]
Onetouch is dedicated to introducing its customers to cutting-edge technologies that enhance the security of their homes. The company's primary focus is on creating secure, reliable, and cost-effective solutions to various security challenges faced by homeowners. As part of its commitment to communication and security, Onetouch is pleased to announce the launch of several new products. These offerings demonstrate Onetouch's ongoing efforts to provide top-notch security solutions.
SIP Video Door Phone
Advertisement
[adrotate banner="34"]
The Onetouch SIP video door phone is a comprehensive security solution that combines the Video Door Phone Console (V8 series) and Video Doorbell (C1). Utilizing SIP (Session Initiation Protocol) technology, this system is highly adaptable and can be easily integrated with other smart home devices and Apps. Both the doorbell and VDP are suitable for use in both single-family homes and multi-unit residential buildings, making them a versatile choice for contemporary homes. The combination of the VDP console and doorbell offer a quick and simple way to enhance the security of any residence.
The Onetouch VDP is equipped with a camera and motion sensor that detects visitors and automatically stores snapshots for later reference. In the event of a visitor, the system sends real-time notifications to homeowners or security control rooms in multi-unit buildings. Through smartphone integration, the Onetouch VDP allows for remote monitoring and control from anywhere in the world, providing peace of mind for homeowners even when they are away from home. The intercom feature, available for large premises or multi-unit buildings, enables video calling through the VDP device or integrated app on a smartphone. The Onetouch VDP can also be seamlessly integrated with the Onetouch Digital Door Lock for added security.
Salient Features
7-inch display
120-degree wide-angle lens
Integration with door lock system
Inbuilt motion sensor
Wifi and wired connectivity options
Integration with sensors
Smartphone integration
IP camera monitoring capability
SD card slot for storage
Night vision capability
Standard POE (Power Over Ethernet) connectivity
Digital Door Lock (OT 200, OT 300)
The Onetouch Digital Door Lock is a futuristic locking system offering superior security compared to traditional door locks. The Digital Door Lock can be easily retrofitted onto existing doors and features multiple access systems such as biometric technology, RFID Key FOB, and dynamic passwords for convenient security. Additionally, the device has been designed to operate on power batteries, eliminating the need for an external power supply. In the event of low battery power, the Digital Door Lock raises an alarm and can be charged through an in-built charging port. In the case of a fully discharged battery, the door can still be opened using a mechanical key. The Digital Door Lock is an ideal solution for enhancing the security of any home or commercial space.
Salient Features
Touchscreen keypad
One-touch locking feature
RFID card reader for access control
Low battery alarm to alert users of a need for battery replacement
App control for remote management
Key override option for emergency situations
Motored deadbolt for added security
Fingerprint unlocking for convenient access
Night latch for added protection during periods of inactivity
Universal handle compatibility for use with a variety of door types
Emergency power and USB port for charging and backup power supply
Integration with video door phone system for added security and convenience
For More Information Visit: https://www.discreet.co.in/
Advertisement
[adrotate banner="30"]