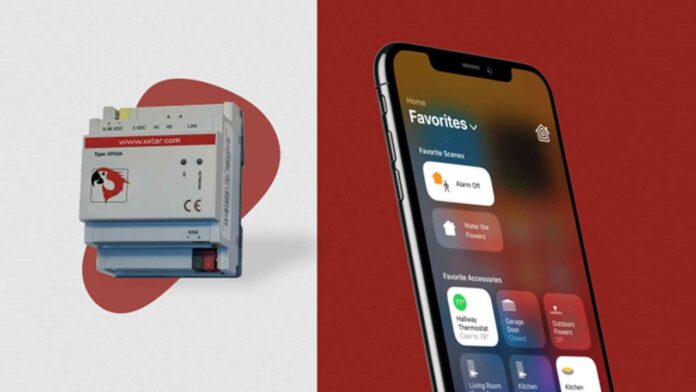 Advertisement
[adrotate banner="23"]
Pairot, the revolutionary product from xxter, a renowned Dutch company known for its innovation and research and development, is now being introduced in the Indian market. With Pairot, homeowners can seamlessly integrate their KNX installations with popular smart home platforms such as Apple HomeKit, Amazon Alexa, and Google Assistant.
Acting as a versatile bridge, Pairot enables the use of Apple devices, Amazon Echo, and Google Home to effortlessly control and monitor various aspects of your home. Voice commands can now be used to adjust lighting, manage thermostats, and more. The Pairot's built-in KNX tunnel connection further facilitates KNX programming, making it an essential tool for professionals in the field.
Advertisement
[adrotate banner="34"]
What sets Pairot apart is its certification and full support for all three voice assistants – Apple HomeKit, Amazon Alexa, and Google Assistant. There are no subscription or license fees associated with the Pairot, offering unparalleled accessibility and flexibility to users. Professionals interested in acquiring Pairot can contact us directly to receive a personalised offer.
As a certified product for KNX, Apple HomeKit, Amazon Alexa, and Google Home, Pairot is committed to continuously enhancing its functionality. Future updates, including support for new features and functionalities for various voice assistants, will be provided to users free of charge. Additionally, we prioritize the security and privacy of our users' data. Pairot implements cutting-edge encryption techniques to safeguard all connections and information, ensuring unauthorized access is prevented.
It is essential to note that xxter, the parent company of Pairot, maintains a strict policy regarding user privacy. We do not have access to your home or personal information, and we handle all data with the utmost care. Your information will never be shared with third parties and will solely be used for the intended purposes. Furthermore, your project information is securely stored with backups to ensure you can retrieve your data when needed.
Pairot is exclusively distributed in India by Escala Tech, an esteemed provider known for their commitment to solution selling.
Advertisement
[adrotate banner="30"]