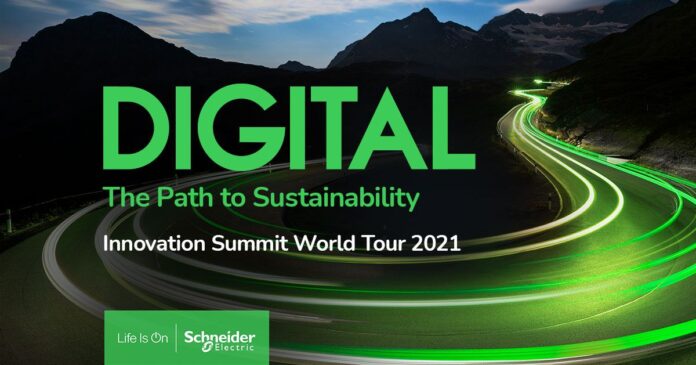 Advertisement
[adrotate banner="23"]
Schneider Electric, the leader of the digital transformation of energy management and automation, hosted 'Homes of the Future' track at its flagship Digital Innovation Summit 2021, currently underway between October 19th to 21st. The session was deliberated by Srinivas Shanbhogue, Vice President, Home, and Distribution, Schneider Electric India along with Gita Ramanan – CEO & Co-founder – Design Café, and Kavita Sastry, Principal Architect – KS Designs Studio and Chairperson, IIID Bengaluru, was themed around "Smart and Sustainable Living".
The Innovation Talk captured Schneider Electric, Design Café, and Code's commitment towards empowering homes, making them energy efficient. The discussion addressed aspects related to the demand for energy, the relevance of customer needs to be met with energy-efficient solutions, the trends in sustainability, eco-friendly products, and the smart home's space. The need for optimizing the home furnishing space, along with the challenges and opportunities that drive the conversation towards Smart Homes. At the event, Mr. Srinivas Shanbhogue, Vice President- Home and Distribution, Schneider Electric India said "Being the leader of energy management and home automation, we are constantly working towards bringing sustainable and smart home solutions to life. Our energy-efficient home automation solutions seamlessly fit into existing and new homes, providing sustainable comfort, convenience, and security. At Schneider Electric, we have taken various measures to reduce our carbon footprint and have further pledged to become operationally net-zero by 2030."
Advertisement
[adrotate banner="34"]
Gita Ramanan, CEO & Co-Founder, Design Cafe, said: "Design Café's consistent pursuit is to offer sustainable personalized design solutions for homes at affordable prices. Throughout our journey, we realized that there are various ways to adapt sustainability and personalize our offerings to the clients according to their preferences. For us sustainability remains our top priority right from selecting the construction material to finalizing on how to utilize the space effectively, all these decisions are taken after evaluating the long-term impact on the environment. Sustainable and eco-friendly designs and materials such as jute, bamboo, terracotta flooring, concrete flooring, wooden false ceiling and lots of plants help in reducing the carbon footprint and leads towards a high-quality design with low environmental impact".
"Design thinking has emerged as the need of the hour. Businesses are re-thinking their infrastructure and interiors to become more attuned to larger climate needs. With this view in mind, we are witnessing an uptick of homes that blend technology with nature and sustainability and therefore counteract the effects of increasing carbon footprints. Homes of the future will continue aligning with the needs of the environment as well as the needs of individuals and bring together innovation to sustain a clean and green living, added Ar. Kavita Sastry, Principal Architect – KS Designs Studio and Chairperson, IIID Bengaluru.
Schneider Electric's flagship was a three–day virtual Innovation Summit and was aimed at sparking conversations around the need for integrating sustainability with business. The event's central theme was 'Digital: the path to sustainability with Aatma Nirbhar Bharat' it brought forth industry leaders and policymakers to discuss the path to a sustainable future for India.
About Schneider Electric
Schneider's purpose is to empower all to make the most of our energy and resources, bridging progress and sustainability for all. They call this Life Is On. It is their mission is to be the digital partner for Sustainability and Efficiency.
They drive digital transformation by integrating world-leading process and energy technologies, end-point to cloud connecting products, controls, software, and services, across the entire lifecycle, enabling integrated company management, for homes, buildings, data centers, infrastructure, and industries. They are the most local of global companies. They are also advocates of open standards and partnership ecosystems that are passionate about their shared Meaningful Purpose, Inclusive, and Empowered values. Know more about Schneider Electric at www.se.com
Advertisement
[adrotate banner="30"]