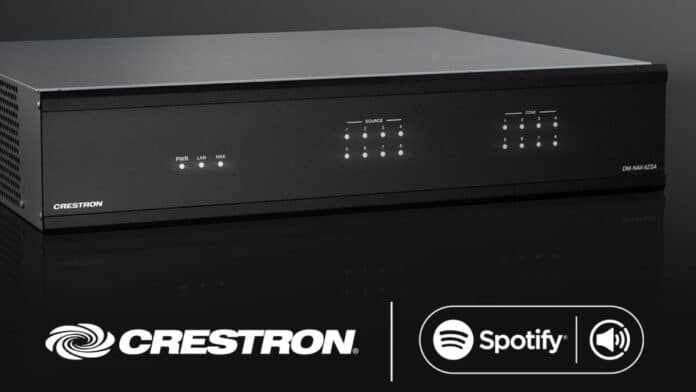 Advertisement
[adrotate banner="23"]
Crestron Electronics, the global leader in home automation, today announces the addition of Spotify Connect to its expanding collection of digital music services available through the recently-launched DM NAX 8-Zone Network Streaming Amplifier. The latest firmware update enables Spotify Connect to be streamed to the DM NAX 8-Zone Network Streaming Amplifier via a wired or wireless home network connection for an elevated music experience coupled with customised control available directly through Spotify® music service or from any Crestron interface.
Spotify Connect offloads the music streaming service from the mobile device to the DM NAX audio system creating a way for users to play music from their Spotify library on the audio product itself, rather than streaming it from a mobile device. Spotify Connect enables instant switching from headphones to any room in the house and enables users to keep the music flowing with control from any mobile, tablet, or computer using the Spotify app.
Advertisement
[adrotate banner="34"]
"Spotify Connect is a fantastic addition to the Crestron DM NAX lineup and residential dealers will be excited to offer customers unmatched control from the Spotify app directly to a Crestron multi room audio system," says Ekin Binal, Director of Audio Solutions at Crestron.
The integration with the Crestron Home® platform brings a suite of unique features that improve the streaming experience throughout the home. Homeowners can access Spotify playback controls directly from the Crestron Home app on Crestron devices, mobile, or tablets, or add a new zone to their listening stream for seamless transitions from one area to another.
Users can also play multiple streaming sessions throughout the home by syncing personal accounts. For example, music can play from one account as someone prepares dinner in the kitchen while a podcast is streaming from a different account for someone else in the home office. Users can mark favourite songs or playlists from their Crestron Home interface and have them added as a preset for certain zones of the house so that a go-to summertime playlist is readily available for outdoor entertaining by the pool.
A Crestron software release for the DM NAX 8-Zone Streaming Amplifier to implement the upgrade is now available.
Advertisement
[adrotate banner="30"]