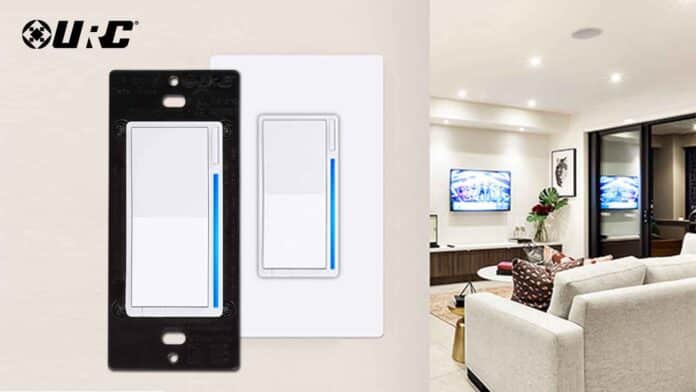 Advertisement
[adrotate banner="23"]
URC has launched its new all-in-one, combined lighting solution – branded URC Lighting LT-3300. This next generation of smart lighting allows installers to select either dimmers or switch configurations and easily program to create unique atmospheres for entertaining or quiet family events.
URC Lighting's advanced benefits also include auto load detection, which eliminates the need to configure neutral or non-neutral installs (unless used as an accessory device). A built-in configuration button also provides simple touch scene control and a trailing-edge, colourful, customisable LED bar provides visual notifications. Further, sync can be performed across URC Lighting devices for multi-way lighting feedback.
Advertisement
[adrotate banner="34"]
When combined with URC's Total Control system, residential customers can take advantage of premium lighting and integration. With eight popular colours, URC Lighting complements any designer environment. Easy colour change kits or colour paddles allow URC Lighting to create uniquely lit environments.
Homeowners can seamlessly launch customized scenes, receive notifications about their systems, and control intuitive lighting programs. Through URC's Total Control System, URC Lighting is networked to provide complete integration, allowing scenes like Good Morning, Dinner Party, and Good Night to launch highly customized lighting sequences. URC Lighting devices display notifications for programmed triggers via a LED light. With a simple touch, URC Lighting enables smart control and automation across the Total Control system.
For More information: www.urc-automation.com
Advertisement
[adrotate banner="30"]