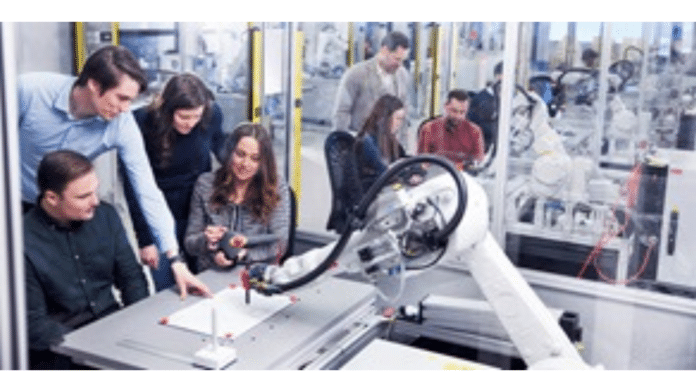 Advertisement
[adrotate banner="23"]
ABB has introduced a cutting-edge educational robot, the IRB1090, alongside versatile software aimed at inspiring and preparing the future generation of robotics engineers. Revealed at the China International Industrial Fair (CIIF), this new robot is designed to break down barriers for students and novice technicians looking to explore the world of robotics. Its simplicity in installation, ease of transport, and control through the RobotStudio software package make it an ideal choice for educational purposes. It's worth noting that STEM.org has authenticated and endorsed this robot as a valuable teaching and training tool.
ABB's Latest IRB1090 The IRB1090 educational robot finds application in various production scenarios, including arc welding, packaging, picking, materials handling, assembly, and more. It boasts the capability to manipulate grippers, cameras, workpieces, cutting tools, injectors, and various common attachments. Far from being a mere 'toy' robot or gimmick, the IRB1090 is a powerful training tool well-suited for real-world tasks.
Advertisement
[adrotate banner="34"]
This robot can handle payloads of up to 3.5 kg and boasts a reach of 580 mm. It occupies a 10% smaller footprint and has a 20% reduction in weight compared to its predecessor. Equipped with the ABB E10 Ultraslim controller, the robot can perform quick movements (QuickMove), externally guided motions (for physical robot training), and various other popular motion control techniques.
RobotStudio Software One standout feature of the new IRB1090 is its inclusion of 100 seats for the RobotStudio software package. In contrast to many educational offerings that provide only a limited number of software licenses, ABB's generous 100-seat license makes a significant difference. It ensures that the program can be widely adopted and utilized in classrooms and computer labs. With 100 seats available, students can delve into the intricacies of robot programming through hands-on experience.
Students utilizing RobotStudio can develop an intuitive understanding of robotic motion and control. Beyond programming robots, the software offers numerous simulation tools to assess the behavior of virtual robots before implementing them in real hardware. These simulations include calculations for braking distances under various motions and payloads, swept volume assessments, and more. Additionally, RobotStudio offers advanced debugging routines and collision-free path planning to enhance the safety of robotic operations.
Moreover, the software seamlessly integrates with the cloud, allowing program storage and manipulation from any device with cloud access. It also provides sales tools to enhance the visual appeal of robots and programs, empowering students to create attractive presentations with high-quality graphics.
Robotics for STEM Education of Any Scale ABB has developed an easy-to-use robotics package designed to address the long-term workforce shortage by deploying it in educational institutions. Here, students can acquire the skills and confidence needed to pursue careers in STEM fields. In the short term, the robot serves as an effective training tool, accelerating the onboarding process for new robotics and automation personnel.
For More Information : https://global.abb/group/en
Advertisement
[adrotate banner="30"]