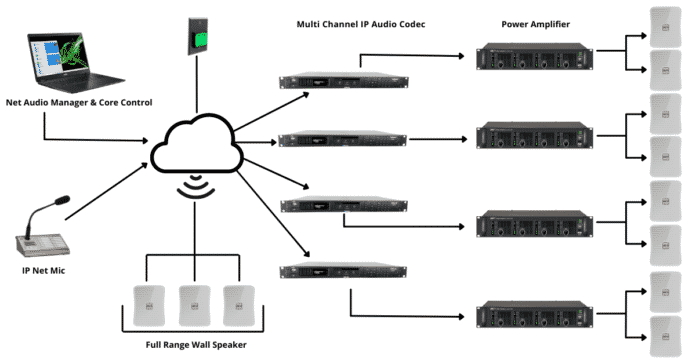 Advertisement
[adrotate banner="23"]
Audio Over IP Networks Gains Acceptance in Residential Sector.
The first AoIP networks were used commercially in the '90s, classed as audio over ethernet, without the need for a router, just point-to-point audio network via ethernet.
AoIP, network protocols allows users to send a high-quality digital audio signal over an existing IP network, via a single cable or fiber & higher data rate cables. When speaking technically, AoIP is the use of computer networks to transport audio & video between devices. Audio over IP has leveraged networking to transform the world of professional sound, fundamentally changing to ways in which systems connect, expand, and deliver content to people. Long used in professional audio applications, from theaters, stadiums, recording studios, and concert tours, AoIP is now entering consumer residences.
Advertisement
[adrotate banner="34"]
A brief description about AoIP
With AoIP, the sound is broken into little digital packets, which are transmitted to its destination using the network infrastructure. An IP address delivers the audio packet to the right output destination (one or more speakers). The receiving station must then unzip the audio packets and assign them correctly. Audio signals use the same connections as other data (emails, backups, internet traffic in a network). With AoIP, separate lines for announcements or background music are not required.
AoIP solves the below problems :
AoIP signal replaces analog signals. An analog signal is susceptible to interference, even with small transmission paths(< 10meters). The signal and sound reproduction of high frequencies are weak, producing an overall dull sound.
Ethernet cable replaces all other cables. While there are various types of transmissions for audio signals, they include a lot of special cables, adapter boxes, different interfaces and do not provide much flexibility. These issues are addressed with AoIP solutions, digitally transmitting audio signals in a single network cable.
With IP-based transmissions, being a part of our daily lives in audio/video communication,(services like google talk, skype using voice-over IP)they also allow the implementation of PA projects more flexibly. In buildings where a LAN network runs through most rooms, an AoIP solution is apt. During the Covid-19 pandemic, the population was constrained to their homes, including audio enthusiasts and musicians. This has resulted in a rise in home recording studios, and in choosing AoIP products, the same equipment is usable at home & in modern recording studios.
Most smart homes are built to include robust, 1 Gbps wired networking(a cost-effective solution), allowing users to use audio solutions with the following capabilities:
Support for a nearly unlimited number of endpoints
Ability to cover large distances with no losses or noise
Support for high channel count devices (typically up to 64 channels)
100 percent lossless, pristine audio at up to 192 kHz sample rate
All control and audio data on a single cable
The ability for all home networking (internet, home automation, audio) to coexist with ease
Easy interoperability between devices
Easy installation with lightweight cable
Easy expansion — just add a new device to a network port, and it's ready to use.
AoIP in the Residential Sector
In cases where it is difficult to house amplifiers near the AV processors, consumers can consider an AoIP system. This enables the existing infrastructure to send the audio over long distances, to a local amplifier with speakers.
AoIP is ideal for large houses/multi-storey apartment buildings where amplifiers can be stored locally near a home theatre, although the processor might be stored at another location. Monitoring all the devices is crucial to maintaining and diagnosing any issues that arise. With the AoIP system's network control interface, users can monitor devices across the whole audio network, allowing for changes and detection of any new firmware of the equipment. 
AoIP also offers a lot of flexibility and creativity with audio system layouts, having the ability to route audio from any source to any audio endpoint. An ideal requirement for AoIP would be when using category cable infrastructure to connect remote amplifiers, active speakers, or with an AES67 as input for DCI to an AV Processor.As AoIP grows more advantageous in residences, manufacturers are bringing more AoIP products targeting home users into the market. Audio over IP is compelling for its unparalleled flexibility and bit-perfect fidelity, with more and more products supporting AoIP, residential systems are now poised to take listeners to the next level.
Advertisement
[adrotate banner="30"]