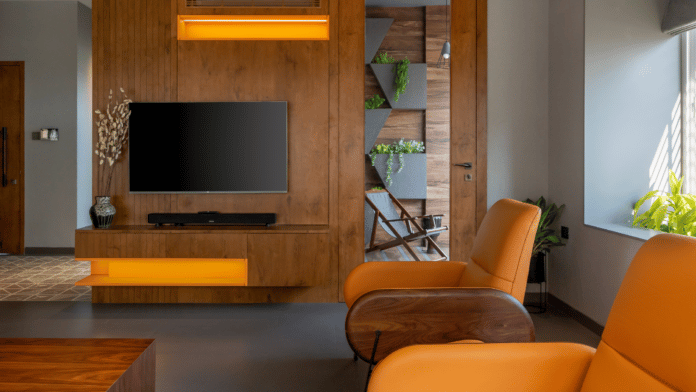 Advertisement
[adrotate banner="23"]
Architect Shital Sakhala, Founder of Disha Architects is a multidisciplinary architecture and interior design firm based in Nashik. Disha Architects is known and appreciated for designing high-end residential apartments. For this residential apartment named Cloud 9, which is located in a stand-alone building facing a riverfront area in Nashik; the architect has skillfully designed seamless open spaces and integrated a smart automation system on the client's request. Explaining the design concept, Ar Shital Sakhala says, "The Cloud 9 is a ground-plus eight-floor structure with a single residence on each floor. This apartment offers a panoramic view of the lush green surrounding and the sky, hence it is named Cloud 9."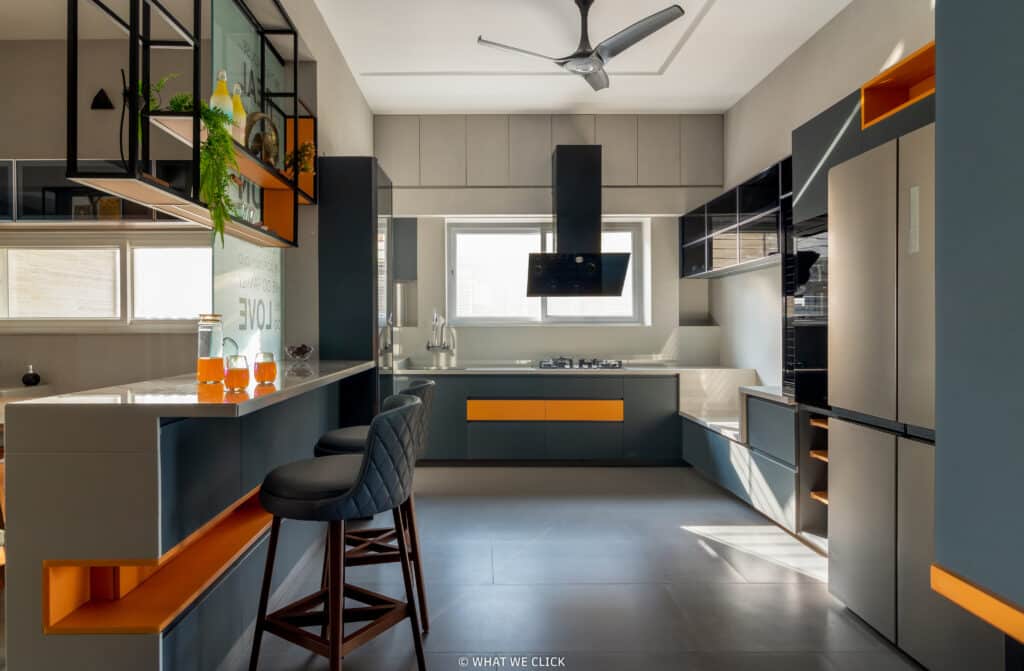 Apart from the aesthetically pleasing interiors, the homeowner wanted Smart Automation systems integrated into his home. Ar. Shital roped in System Integrator Securemax, who are well-versed in providing state-of-the-art automation solutions to professional clients.
Advertisement
[adrotate banner="34"]
This 4,000 sq. ft. four-bedroom apartment with a spacious light-filled, well-ventilated interior echoes the essence of the building's architectural ethos and integrates the spirit of sustainability in its interiors.
The use of modern amenities and aesthetics such as smart appliances, home automation, and built-in furniture along with a subtle colour scheme and a selective material palette has created a space for contemporary living with a personal touch.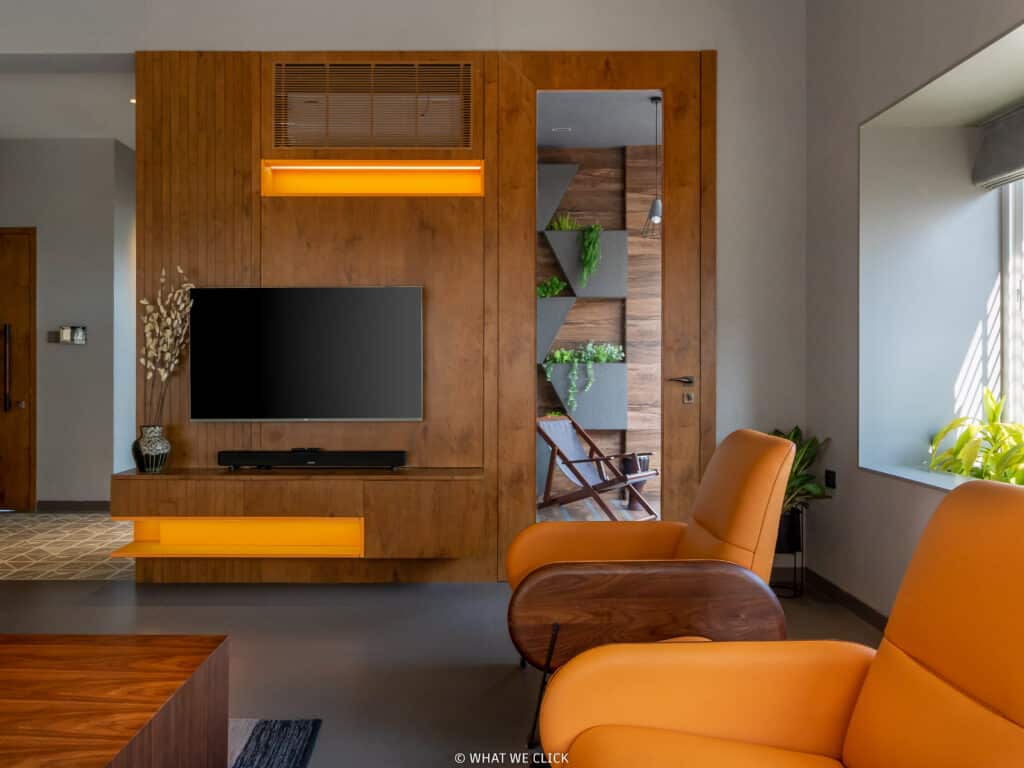 System Integration
A detailed plan was drawn up for the interiors. The light fixtures were placed with respect to the light required post-sunset. The Integrated lighting scheme was planned with sensors and dimmers placed according to the requirements of each space. Ceiling fans were fixed after methodical air circulation calculations, The fans are controlled by remote through a mobile App. All kitchen appliances from Hafele have been selected keeping in mind a modern look and maximum functional efficiency. Fibre optic connection from Airtel for Wi-Fi was connected to all televisions and mobile devices.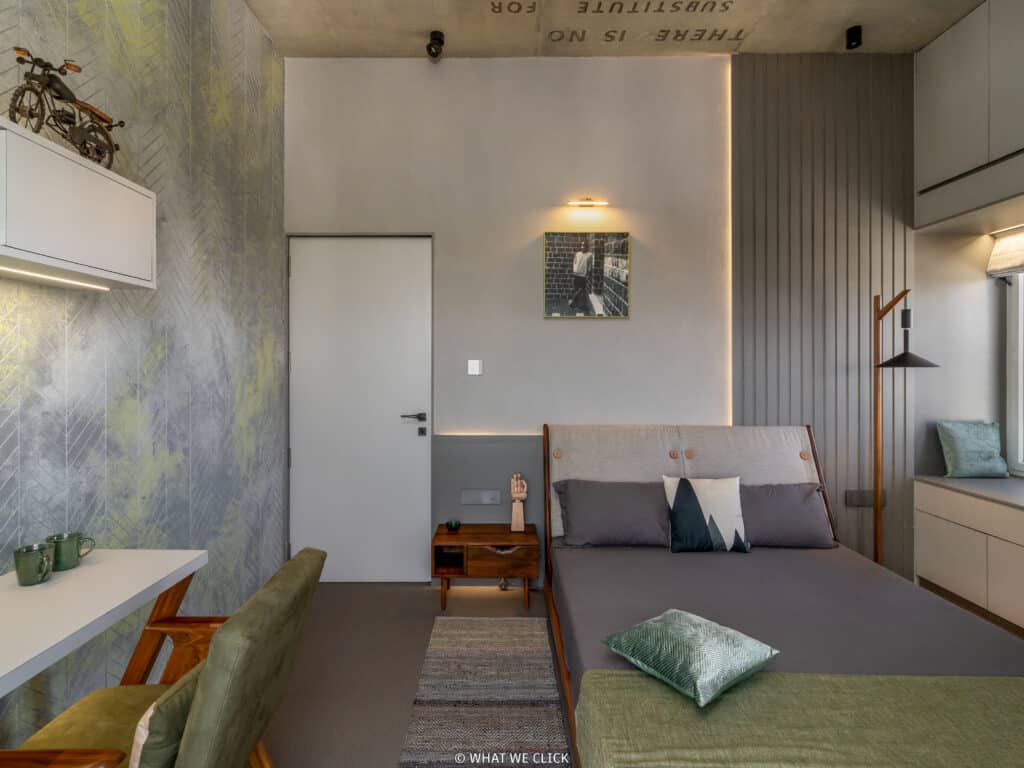 Smart Automation and Connectivity
"Several smart automation systems and products were integrated into the plan at the design stage so that the client could visualise how the spaces would evolve and look. For the comfort of all family members, Digilux Wireless Home Automation was installed in all areas. Automated lighting- that is switching and dimming of lights, as well as automation of curtains for ease of opening and closing them was integrated into the design." says Shital. Several functions were programmed like scene controls, two-way and three-way, and voice integration. There are scene-enable smart switches and in-wall modules for flexible integration of extra circuits in back boxes.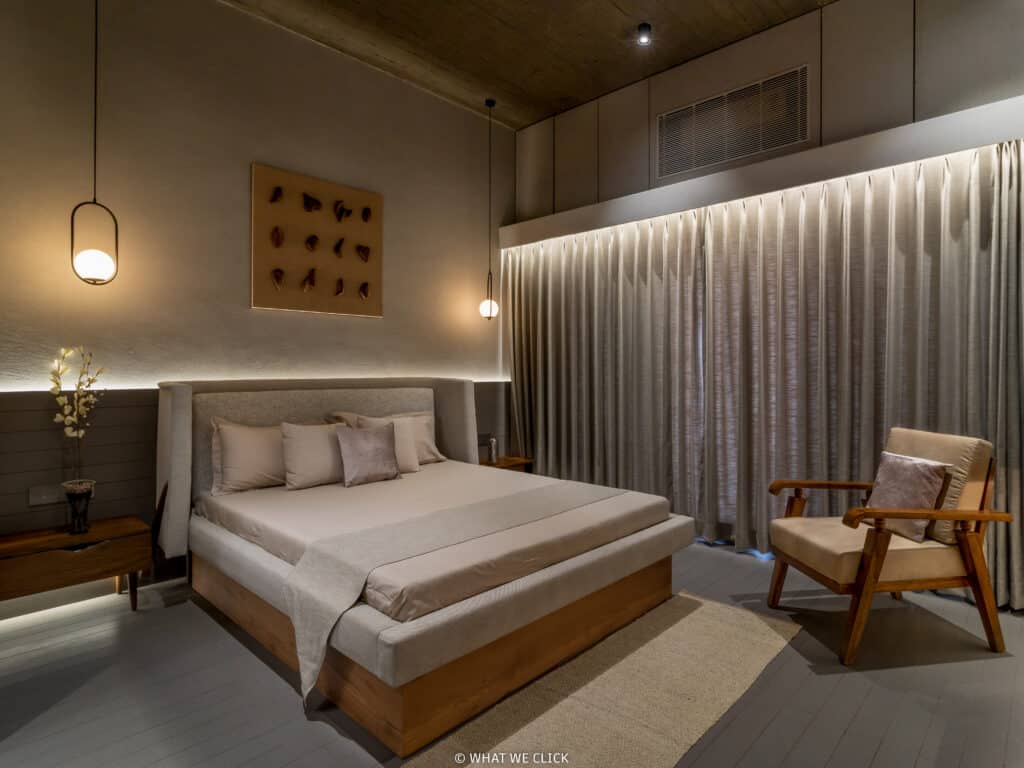 Smart switches for lighting, remote controlled fan with lightings and speed controller, automated curtain system, Video intercom at front door, motion sensor lights, fibre optic connection from Airtel for Wi-Fi, CCTV in common areas, smart TVs in all rooms, smart kitchen appliances (refrigerator, washing machine, dishwasher, microwave oven, OTG, chimney, hob, food processor) from Hafele, Alexa Echo Show for controlling the appliances just with voice, background music system, DigiLux App on the phone were all seamless integrated into the apartment.
Benefits of using Automation Systems
Family members of all three generations enjoy the experience of living in a smart home with amenities and facilities that are easy-to-use, make for ease of living and create clutter-free spaces. It is helpful that different devices can be controlled remotely and simultaneously by the touch of a button on ergonomic keypads or by voice control, from a smart switch or mobile App.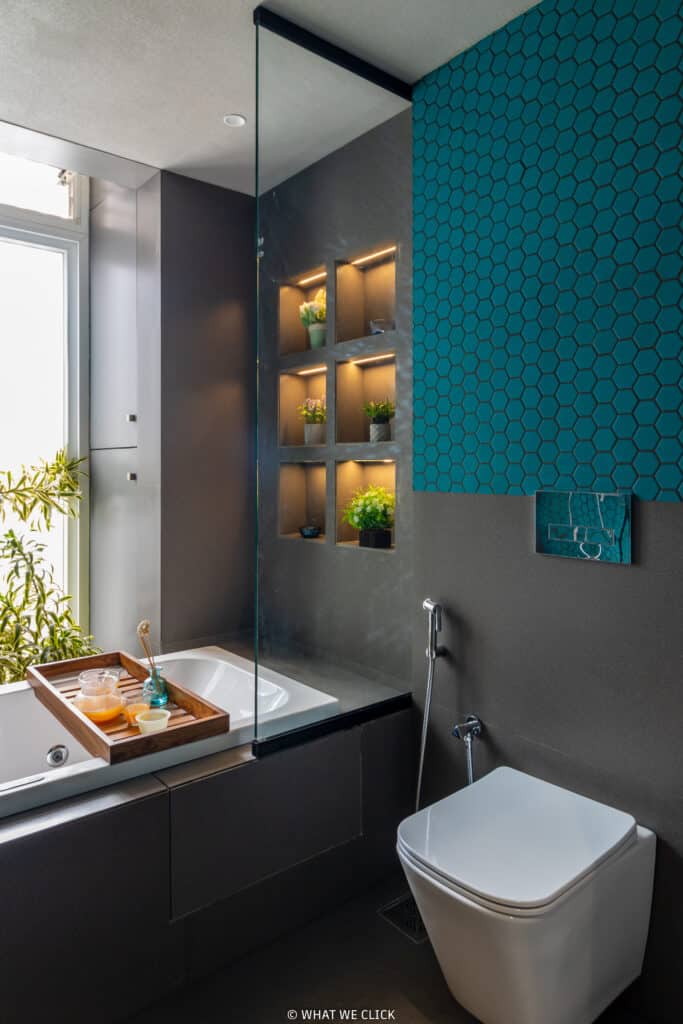 Overall Experience and Takeaways
Architect Shital Sakhala believes that the sooner we integrate and adapt to technology the better our lives will be, and the more efficient our time management will be. "It is helpful to plan for comfortable living in years to come. All family members are very satisfied with the technology that has been integrated into the residence and this in turn has made life much easier for them."
Advice to Budding Professionals
I feel it is important to integrate smart systems into built forms like offices, malls, hotels, stores or residences. Smart Automation should be planned to keep the project, budget and users' requirements. The builder/architect should meet with the clients to understand their requirements. Subsequently, after the Smart Automation system is planned, they should meet the client to explain the same to them. The systems should be user-friendly keeping in mind that people of different generations and mindsets will be using them. The selection of products should be undertaken at the very initial stage of the planning to avoid any conflicts during the project. The products should be smart in appearance and complement the overall interior design/décor. There are various options that are durable, easy to use, and readily available in the market.
The architect in his message says, "It is just a matter of making the right choice when it comes to smart home automation."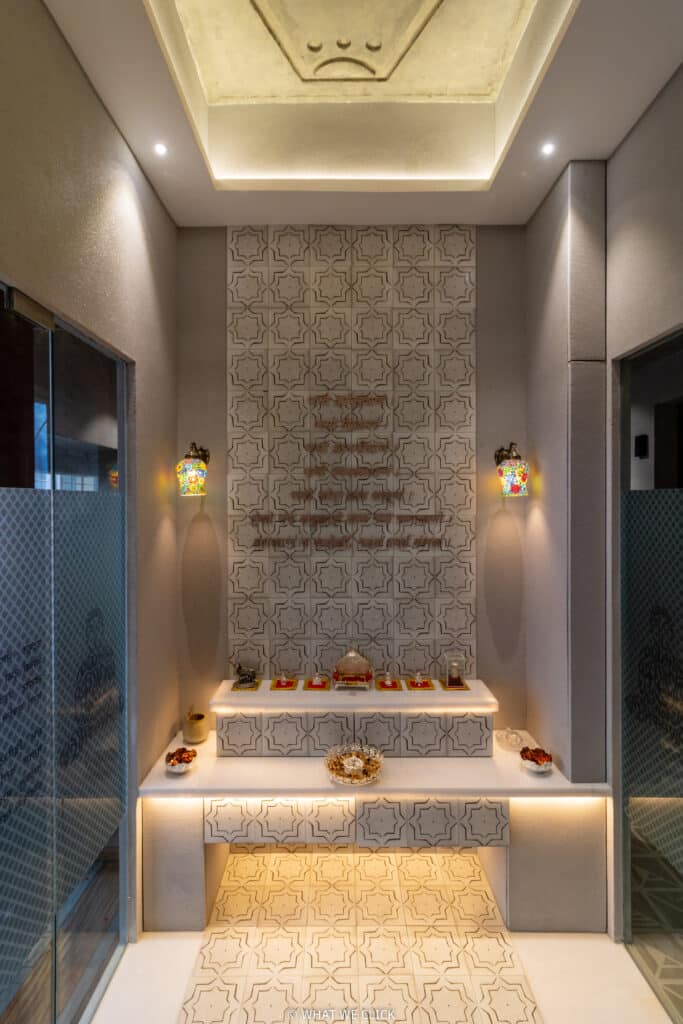 Product Resource (box)
Systems Integrator: Securemax 
Automation System Used: Digilux Automation 
Lighting: GEO lighting by Litmax
Security Cameras: Hikvision 
Digital Locks: Yale 
Biometrics: Video intercom at door for security
Hardware used: Digisol PoE Switches 24 Port
Networking Devices used:Digisol Access Points 1200 mbps
Supporting Software:  Digisol Firmware
Wireless system: Wireless Wifi access Points
Protocol/Standard used: Ethernet LAN Protocol
Sensors used: Starrbot Sensors
Advertisement
[adrotate banner="30"]