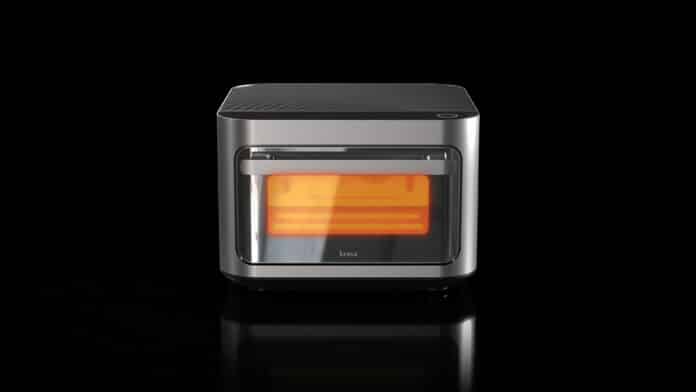 Advertisement
[adrotate banner="23"]
At CES, Brava introduces Brava Glass, the company's second product offering since its 2018 launch. With Brava Glass, customers can finally see the light for a totally immersive cooking experience thanks to a state-of-the-art glass pane on the front of the oven. Brava's advancement allows for a complete and transparent view of the interior of the device and its lighting as food cooks to perfection, satisfying a long-anticipated consumer need.
Brava Glass further elevates Brava's groundbreaking, patented Pure Light Cooking™ technology and has the same cooking capabilities and modes as its predecessor, including Air-Fry, Roast, Bake, Sear, Toast, Reheat, Rice Cook, Slow Cook, Dehydrate and Keep Warm. Additionally, this new iteration will continue to come equipped with the popular heat-resistant internal camera and machine vision to monitor cooking progress, with remote viewing access on smartphones via the Brava Home App.
Advertisement
[adrotate banner="34"]
Brava continues to be dedicated to enabling anybody who wants to prepare healthier cuisine at home with its cutting-edge technology with the launch of its new product. The installation of this window is a game-changing development for Brava, which is revered as the only appliance that can cook with light—and at the speed of light, no less—and whose glass panel has a 97% tint.
"Since introducing Brava to the world in 2018, we've been overwhelmed with the positive response as Brava continues to make a lasting impact on daily cooking habits and kitchens across America," said John Pleasants, Co-Founder, and CEO of Brava. "With the addition of Brava Glass to our product lineup, we hope to bring an even more immersive cooking experience to families that mimics the shared nostalgia of cooking around a grill, stovetop, or campfire."
Similar to its predecessor, Brava Glass uses less energy to cook a full meal than it does to prepare a conventional oven since it can simultaneously cook various food groups at different temperatures because of its multi-zone functionality. With the ability to cook protein, vegetables, and starches all to perfection on one tray, this enables home chefs worldwide to give up multitasking and create restaurant-quality meals at home. The oven has the most cutting-edge sensors available, including a temperature probe that allows for the highest level of precision to guarantee flawless and reliable cooking.
"When we created Brava, while we went through several prototypes before landing on a final design that captured the look and function we dreamed of, we always envisioned a glass window," said Thomas Cheng, Co-Founder and CTO of Brava. "With Brava Glass, our inspiration has come full circle as we continue to prioritize user experiences, giving cooks at every level more control and the opportunity to witness our innovative technology in action."
Brava Glass will be priced at $1995.00 and available in the popular Chef's Choice set, which comes with two glass trays, two metal trays, a muffin tin, a square pan, a loaf pan, an egg tray, and the cast iron chef's pan. Brava Glass is expected to ship in early 2023.
For More Details: www.brava.com/bravaglass.
Advertisement
[adrotate banner="30"]