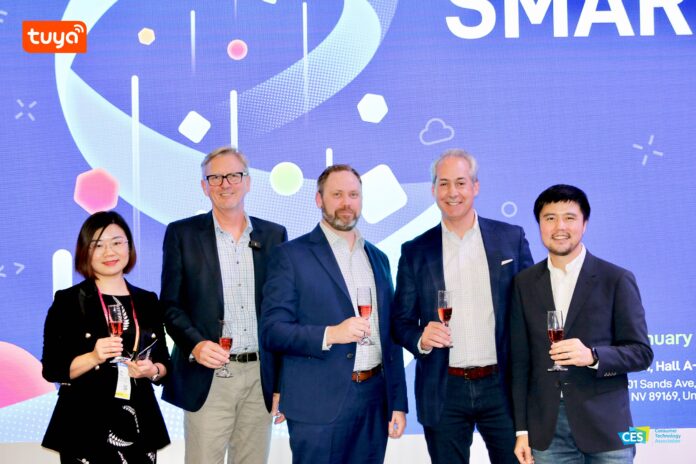 Advertisement
[adrotate banner="23"]
Tuya Smart a global IoT development platform service provider, hosted Tuya Day with leading companies and associations at CES 2023 in the City of Las Vegas, Nevada.
Under the main theme "Be in It" of CES 2023, Tuya created its booth and hosted Tuya Day under the theme of "Be in Smart" to demonstrate its consistent effort in improving the production efficiency of global resources and enhancing the product value of global customers to support them with digital and smart transformation by leveraging Tuya's IoT technologies.
Advertisement
[adrotate banner="34"]
The event featured leading brands and associations from around the world, including Arm, BARDI, Bluetooth SIG, CLEANLIFE, Connectivity Standard Alliance, Google Home, Hama, ioXt, JOIEEM, Lloyd's, Silicon Labs, and Wi-Fi Alliance. The partner representatives spoke about connectivity protocols, and smart solutions and shared joint Tuya case studies.
Alex Yang, Co-Founder, and COO of Tuya Smart hosted the first-panel discussion on Matter's ecosystem. The speakers shared how ecosystem players can promote Matter via partnership.
Chris Lapre, Head of Technology of the Connectivity Standards Alliance (the Alliance), said, "The continuous evolution and upgrading of Matter, the expansion of its application scenarios and new markets are contributed from the collaboration of the Alliance members including smart device manufacturers, security certification enterprises and others. Building and maintaining the Matter ecosystem is also key to the development of Matter. Alliance members like Tuya, play an active and crucial role in the promotion and application of Matter. They will attract more customers to join the Matter ecosystem and innovate Matter from customers' feedback through a variety of real-world implementations."
Rob Alexander, Principal Product Manager of Silicon Labs said, "The market for smart, connected devices holds unprecedented opportunity, but challenges remain. Open standards, like Matter, can help everyone in the industry adopt the same protocols without expensive licensing. Tuya's role is important for global developers. Tuya chose Silicon Labs MG24 SoC as one of the chips, jointly enabling customers to quickly get mass production of Matter devices and support consumers to mix and match among ecosystems like some of the ones you'll see today including Amazon, Apple, Google, Samsung, and the countless intelligent, connected devices from locks to lightbulbs and beyond."
Kevin Po, Group Product Manager at Google, shared with audiences their recent product updates to support Matter. Now, consumers can use existing Nest devices like the Nest Mini and Nest Hub to control Matter devices and use Android Fast Pair to set up Matter devices. Moreover, Google will Matter-enable more Nest devices in 2023 and release Google Home App iOS support too. Tuya has been an early access partner with Google Home and will continue working together to grow the Matter vision of interoperability, choice and openness in the home with users and Tuya's partner ecosystem.
"If smart devices are to scale, it's crucial that they are secure, reliable and seamless to use," said Chloe Ma, VP of China GTM, IoT Line of Business at Arm. "Standardization will drive the advancement of IoT and we are working closely with the Alliance and partners such as Tuya, to ensure the Arm ecosystem is ready to support developers in building Matter-compliant devices."
Later in the day, Tina Yu, General Manager of Eurasia and North America of Tuya Smart, hosted the second-panel discussion on the commercialization of Matter. Speakers shared their thoughts on the future application scenarios of Matter devices. They also talked about the future of intelligent interconnection of consumer electronics.
Jon Harros, Head of Certification and Testing Programs at the Connectivity Standard Alliance first described the blueprint of Matter in 2023, and said, "People can reach the Alliances' official website, and see there are more than 500 products listed that are either being certified or have been certified by the Alliance. These include a range of products, software components, Apps, and more. They constitute our 'universe' of Matter applications. As an early participant in Matter, Tuya has been actively promoting the use and implementation of Matter. Its Tuya-enabled hardware ecosystem and development platform will enable more manufacturers to quickly penetrate the smart home and smart device markets, and attract consumers."
Justin Miller, Founder, and CEO of CLEANLIFE, said: "Since our collaboration with Tuya in 2017, Tuya continuously supports us with product development, and they always share with us new ideas and opportunities. This mutual partnership has been extremely beneficial in helping us become an industry leader in smart lighting. Now, Matter gives our brand and products more credibility to be able to work with the prominent brands that are a part of the Alliance through shared interoperability and also allow easier integration with mainstream smart device systems such as Apple Home, Samsung Smart Things, etc. And with Tuya's help, we strongly believe that we can easily and quickly pivot our plans to Matter compatible. We expect Matter to help expedite the path to market and enhance the user experience for the whole industry and provide a platform for all 220+ brands in the Alliance to succeed together."
Ryan Maurice, CEO of BARDI, said, "Thanks to our collaboration with Tuya, BARDI has grown very fast. We are at equal playing grounds with other Tuya-enabled brands in Indonesia thus being able to focus on competing in quality of product and service. While Matter joined in, it unlocks the pool of opportunity for BARDI as now the competition is not only on our quality of product and service but also competition on the platform supporting us. Compared with other local brands, our Tuya-enabled devices have a faster response time to voice commands than other platform-enabled devices. Moreover, the accuracy and speed that Tuya's engineering team delivered to us are praiseworthy. Thus, I believe that with Matter's adoption, BARDI will gain much more opportunities to penetrate local families. "
Juergen Hirschbeck, Head of Smart Home Product Portfolio Management of Hama, said, "Happily our company will celebrate its 100th anniversary this year. As the No. 1 brand for accessories and becoming the leading brand of retrofit Smart Home in Europe, the adoption of Matter will play a central role in our future. We plan to expand more categories such as home security and climate control, improve the compatibility of our product portfolio, and realize seamless smart scene connection for consumers. The significance of our collaboration with Tuya is that we can quickly realize our approximately 18,000 products to be Matter-capable to meet the expectations of consumers as soon as possible and to place Matter as the One Smart Home Standard of the future in the heads of consumers and trade-partners alike. "
Alessandro Kon, Head of R&D of Lloyd's, said: "Lloyd's has more than 20 years of experience in the electronics and smart house market. We offer our clients a wide range of solutions for their security, lighting, comfort, or energy through our website and our retail partners. Matter is bringing more opportunities to the smart home market, it allows customers to not have to think about compatibility when it comes to making a choice, they can focus on their demands as well as we can also just focus on developing products that cover our customers' needs. Through the Tuya IoT development platform, we developed our App 'Lloyd's smart'. Now, Tuya's latest achievements of Matter make us see the possibility of quickly integrating into the Matter ecosystem. We will continue to deepen our collaboration with Tuya and accelerate Matter application process in the market."
So far, Tuya has launched more than six categories of Matter device solutions, including light bulbs, switches, gateways, sockets, and more. And Tuya has already helped its global customers such as Arlec, BARDI, CALEX, CLEANLIFE, Hama, Intcomex, Laser, LinkJapan, Lloyd's, Mirabella, Positivo, Simon Electric, Tecnolite, and many other enterprises to integrate into Matter ecosystem rapidly.
In the future, Tuya will continue fulfilling its commitment to building an open and neutral IoT ecosystem to provide customized, convenient, and reliable Matter device solutions and all-in-one services for global partners, strengthen its cooperation with Connectivity Standard Alliance members and provide more operational smart scenes for consumers.
Advertisement
[adrotate banner="30"]