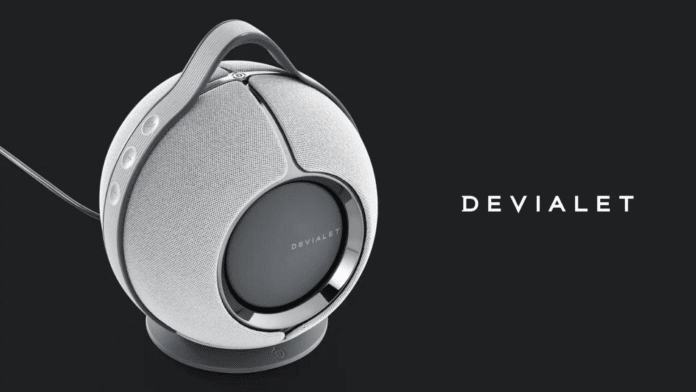 Advertisement
[adrotate banner="23"]
Introducing Devialet Mania, the first high-fidelity portable smart speaker with 360° stereo sound from the French premium speaker manufacturer. Devialet's trademark obsession with pure sound is combined with a mobile design. Thanks to its adaptive cross stereo, Devialet Mania portable speaker offers a soundstage that morphs into whatever space it's in.
"We are launching a new product, the Devialet Mania. And it represents the end of a long process. We started with amps, then there were the Phantom speakers, the Gemini earbuds, and the Dione soundbar," Devialet CEO Franck Lebouchard told me. "We are entering a new market with this portable speaker."
Advertisement
[adrotate banner="34"]
Pure Sound in Motion.
With Devialet Mania, Devialet's iconic aesthetic has morphed into a portable speaker form that transcends the limits of your space. A handle for ease of movement, an IPX4 splash-resistant rating for resilience, and Devialet's first built-in battery for up to 10 hours of wireless streaming help you experience pure infatuation with augmented listening that leaves a lasting impression.
Elegantly Easygoing.
Devialet Mania boasts visible push-push woofers and a co-spherical design. A luxuriously woven skin swathes its exoskeleton, which in turn protects the technologies held within. Make it your focus, tuck it away, or take it outdoors—Devialet Mania was designed to sublimate any setting, any moment.
Across & All Around.
Its ASC – Active Stereo Calibration – real-time acoustic mapping technology uses four-room calibrating microphones and incorporates AI capabilities to allow Devialet Mania to automatically evolve the audio rendering dependent on its surroundings. The speaker was engineered to homogeneously diffuse stereo sound in every direction. Move around your space. You'll enjoy the same immersive listening experience no matter your position.
"Hi-fi means a lot of things. It means great sound quality of course. Hi-fi also means stereo sound or at least stereo rendering," Lebouchard said. "We are the only ones that combine portable, hi-fi and automatic calibration."
Devialet Mania is powered by DOS2, the same operating system as Devialet Phantom and Devialet Dione. As a result, setup and customization are simple with the Devialet App: Improve your sound quality with Wi-Fi, set up your device with Alexa, receive software updates, customise your equalisation levels, and more.
"If we want to become a global player in the audio industry, we need to have a product in each major segment of the audio market — wireless earbuds, soundbars and portable speakers," Lebouchard said. "Amps aren't a priority for us because it's a very small market. But the Expert is an important product for our brand, for audiophile enthusiasts. We want to make the best amplifier in the world because we can't say that we are the company with the best sound in the world without selling the best amplifier in the world."
Advertisement
[adrotate banner="30"]