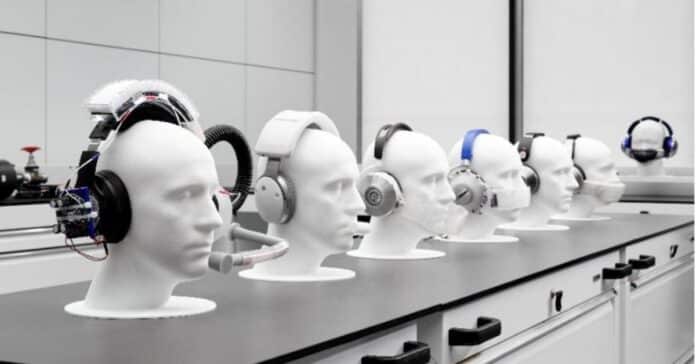 Advertisement
[adrotate banner="23"]
The Dyson Zone™ is Dyson's first wearable purifier, capturing city pollution including gas, allergens and particulate matter and cancelling unwanted noise with advanced noise cancellation and pure, high-fidelity audio.
Jake Dyson, Chief Engineer says, "Air pollution is a global problem – it affects us everywhere we go. In our homes, at school, at work and as we travel, whether on foot, on a bike or by public or private transport. The Dyson Zone™ purifies the air you breathe on the move. And unlike face masks, it delivers a plume of fresh air without touching your face, using high-performance filters and two miniaturised air pumps. After six years in development, we're excited to deliver pure air and pure audio, anywhere."
Advertisement
[adrotate banner="34"]
After working for six years and on 500 prototypes, the Dyson Zone™ air-purifying headphones are designed to understand indoor and outdoor air quality. The compressors in each earcup draw air through the dual-layer filters and project two streams of purified air to the wearer's nose and mouth, channelled through the non-contact visor.
The product delivers rich, immersive audio and provides relief from unwanted city noise thanks to advanced Active Noise Cancelling (ANC), low distortion and neutral frequency response, to faithfully replicate music or audio.
Developing a non-contact solution was a must to avoid the discomfort and irritation often associated with full-contact alternatives. The visor, therefore, was a critical element. The airflow pathways and visor design are central to delivering pure air.
Dyson engineers have used a breathing manikin fitted with medical-grade mechanical lungs and sensing equipment, which 'inhales' pollution replicating human breathing patterns in a controlled chamber. They then measure the pollution level within the nose and throat to determine the filtration efficacy of those particles which would otherwise end up in Frank's artificial lung.
Precision-engineered compressors within the earcups draw air through the dual-layer filters, intelligently designed to fit within the considerable space constraints of a headphone. The negatively charged electrostatic filter media captures ultrafine particles such as allergens, and particles from sources such as brake dust, industry combustion and construction whilst a potassium-enriched carbon layer captures city gas pollutants like NO2 and SO2. The compressor channels the purified air to the wearer's nose and mouth via the contact-free visor, formed with flexible returns to channel the flow of purified air to the wearer's nose and mouth.
The Dyson Zone™ air-purifying headphones will be available globally from Autumn 2022. Timings will vary by geography. Full product specifications and further details on availability will be announced in the coming months.
Advertisement
[adrotate banner="30"]