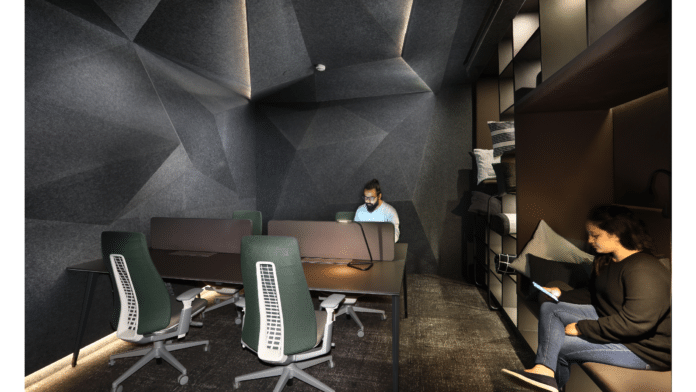 Advertisement
[adrotate banner="23"]
Space Matrix Design Consultants' out-of-the-box workplace named [β] Lab in Gurugram incorporates Smart Technology to create stimulating and productive environments.
The rapid advancements in technology has transformed various aspects of our lives, including how we work. The latest trend is to integrate smart technology in office design to create a more efficient, connected and productive work environment. Taking advantage of smart lighting, connectivity tools, space utilisation analytics, security systems and wellness solutions, offices can optimise their operations, enhance employee experiences and achieve a competitive edge over the others.
Advertisement
[adrotate banner="34"]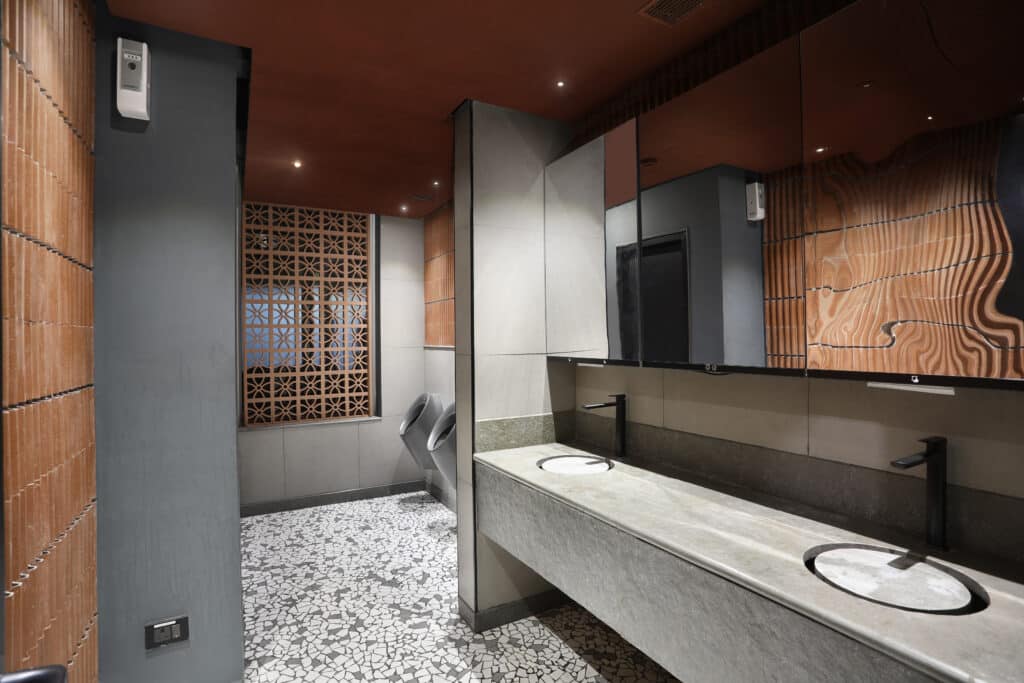 Following a similar ideology Space Matrix Design Consultants has designed an innovative office where they have ulilised Smart Technology to create a stimulating work environment for their [β] Lab office space in Gurugram. This office reflects their vision and also provides their prospective clients with a vision of how they could incorporate selective technology in their own workspace.
Breaking away from the mundane workspace design [β] Lab has designed an open-innovation ecosystem that accelerates experimentation and evolution of workplace design. Explaining the design concept, Swaviman Das, Director-Design, Space Matrix says, "This office serves as a testing ground for diverse work environments, allowing clients to experience and customise solutions. Our workspace offers immersive experiences that elevate the senses, provides varied microenvironments quintessential for an emerging workplace, and integrates technology for seamless interactions."
Design and Concept
An eye-catching entrance with subtle infusions of warm colours, biophilia, art, and a rustic double-height door leads one into the office. [β] Lab has a fluid layout, with each space flowing seamlessly into the next. But despite this, each zone remains distinct for the purpose it serves. The ground floor has several smaller open meeting spaces sans the walls. This leads to the step-seating area, which is a more open, casual collaboration zone where people can sit, chat, brainstorm, or relax and enjoy a movie screening. These steps further lead up to the hushed work zones that are designed for individuals. Here the thoughtful balance of colours and textures are used to stimulate the individual experience. There is a special dedicated Sound-Proofed Den with acoustic features, halo mood-lighting, and soundproofing where individuals can work with loud music without disturbing others. Another highlight is the Material Library that showcases the newest and most innovative textures, materials, and finishes. Clients can test physical samples and explore digital Apps to visualise their material choices.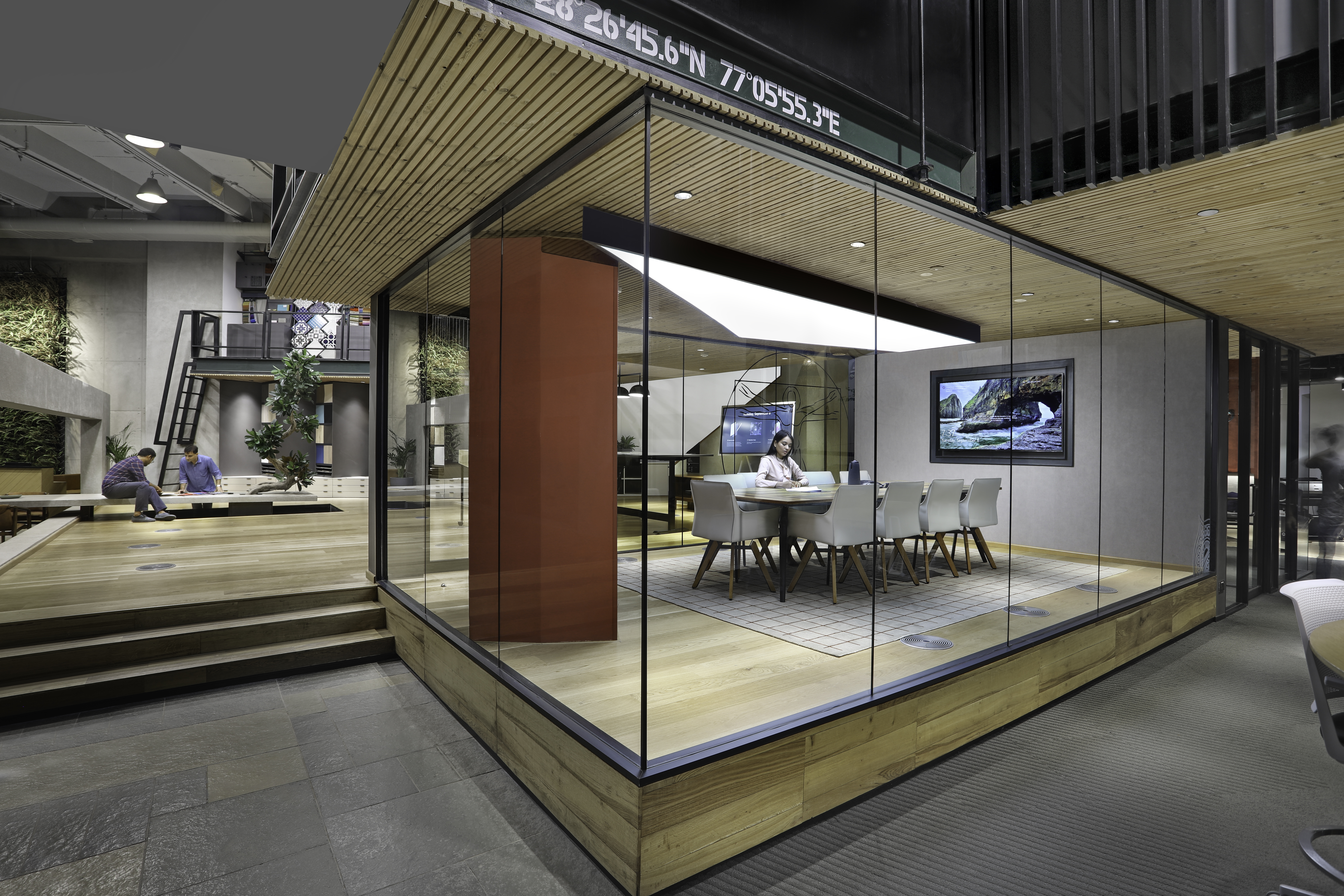 The office enables the reconfiguration of spaces to accommodate different kinds of meetings and interactions. Lightweight tables and screens allow for impromptu setups. Plus, the office incorporates wellness strategies and elements, promoting employee well-being. This includes air purification systems and other wellness-focused initiatives.
Smart Technology Used
Smart Technology contributes significantly to this experiential concept created for this office. They have a comprehensive system that uses the latest IoT technology platform that integrates building and lighting management systems with workplace technologies and AV systems. The platform can be intuitively operated through the Space Matrix App (SpaceXP), which lets all individuals regulate and customise their immediate micro-environment as per their pre-set preferences in an extremely intuitive manner, without any intervention. For clients and guests who are visiting for the first time, the [β] Lab experience starts long before they even step inside. The SpaceXP App kicks in as soon as a meeting is set up — it registers new guests, logs in their identification details, sends meeting reminders and even helps them find their way to the workspace. On arrival, the App guides them to a parking space, checks them into the facility and shows them the way to the correct meeting room. There, the guest can customise the light and temperature to comfortable levels. And the next time they come in for a meeting, the system will remember their lighting, HVAC and even coffee preferences!
One can admire the intelligent lighting control throughout the office space. It may include features such as automated lighting schedules, occupancy sensors, and adjustable lighting levels based on user preferences or natural light conditions.
The office also incorporates advanced security systems to ensure the safety and protection of the office space. This may involve access control systems, surveillance cameras, and monitoring solutions to enhance security measures.
Coming to the conferencing rooms, they are equipped with smart technology to facilitate seamless and efficient communication and collaboration. This may include features such as video conferencing systems, audio equipment, interactive displays, and intuitive control interfaces for easy operation and integration with other smart office technologies.
Overall, the [β] Lab aims to create the workplace of the future through tailored and cutting-edge solutions.
Reference Guide:
System Integration: Space Matrix Design Consultants
Conferencing Solutions: Owl Labs, Logitech and Aver Video Conferencing Solutions
Security Systems: Salto Access Control Systems
Touch Screens Displays: Newline Touch screen displays
Office Lighting: Multiple brands are used majority are custom
Occupancy Sensors and Motion Sensors: Schneider Electric
Monitoring Energy Efficiency: Honeywell Tridium BMS systems
Shading Controls: Somfy Motorized Blinds
Advertisement
[adrotate banner="30"]