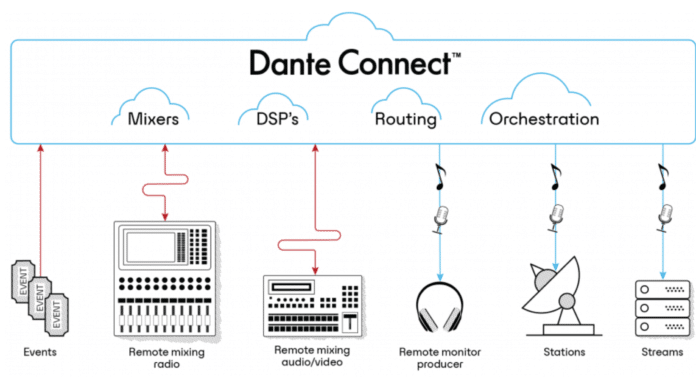 Advertisement
[adrotate banner="23"]
Audinate, the developer of the professional AV-industry leading Dante® AV-over-IP solution, announced that Dante Connect, the audio transport solution for cloud-based workflows, is now shipping. Dante Connect is designed to meet the needs of Tier-1 broadcasters and enables mixing editors and A1s to support remote audio production workflows. The complete remote production of audio is enabled by Dante Connect – including the transmission of audio from any Dante-enabled device on location, through cloud services and back down for broadcast.
Audinate also announced that Advanced Systems Group (ASG) and Diversified have signed as distributors to sell and support Dante Connect installations.
Advertisement
[adrotate banner="34"]
"For years, Audinate has built technology that helps devices connect reliably and easily. We're delighted to be a partner in bringing that technology to the cloud. Our clients will appreciate the advantages of Dante Connect for broadcast, cloud production, and other innovative applications," says Janmeja Heir, Lead Cloud Engineer, ASG.
ASG and Diversified join HHB Communications as the current worldwide distributors of Dante Connect. Cloud broadcast production workflows are designed to increase the flexibility of production teams to best utilize tightly constrained talent and hardware to support a wider array of content generation with less expense and travel. Dante Connect enables broadcasters to fully embrace remote audio production, reducing the need for expensive OB trucks and vans, travel by production and on-air talent, and increasing flexibility by production teams. It allows broadcasters to centralize end-to-end production facilities across multiple remote locations simultaneously, even over long distances.
"Audinate has always been about making it easy to manage audio in networked environments. We're excited to partner with these leading distributors on the launch of Dante Connect to the broadcast community, helping them increase production flexibility to deliver more content, more efficiently, to more people, regardless of location," said Will Waters, Principal Product Manager, Audinate.
At IBC in Amsterdam, Dante Connect has been selected as the audio transport solution for the AWS broadcast production workflow demo, where attendees can see a live demonstration in the AWS booth (Hall 5, C90). The Audinate booth (Hall 8, D88) features demos of Dante Connect using the Cloud MX Audio Mixer from WAVES, and Dante AV technology.
For More Information: Audinate.com/danteconnect
Advertisement
[adrotate banner="30"]