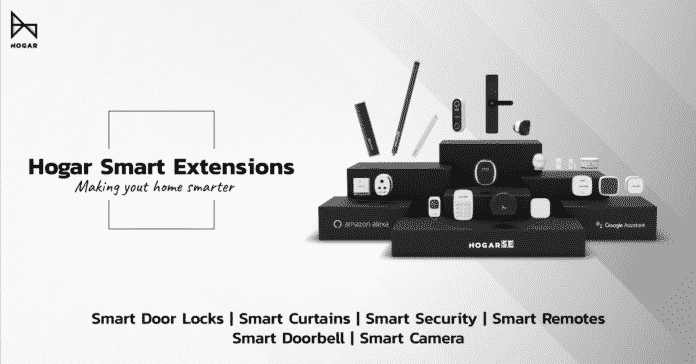 Advertisement
[adrotate banner="23"]
The Hogar product lines have defined magical, wireless smart home solutions consisting of touch panels, home controllers and extensive curtain automation since inception. Building on this we set out to take the smart experience onto the next level. Introducing Hogar Smart Extension series or Hogar SE.
Home automation solutions over the last decade have taken a big leap forward with roots in both wired and wireless solutions. Most of these solutions require extensive installation & civil work. The Hogar SE range of products are completely retrofit and offers a plug and play solution with the minimal DIY configuration process. Each product can be installed, configured, and included to the HSE eco-system in just 2 minutes. What's more, it's the perfect combination of aesthetics that complements your beautiful home along with providing tight protection to your home with a complete range of sensors.
Advertisement
[adrotate banner="34"]
Starting with the Smart controller, the Cerebro Mighty. This Zigbee based controller can connect and configure up to 60 smart devices over a good range. This is complemented by Hogar's uncompromising range of Security & safety products, which include Hogar's Atrio – smart door lock, Bella – Smart video doorbell & Cody – Smart IP camera. A variety of devices including door sensors, vibration sensor, motion sensor, gas, smoke, temp & humidity sensors and an indoor siren ensure subtle but safe in-home safety and security for your beautiful homes.
The smart remote series comprising of Keyfob, Keypad, Voila and Eeva are exciting devices for providing inputs to the whole system. Hogar's Eeva is a smart voice IR remote with amazon's Alexa in-built. Eeva's IR blaster enables you to control your TV's, AC's, and any IR-based devices with your voice.
Hogar SE range has also launched 5 kits focused towards the builder and developer segment. These DIY solution kits come in 3 ranges – Vesta, Iris & Secura. Vesta- Home starter kit enables a smart home solution in a budget. Iris and Secure comprise of two variants each Pro & Mighty. Both kits are aimed at home safety & security and support voice-enabled commands and come at an attractive price range for the builder community who are looking at smartifying homes on a mass scale.
To complement the functionality of the HSE product line Hogar has created an equally uncompromising mobile app, The Hogar SE App. Intuitively designed, with the consumer as the focus the app enables functionality to support every tenet of a smart home. A minimalistic User-Friendly Interface ensures simple and easy setup and usage. The same design language is carried forward through the entire product range.
The Hogar Smart Extension product range signifies the dawn of a new era in the smart home industry. It sits in perfect harmony with the complete range of Hogar products and complements the extensive Hogar curtain automation products portfolio really well. All in all, it is a robustly designed product line backed by a well-designed mobile app that ensures your home stays Smart | Simple | Secure.
To know visit: https://hogarcontrols.com/allproducts/
Advertisement
[adrotate banner="30"]