Advertisement
[adrotate banner="23"]
In conjunction with the Smart Home Expo, India's largest trade show and conference organized to demonstrate the best Smart Home Technology from around the world, the IIID Mumbai Regional Chapter, representative of the Interior Design fraternity in India, is set to organize the Smart Space Awards 2022.
Hosted at the Jio World Convention Center on the 20th & 21st April 2022, the expo is the trademark event of World Media & Expo LLP. Currently, in its third edition, the upcoming show will have over 150 brands displaying their portfolio to an expected attendance of over 10,000 business visitors.
Advertisement
[adrotate banner="34"]
The awards ceremony, which is scheduled to take place on the 20th, aims to combine the concepts of interior design & architecture with smart living and recognize excellent talents in the integration of smart technology into residential and commercial projects. "Live Smart. Live Well", is the main theme to be followed across all the submitted projects in all 6 categories. The awards are now accepting submissions, with the deadline set for April 7, 2022.
This event is a great opportunity for Interior Designers, Architects, and System Integrators to show off their creativity and vision in the use of technology to build a smart space. Participants and audience members will be able to share new ideas while utilizing cutting-edge smart technology to take Interior Design and Tech Integration to the next level.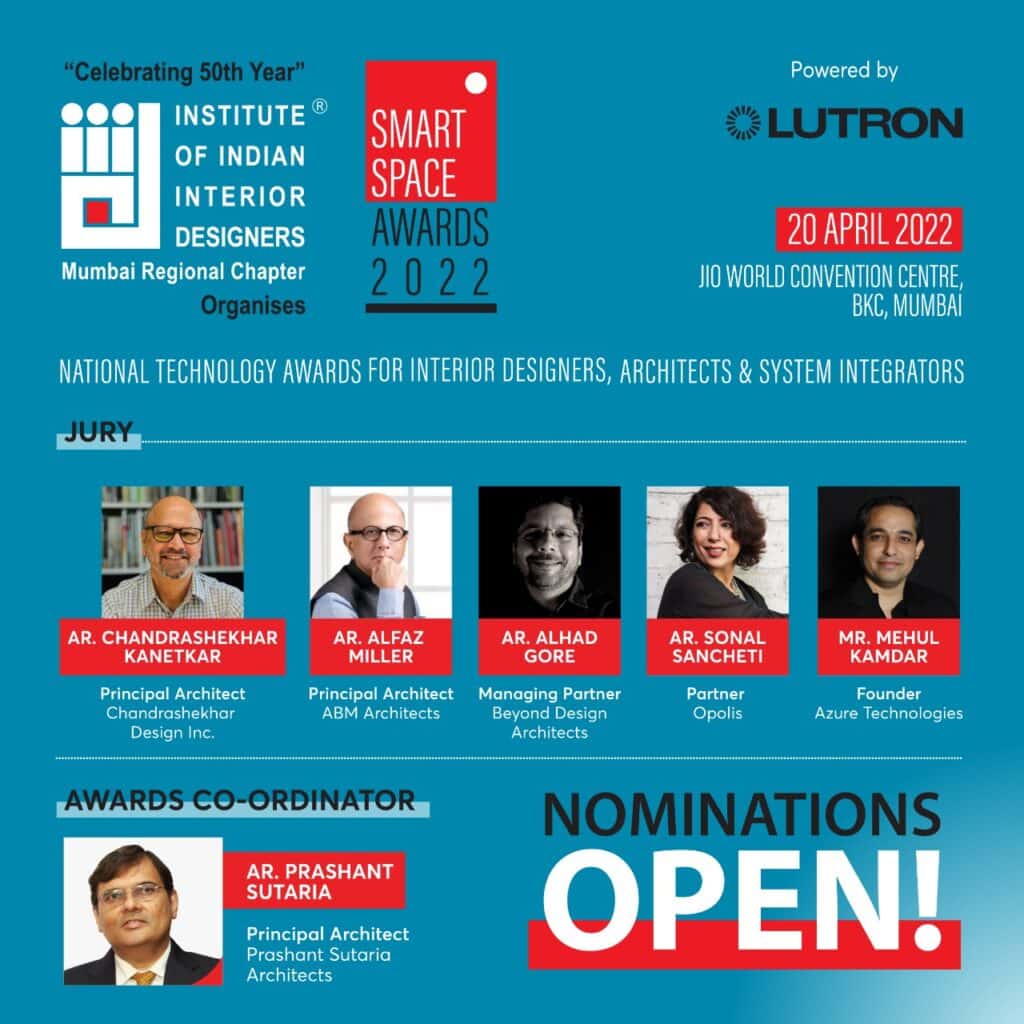 The jury for the Smart Space Awards 2022 includes
AR. Chandrashekar Kanetkar, Principal Architect, Chandrashekhar Design Inc.
AR. Alfaz Miller, Principal Architect, ABM Architects
AR. Alhad Gore, Managing Partner, Beyond Design Architects & Consultants
AR. Sonal Sancheti, Partner, Opolis
AR. Mehul Kamdar, Founder, Azure Technologies
AR. Prashant Sutaria, Principal Architect, Prashant Sutaria Architects (Awards Coordinator)
The focus of the awards is anticipated to be on the design, aesthetics, functionality, technology integration, creativity in mixing technology with design, and how it led to the creation of a comfortable, functional, secure, and sustainable project, as well as the end user's well-being.
For More Information on the awards ceremony visit https://www.smarthomeexpo.in/awards.php
Advertisement
[adrotate banner="30"]