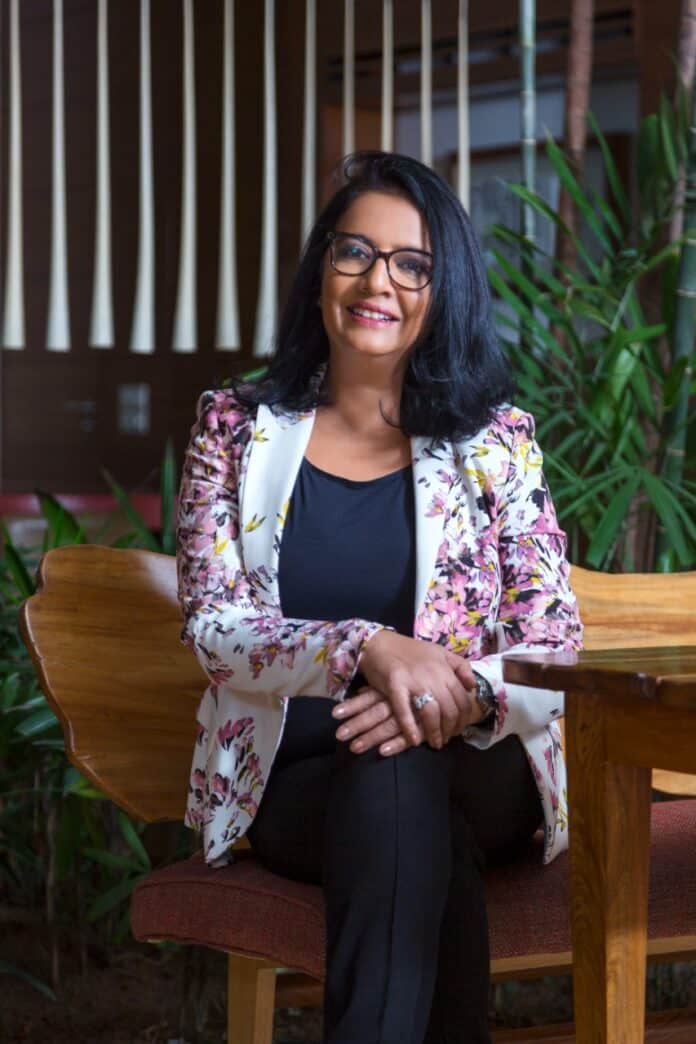 "Though each individual's preferences may vary in terms of how they envision their smart home, the architectural industry is well-equipped to provide bespoke smart solutions to home buyers, tailored to their specific needs"-states Ar. Sonali Rastogi.
Advertisement
[adrotate banner="34"]
With the rise of a tech-savvy generation, there's an increased awareness about the possibilities within smart homes and therefore, most users want all the categories to be integrated within their abodes. "Although, as stated above, there's a strong focus on security mechanisms since, post-pandemic, users spend a considerable amount of time inside their homes. A robust and integrated safety system in place, with sensors, alarms, and cameras, ensures mental well-being and provides a sense of comfort", says Sonali Rastogi, MD, Morphogenesis.
The concept of a smart home revolves around the idea of creating an energy-efficient, sustainable and secure environment that is focused on the user's comfort. The end goal is to improve the quality of life and provide an enriching experience through the use of technology, smart gadgets, and automation. "With the burgeoning middle class in India, and the parallel rise in socio-economic statuses, smart homes have become an aspirational symbol. Furthermore, with the constantly evolving technology and consequent reduction in prices, such homes have become relatively more accessible than they were a decade ago. There is an awareness within the millennial generation that smart homes allow for significant cost-cutting in the long run and can be customized according to their budget. Even in terms of sustainability, these homes are equipped to significantly cut down electricity consumption through intelligent systems, while also providing devices for energy production through renewable sources. Therefore, smart homes also prove to be a greener option", she adds.
 Who (consumer groups) are opting for smart homes the most? 
The market for smart homes is growing at a significant pace. According to estimates, there's going to be 30% growth—each year—in the smart home segment. Over a decade ago, the affordability was only limited to the high-income group. Although over the last few years as the market has moved towards more sustainable options and the spending capacity of the average Indian home buyer has risen, the niche smart home-buying population has expanded exponentially. The new tech-savvy generation, including millennials, has provided the necessary thrust in demand for such energy-efficient homes. Even retirees who tend to build new homes are opting for smart solutions, as technology often proves to be old-age friendly. Within Indian nuclear families, the concept of stay-at-home mothers or homemakers is on the decline, and therefore, working couples are opting for secure smart homes. Furthermore, these technology-driven homes are also gaining popularity within allied industries, like technology providers and property developers, as they sense a tremendous opportunity for growth within this field. 
What according to you are the must-have smart home products in today's contemporary homes? 
In the post-pandemic scenario, the smart home industry can offer secure, comfortable, and energy-efficient living spaces. As an increasing number of families had to spend time at home, due to the work-from-home restrictions, there's an emphasis on smart lighting solutions, thermostats, voice-enabled appliances, and other energy-saving automation. Safety and security have also emerged as one of the key areas within smart homes. Biometric/touch-free locking mechanisms, CCTV cameras, and face recognition screens have become a necessity today. Even in terms of spatial planning, the demand for reconfigurable furniture, multi-use spaces, and flexible mood lighting has risen. 
What role does system integrators play when it comes to designing a smart home? How important is their role? 
System integrators play a crucial role in customizing the home environment to match the client's lifestyle requirements. To have a seamless smart home experience, across the various smart devices and appliances, we need to establish complete integration. The automated devices and software need to function in tandem and this can be achieved through a good system integrator. Within smart homes, we usually integrate sensors and smart devices to recognize behavioral patterns and monitor the habits of the end-users. Thereafter, through machine learning, the integrated system can provide an economic model for smart home inhabitants. 
What according to you are the major benefits of smart & connected homes in the current "tech-savvy-era?" 
As smart homes allow you to manage all your home devices from one place, the convenience factor stands out as one of the major benefits. Most devices today can be controlled through applications on your smartphone irrespective of your location, which affords a great amount of flexibility to the user. One can monitor activities in real-time, turn devices on or off, adjust the light intensity, precisely control heating and cooling, and therefore, optimize the system to save a considerable amount of energy. Moreover, intelligent systems provide you with analysis and feedback on your behaviors, habits, and consumption patterns. This allows smart home users to rectify and improve upon any unhealthy lifestyle habits that they may have, while the smart systems continue to evaluate and adjust in order to provide a pleasant experience. 
In which sector (hospitality, commercial, residential), according to you, traditional devices and techniques are getting rapidly displaced to make room for smart devices and systems, aided with the latest technologies? And why? 
It'd be difficult to point out a single sector since technological advancements have been happening across all sectors, whether it be residential, hospitality or corporate offices.
In what ways do you think the concept of smart homes has contributed to the lifestyles of working professionals? 
There's no denying that smart homes can considerably improve the quality of life. With the onset of the pandemic in India, most of the workforce adopted a work-from-home (WFH) model. This gave rise to the demand for smart spatial planning, which is an integral aspect of smart homes. Multi-purpose spaces that feature reconfigurable furniture became the need of the hour. Today, working professionals need workstations that can also double-up as leisurely sofas, along with accompanying technological features like mood lighting which can turn around the look-and-feel of the interior within seconds. Moreover, as professionals have been working from home over the past year, they require a set-up that saves time and minimizes disturbances. Therefore, a fully integrated smart home allows users to remotely control all aspects within the house, from the comfort of their chairs. Smart home products are also known to save time, cost, and effort, thus ensuring a more productive and healthier environment. Hence, it won't be an exaggeration to state that smart homes help cultivate a better tomorrow.
Do you see any challenging factor (economic, social, environmental etc.) that has the strong potentiality to restrain the smart home industry? What, according to you, are the possible solutions? 
The main challenge that smart systems face today is that of cybercrime. Since most smart devices need internet access, they are prone to cyber-attacks and are also vulnerable to fluctuations in internet security. Most users provide privileged information on their apps for ease of access, which is also a threat in case the apps are compromised. The positive aspect is that the smart home industry is parallely working on security solutions that are constantly evolving and have the ability to provide a robust security cover for smart homes.
How do you foresee the Smart home industry 5 years down the line? 
The smart home industry is expected to grow at a fast pace in the next half of the decade. Through advancements in technology, artificial intelligence, machine learning and system integration, smart homes will continue to become more affordable. Moreover, as the newer generations become aware of the cost-saving benefits and urgent climate change issues, they'll start opting for a healthier lifestyle. Therefore, the surge in demand for smart homes is going to grow exponentially.
Advertisement
[adrotate banner="30"]