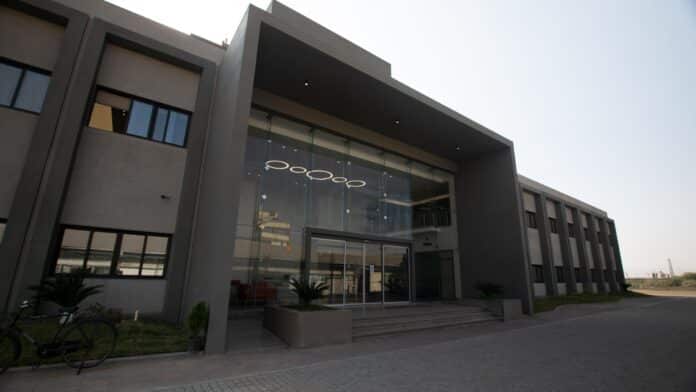 Advertisement
[adrotate banner="23"]
Systems Integrator Nikesh Patel, Technical Director, Precious Autosys opts for Crestron to offer full-scale Video Conferencing Solutions for Shell Energy Office in Hazira, Gujarat.
The pandemic has brought with it new challenges and opportunities in modern workplace design. Hybrid and remote work culture has ushered in a new era for businesses, as they have transformed from fixed to fluid work environments. Noting this shift, Shell Energy India has restructured its office space to minimise the utilisation of its physical offices and enhance communication across teams and branches by incorporating the latest technology.
Advertisement
[adrotate banner="34"]
Shell Energy India's corporate office in Hazira, Gujarat employed Surat-based Systems Integrator Mr. Nikesh Patel, Precious Autosys, to technically upgrade their office by incorporating full-scale Video Conferencing Solutions.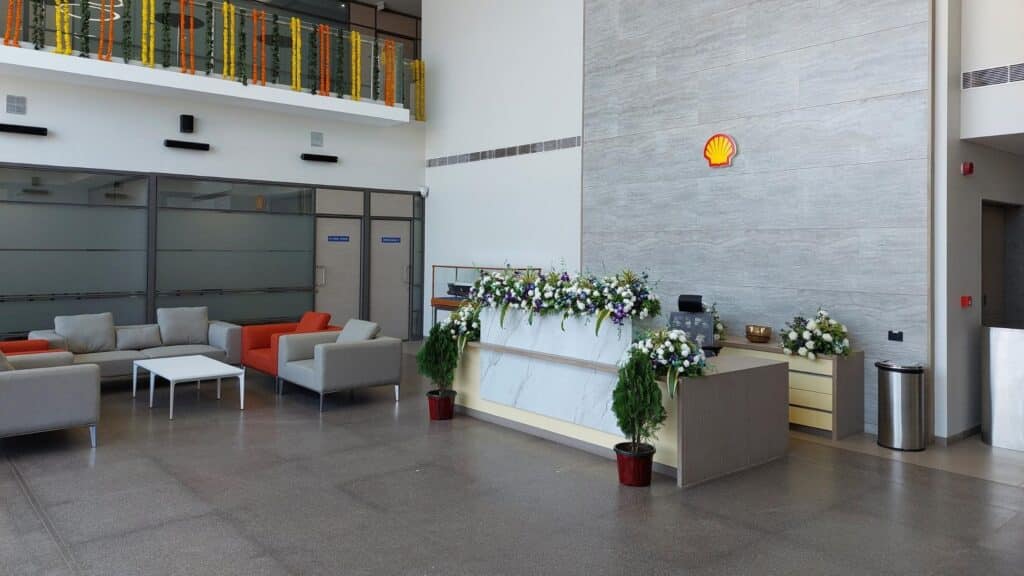 The new office has three conference rooms, a high-capacity video conference room, and three huddle rooms. These rooms needed automation to make controlling multiple AV equipment as simple as pressing a button.
Scope of Work
"Shell Energy Office wanted video conferencing AV solutions in all their meeting rooms as per the number of seating. The scope included multiple meeting rooms to have their own unique set of AV solutions. Background music solutions for the dining area, game zone, gym zone and reception area." explains Mr. Nikesh Patel.
They also needed a room scheduling solution with capabilities to support 3rd party room scheduling applications to manage all room occupancy along with automation in all their meetings and boardrooms. Automation was to be achieved in such a way that all audio videos were controlled seamlessly with a touch screen controller.
Project Planning and Implementation Phase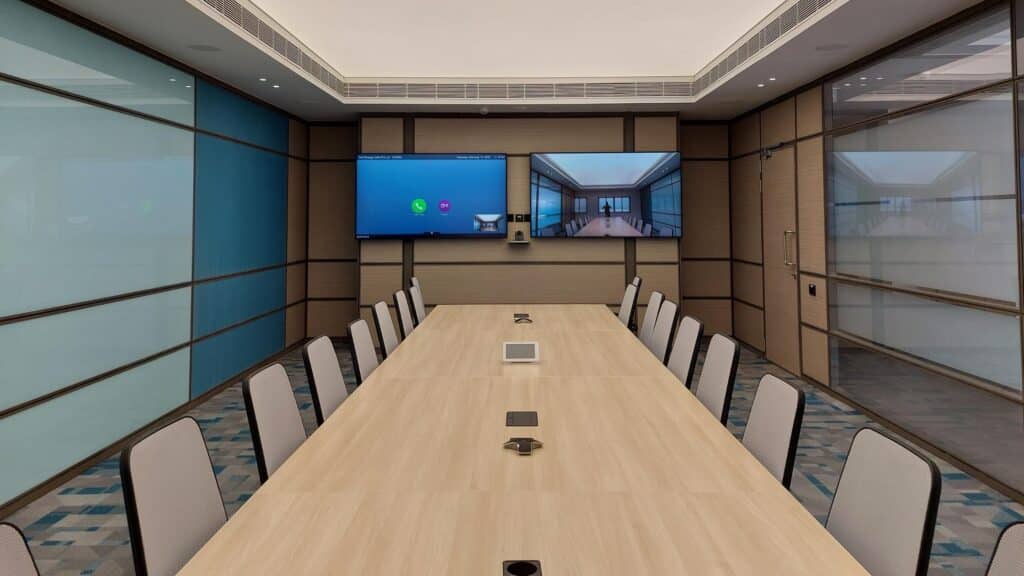 The approximate cost of the project was 60 lakhs and Nikesh selected Crestron's complete video conferencing and room scheduling solution. Nikesh was impressed by the working of Control Systems by Crestron with UC (Unified Communications) capability because this would allow the office to use all kinds of meeting rooms including Microsoft Teams, Zoom, Cisco Webex to name a few.
To deliver such a comprehensive solution Precious Autosys first provided the complete wiring plan on CAD drawing to make sure that the aesthetics were not changed.
Installing the System
After detailed planning and consideration, Precious Autosys and Shell Energy Office reached a consensus to install the control system, room scheduling system and the UC solutions by Crestron. Keeping in mind the requirement of the client, Polycom Video Conferencing Unit was installed with the solutions to deliver HD definition video and crisp audio.
Samsung displays were used in each and every conference room. Crestron UC solution, sound bar and wireless presentation solution have been implemented along with a room scheduling panel. In the larger conference room, a completely customised Crestron control system, Crestron HDMI switcher, Polycom VC with multiple microphones and Crestron audio solution have been installed.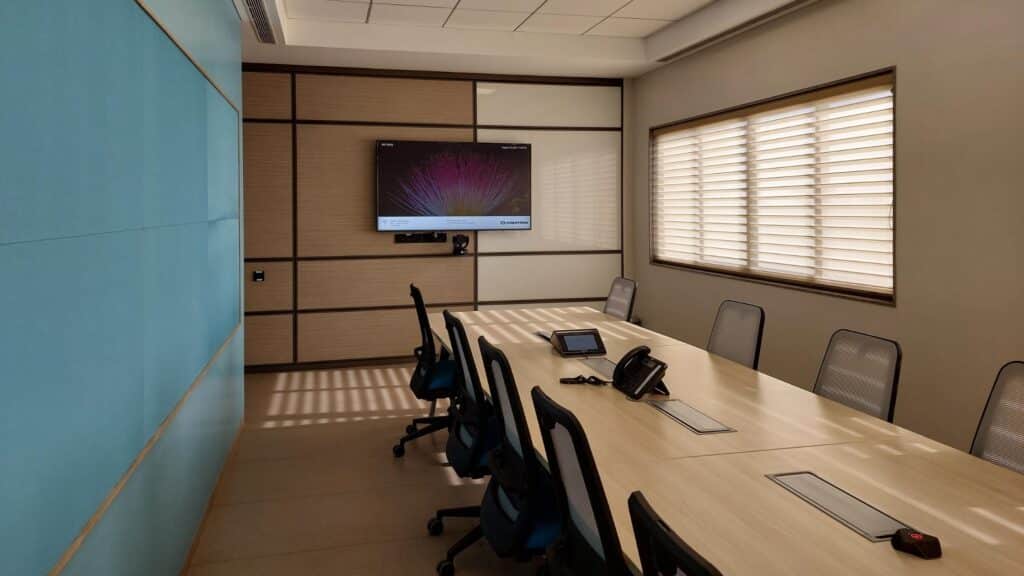 On the ceilings and walls, Revel and Crestron speakers along with a Yamaha music streamer were installed for background music in the reception area, dining area, game area and gym and yoga centres.
System Integrated
Crestron Unified Communications Solutions
Unified Communications (UC) solutions make digital transformation possible in the SEI workplace. At its core, UC requires cloud-hosted software that supports voice-over-IP telephony, audio and video conferencing and messaging.
The platform makes it possible for hybrid workforces to work anywhere, on any device they feel most comfortable using. UC solutions create user-friendly, standardised meeting room experiences across all meeting spaces in the organisation.
UC provides a consistent single-client experience for presence, instant messaging, voice, video, and content sharing in the meeting rooms.
Key Benefits of Crestron Unified Communications Solution
Real Time Group Collaboration
Ultra-Responsive On-Screen Annotation
Complete room control from ONE touch screen
Crestron DMPS3-300-C
The DMPS3-300-C from Crestron delivers a complete, high-definition presentation control and signal routing solution for video conference rooms. It integrates the control system, multi-format matrix switcher, mic mixer, audio DSP, and amplifier all into one 3-space rack mount package.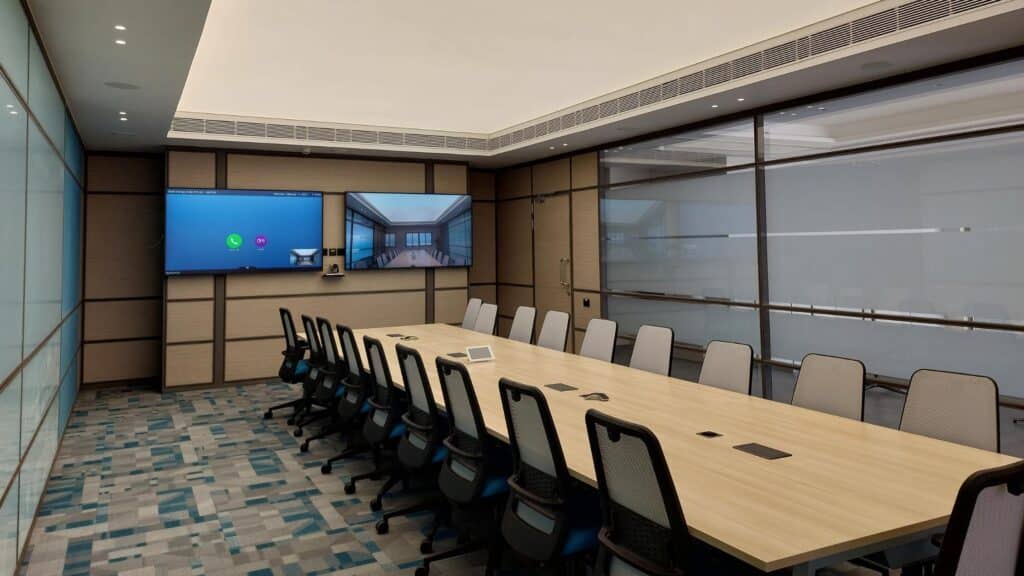 The DMPS3-300-C offers extensive signal routing flexibility and high-performance signal processing without the need for separate components. Auto-configuring inputs enable plug-and-play compatibility with a wide range of digital and analog sources.
Built-in DigitalMedia 8G+ and HDBaseT connectivity provides a streamlined, long-distance wiring solution for remote sources and display devices, and for facility-wide integration as part of a larger media distribution system.
Microphones & Speakers Installed
Microphones were sourced and installed from Crestron & Polycom. Crestron Excite IC8 in ceiling speakers along with Revel M10 on wall speakers were installed at SEI. The amplifier was sourced from Celto Acoustique and the preamplifier from Yamaha.
Key Features
Crestron Microphone 

Attractive, low-profile design
360° pickup with 20 ft (6 m) range
Microphone mute button and indicator
Home-run or daisy-chain wiring options
12 ft (3.7 m) cable included
Powered via the tabletop conference device

Polycom Microphone 

360-degree coverage
22 kHz of high-fidelity audio
7.6 M cable
Lighted button for Mute indication

Crestron Excite IC8

Woofer 8-inch (203 mm) polypropylene w/rubber surround & steel basket 
Tweeter: 0.98 inch (25 mm) treated cloth dome w/swivel
Crossover: 2nd order Linkwitz-Riley 
Impedance: 8 Ohms nominal 
Frequency Response: 50 Hz to 20 kHz (-3 dB)
Power Handling: 100 Watts programs
Sensitivity: 89 dB @ 1W/1m  
Coverage: 100° conical 

Revel M10 

Driver Complement: Dual 3″ (75mm) woofers, dual 3″ (75mm) midrange, drivers, 1″ (25mm) tweeter 
Crossover:2-1/2-Way at 400Hz and 2.2kHz
Sensitivity: 89dB
Impedance: 8 Ohms 

Amplifier

Max output Power: 2x 400W 8 ohms
Overall gain: 37.3dB
Frequency Response: 20~20000Hz

Pre Amplifier (Yamaha WXC-50)

Access to client's music library, Pandora, Spotify, Napster, SiriusXM Internet Radio, TIDAL, Deezer and more
Audio Control in up to 9 additional rooms with MusicCast
Voice control using your Alexa device like Echo or Echo Dot
MusicCast app for Apple® iOS and Android™ devices
Conveniently slim, can be placed horizontally or vertically
Crestron 7" Touch Screen Control Interface
Crestron TSW-760-B-S
The TSW-760 series features a 7 in. capacitive touch screen display with Crestron HTML5 and Smart Graphics® software technology and five soft-touch buttons. Power over Ethernet (PoE) connectivity and a range of mounting options make installation simple for both new and retrofit applications.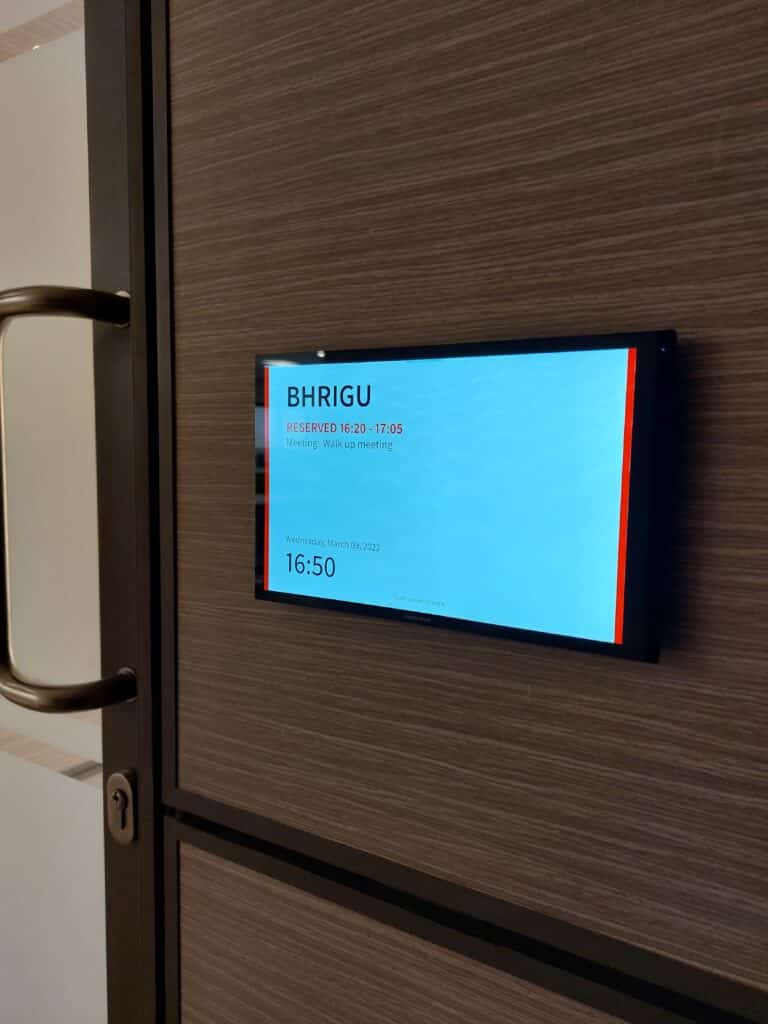 Additional features include the ability to control any function using voice commands, view security cameras and other video sources, communicate using built-in video intercom and phone capabilities, and browse the Internet. Native applications are included to enable the use of a room scheduling panel, control a Zoom Rooms™ conferencing system, and access a Sonos® home sound system.1
Room Scheduling Solution
Crestron TSS-1070
The Crestron 10 touch screen room scheduling Interface is designed to enhance and simplify room scheduling for Shell India. The TSS-1070 is installed near the entrance of each meeting room and huddle space to provide a clear indication of the room availability and schedule, and it integrates seamlessly with a variety of popular scheduling services.
Crestron SSC-100-EL
The Crestron SSC-100-EL is a hallway sign that provides a clear indication of a room's availability with enhanced contrast and visibility as part of a complete Crestron enterprise room scheduling solution. The SSC-100-EL features a stylish appearance and vivid colour illumination that complements the corporate office environment. The two-sided, grey acrylic sign face illuminates bright green or red to indicate the room availability status.
Crestron Room Scheduling Application
The conference room can be booked and checked in using a mobile app. The reservations will sync with the user's calendar and send them a reminder. Meeting rooms reserved by employees who fail to check in within a specified timeframe will be cancelled and made available for others to reserve.
Takeaway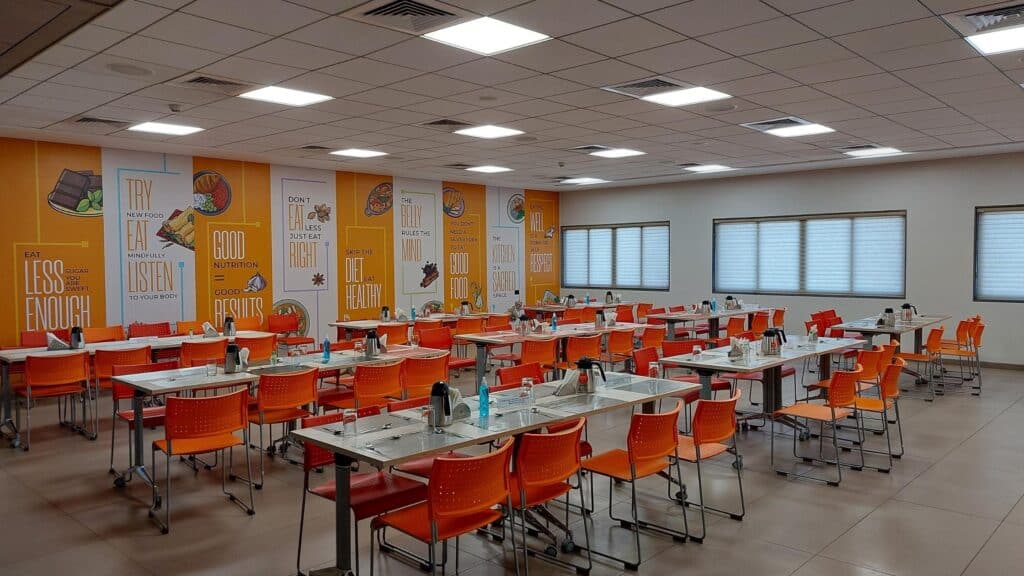 "Crestron was responsible for providing the majority of integration. This goes to prove that Crestron is actually the only brand that can be considered the industry leader in terms of solutions for Commercial Video Conferencing. The brand has successfully provided all solutions for this project. The Crestron UC solution, Control System solution, and Room Scheduling solution made it really simple for us and the customer." says Mr. Nikesh Patel about his experiences on using the brand.
Advertisement
[adrotate banner="30"]