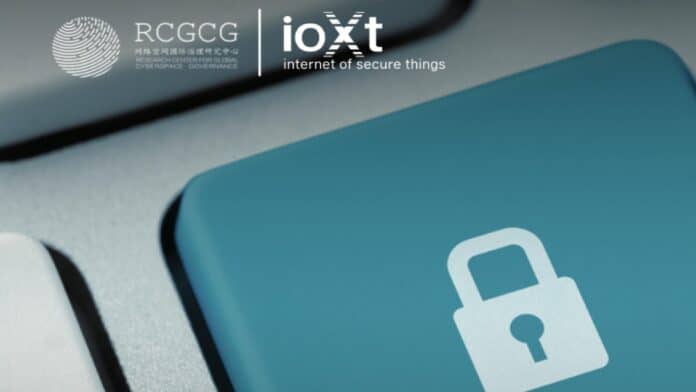 Advertisement
[adrotate banner="23"]
The global standard for IoT security, ioXt together with the Research Center for Cyberspace International Governance (RCGCG), recently launched the Global IoT Security White Paper. The White Paper is the world's first security white paper on the IoT industry, proposing a set of twelve guidelines to better safeguard global IoT security. The organizers convened a virtual conference of global security experts to announce the findings and initiatives of the 2022 Global IoT Security White Paper, identify industry challenges across geographies and point the way forward to cybersecurity solutions. Speakers included guests from the White Paper research group, MIT, Observer Research Foundation America, the Carnegie Endowment for International Peace, the Centre for Humanitarian Dialogue, and other distinguished guests.
"IoXt's security standards elevate product manufacturers to meet the extraordinary number of threats to their products and brand, ensuring brands are safer for the problematic world." said Craig Miller, Director of Intellectual Property at ioXt.
Advertisement
[adrotate banner="34"]
The White Paper points out that IoT devices have infiltrated all areas of consumer life and critical infrastructure. According to the international think tank Groupe Speciale Mobile Association (GSMA), global IoT connections reached 13.1 billion in 2020, while wired IoT devices are expected to hit 23.3 billion by 2025. In the face of this rapid expansion, many firms and organizations have failed to keep up the pace of comprehensive IoT security, leading to large security risk exposures. Global IoT security is further complicated by the international nature of supply chains amidst a contentious geopolitical environment, including the challenges caused by acrimonious Sino-U.S. relations.
The White Paper suggests that such divisiveness is lose-lose and that countries need to forge a consensus on technology and national security, to facilitate cybersecurity advancement in the face of increasing threats. The research group advises that cybersecurity requires a holistic approach across the industry on device security, data security, and personal privacy protection, covering all stages of the product lifecycle from product design, technical standards, compliance certification, to security governance. The paper highlights corporate case studies in cybersecurity best practices including Eurotech, Tuya Smart, SDT Inc., and Happiest Minds Technologies.
"The future security and sustainability of the IoT industry will depend upon the collaboration and joint response from governments, private companies, and non-governmental organizations. The release of the 2022 Global IoT Security White Paper demonstrates that all main actors in the IoT market can work together to develop clear, tangible and measured initiatives that will create a robust and safe IoT industry. It is my hope that we will build on this White Paper and continue to work with more key players to ensure the future security of the fast-growing IoT market," said Dr. Lu Chuanying, director and senior fellow at the RCGCG.
To accelerate the construction of global IoT security systems and improve governance, the White Paper proposes twelve guidelines to enhance public confidence, improve IoT cybersecurity governance, encourage industry innovation, and further develop the global digital economy.
Guidelines include recommending
Stronger international trust and cooperation
Encouraging corporations to spearhead in-house cybersecurity initiatives
Fortifying international cybersecurity standards
Building an open IoT security industrial chain
Investment in R&D for innovative cybersecurity solutions
Enhancing public awareness on cybersecurity safety
Growing the cybersecurity professional talent pool.
While the global complexities of the IoT supply chain make it challenging to construct security systems, the research group sees a path forward through the twelve guidelines and deeper international cooperation. Cybersecurity is an incredibly pressing and relevant issue. According to anti-virus and computer security service provider Kaspersky, IoT cyberattacks more than doubled year-over-year in the first half of 2021 with 1.51 billion breaches of IoT devices from January to June 2021, increasing from 639 million in the same period of 2020. Because IoT devices collect such a wide array of data, reinforcing global standards and cooperation on cybersecurity will protect not just personal privacy, but also business secrets and national security. The vulnerabilities caused by this fragmented global system requires cooperation between international standards, research institutions, private industry and governance groups.
Advertisement
[adrotate banner="30"]