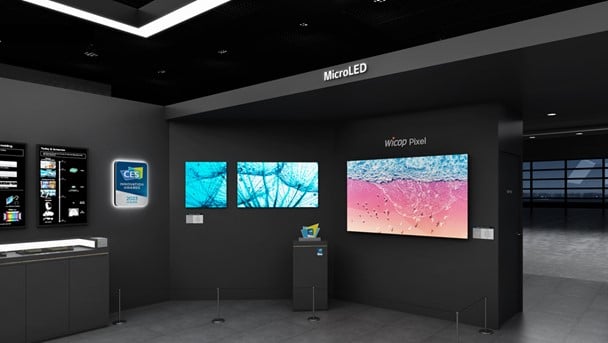 Advertisement
[adrotate banner="23"]
Seoul Viosys, a globally recognized optical semiconductor element manufacturer, launched the biggest display at Integrated Systems Europe (ISE) 2023,' in Barcelona, Spain.
Seoul Viosys has succeeded in improving the brightness of micro-LED displays to 4,000 nits via WICOP Pixel technology. This is deemed to be the highest level in the category of one-chip-based displays. Seoul Viosys showcased its WICOP Pixel solutions at a separate micro-LED booth in the ISE exhibition center.
Advertisement
[adrotate banner="34"]
WICOP Pixel Based on Innovative Features
WICOP Pixel refers to the world's first full-colour one-chip technology characterized by no-wire, no-package, no-lens, and vertically stacked three (RGB) micro-LEDs. It is clearly differentiated from existing micro-LED technologies because three LEDs combine and emit light of different colours like one pixel. Colours combined in the pixel are expressed externally and therefore are not distorted regardless of the direction (up, down, right, and left) from which displays are watched.
Stacking characterizing WICOP Pixel makes it possible to manufacture microchips, reducing the number of display production processes to one-third. This also makes it easier to enhance yields and cut manufacturing costs. Its emission area also shrinks to one-third of that of existing flat products, enabling the sphere of business to expand to include AR, VR, and metaverse.
WICOP Pixel featuring a brightness of 4,000 nits is micro-LED technology optimized for signage, VP, and automotive exterior displays. At present, general LED packages or mini-LEDs, rather than micro-LEDs, are used for outdoor displays. Outdoor displays require a brightness of 3,000 nits or higher but existing micro-LEDs have been limited to a brightness of 1,000 to 2,000 nits. However, WICOP Pixel enables a brightness of 4,000 nits, expressing consistent colours regardless of direction. Seoul Viosys started mass-producing micro-LED signage in the first half of 2020, planning to manufacture new products for VP in large quantities in the first quarter of this year.
"Seoul Viosys has already secured technologies for mass-producing new products for micro-displays including wearable, VR, and AR devices, as well as significantly improving the functions of WICOP Pixel. This ISE will serve as an opportunity to find and secure new clients and business partners. To this end, we will actively conduct marketing activities, focusing on the continuous development and sophistication of micro-LED technologies," said Seoul Viosys CEO and President Lee Young-joo.
For more details: www.seoulviosys.com/en/
Advertisement
[adrotate banner="30"]