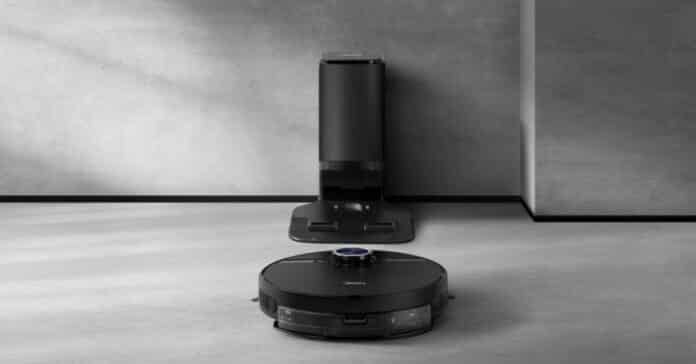 Advertisement
[adrotate banner="23"]
Midea has announced the release of the Midea S8+ intelligent auto-dust-collection robot. Thanks to its automatic dust collecting station, it frees customers' hands for up to 30 days.
Midea Robozone Technology, a subsidiary of Midea Group that uses cutting-edge technology to shape its core competitiveness in the smart home cleaning technology and ecosystem.
The Midea S8+ has the following new features:
Advertisement
[adrotate banner="34"]
Automatic dust collection station that can collect dust and debris for up to 30 due to that large capacity disposable bag. It has 19000Pa of suction power and a surprising 9-second collection process, with no residue left in the robot's dust tank.
The 2.5L self-sealing dust bag and a lock-down system prevent dust from leaking during collection. It collects dust automatically while charging and features a 'full-dust' reminder.
The high-frequency vibration mop leaves the floor cleaner with the self-adjusting suction power of 4000Pa. Equipped with a newly-designed V-shaped floating roller brush, it has a dust removal rate of 95% with a 450ML dust box capacity.
It has been outfitted with 5200mAh large-capacity battery to support 180 minutes of battery life.
The ultra-frequency vibration wiping and mopping system removes tenacious stains, scouring floors up to 500 times per minute. It cleans using a deep mop which makes it suitable for both wet & dry usage.
The robot's new generation LDS navigation system scans the entire house properly, allowing it to clean large regions without missing or repeating any spots. Working in a multi-story home environment is made easier with a multimap-saving feature.
Users have complete control: Auto cleaning, Selective room or area cleaning, Intensive cleaning, and Zigzag cleaning are some of the cleaning modes available. Wi-Fi connectivity, Alexa and Google speech integration, and app support with the MSmartLife App are all included.
The vacuum cleaner has been fitted with 30+ improved sensors including a carpet detection system for automatic carpet intensive cleaning switch, high-tech identification & an AI dynamic obstacle avoidance system.

About Midea Robozone
Midea Robozone is a high-tech firm that specializes in Artificial Intelligence, Smart Robots, and Smart Solutions. Midea Robozone has a multi-brand portfolio. Please visit the company's website to learn more about its premium cleaning robots. To learn more visit , https://www.midea-group.com
Advertisement
[adrotate banner="30"]