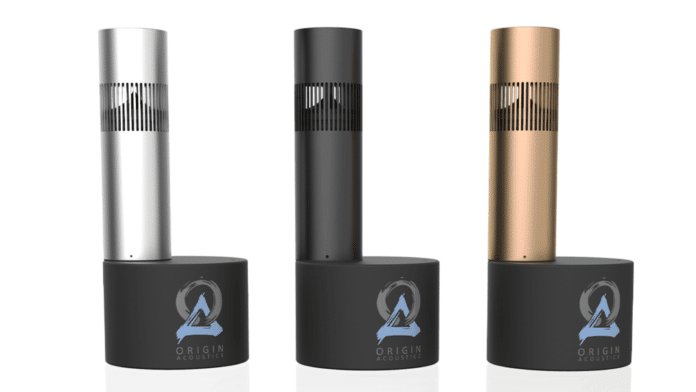 Advertisement
[adrotate banner="23"]
Origin Acoustics, a leading innovator in architectural audio and electronic solutions, is thrilled to unveil the enhanced and upgraded Ambisonic™ Bollard landscape speaker series, showcasing advancements in acoustic technology and an expanded lineup.
The heart of the improvement lies in the incorporation of Ambisonic ribbon tweeter technology across all Ambisonic Bollard landscape speakers. This breakthrough technology delivers unparalleled high-frequency reproduction, ensuring remarkable clarity and lower distortion even at higher power levels.
Advertisement
[adrotate banner="34"]
Diversifying the series, Origin Acoustics is introducing a medium-sized solution to complement the range, alongside the existing Bollard 106 (large) and Bollard 64 (small) models. These speakers are meticulously designed to excel in any residential or commercial outdoor application, promising powerful and captivating performances.
The new Ambisonic Bollard 85 landscape speaker boasts an 8" integrated subwoofer that is easily concealable, a 5 ¼" down-firing driver dispersing immersive 360° sound, and an elegant 22" above-ground structure. The subwoofer's porting, integrated with the mid/tweeter opening, creates a harmonious and unified sound profile.
With adaptability in mind, each Ambisonic Bollard speaker offers adjustable impedance settings of 8Ω, as well as 70v/100v options. This versatile setup caters to various installation scenarios, allowing for peak power handling ranging from 200W to 800W, depending on the model. The frequency response extends from 32Hz to 20kHz, with the larger subwoofer transformers delivering rich and deep bass, even at higher volumes.
Origin Acoustics also introduces a modern touch with a hexagonal aluminum speaker sleeve, a contemporary alternative to the existing round and square options. Crafted to endure outdoor elements such as moisture, heat, and sunlight, these sleeves are available in three colors—Midnight Black, Stargazing Silver, and Champaign—and are backed by a generous five-year warranty, preserving their elegance over time.
Experience the groundbreaking Origin Acoustic Ambisonic Bollard Landscape Speaker series firsthand at CEDIA 2023, located at Origin Acoustics booth #2133.
For More Information: www.originacoustics.com
Advertisement
[adrotate banner="30"]