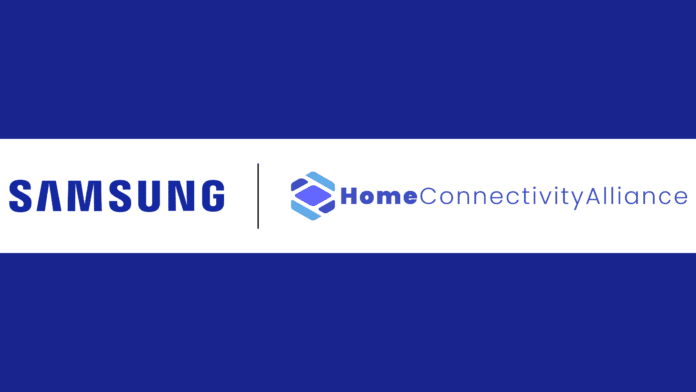 Advertisement
[adrotate banner="23"]
Samsung Electronics announced that it is working with fellow members of the HCA, including LG Electronics and Vestel, to provide consumers with the ability to control third-party smart appliances using the App of their choice — the first collaboration of its kind in the industry. Based on the HCA's Interface Specification 1.0, this move will enable Cloud-to-Cloud (C2C) interoperability between certain home appliances & HVAC systems and pave the way for increased consumer benefits like whole home energy savings. Starting in Q4 2023, the functionality will first be available in eight countries including Korea and the U.S., with expansion to other regions at a later date.
Samsung Electronics is a founding member and holds the chair position of the board of the HCA, an organization dedicated to the development and promotion of compatibility and energy management across home appliances, HVAC3 systems and TVs within the connected home ecosystem. The alliance has recently announced that its members will begin implementing Interface Specification 1.0.
Advertisement
[adrotate banner="34"]
"It is great to see HCA bring its first example of interoperability to market with global leaders in the appliance, HVAC and TV industries. It is a testament to the commitment of large device manufacturers to better serve our consumers in their homes," said Chanwoo Park, Executive Vice President and Head of the Service Biz Group, Digital Appliances Business at Samsung Electronics. "By enabling consumers to control multiple brands of appliances and HVAC products through apps such as SmartThings, we expect the smart home market to achieve new levels of scale. Global leaders will be able to fuel enhanced digital services that provide consumers with new benefits, and Samsung is steadfast in its commitment to HCA and its vision."
The collaboration provides a framework for C2C cross-control and will establish a strong foundation for home connectivity to provide meaningful benefits for consumers, starting with legacy device integration and expanding into energy savings in the near future. Since the C2C connectivity does not require a new hub or updates to appliances, it will be particularly beneficial for users' existing home appliances.
Thanks to this development, users can start controlling their smart appliances, regardless of the manufacturer through their existing appliance and HVAC apps such as the SmartThings app, the one-stop app that lets them manage their homes and smart devices with ease, LG's ThinQ and Vestel's VeeZy. Consumers simply need to update their mobile app of choice to enable management of the smart appliances in their homes.4
This initiative marks the first time that Samsung Electronics and LG Electronics will support control of their respective devices using each other's apps — a step that enhances consumers' ease of use and shows potential for future cross-collaboration. Furthermore, along with Vestel, Samsung was the first key player in the industry to implement HCA integration. After a focus on supporting key features that consumers use most often, Interface Specification 2.0, which is expected in 2024, is set to add energy management functions and include additional product lines, such as electric vehicle (EV) chargers.
"HCA member companies are taking a thoughtful approach towards interoperability of everyday essential products already in our homes," said Yoon Ho Choi, Home Connectivity Alliance President. "I look forward to seeing our member companies adopting the specification starting this year and HCA-enabled technology being available to more consumers in the near future. The goal is to make the appliances and HVAC systems we live with, smarter, more accessible and energy efficient throughout their life by connecting them to energy management and other services."
https://www.samsung.com/us/home-appliances
About the Home Connectivity Alliance
HCA is a member-driven organization dedicated to the development and promotion of secure interoperability and energy management across long-life appliances, HVAC systems and TVs within the connected home ecosystem.
HCA now includes 15 global brands and features member companies AEG, American Standard Heating and Air Conditioning, Arçelik, Beko, The Electrolux Group, Frigidaire, Haier, GE Appliances, Grundig, LG Electronics, Resideo Technologies, Inc., Samsung, Trane Residential and Vestel.
For more information: www.homeconnectivityalliance.org
Advertisement
[adrotate banner="30"]