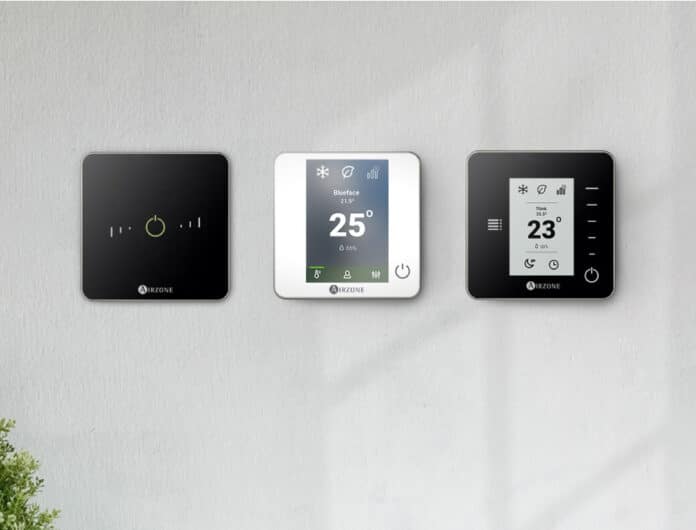 Advertisement
[adrotate banner="23"]
Pulse Cinemas present another new brand to their family: Airzone, a global player in the HVAC world that allows simple control of AC and heating from the same interface.
For those few who think that there are already strong players in the world of HVAC helping installers create and integrate modern, controllable AC and heating systems; and are wondering Why Pulse Cinemas has teamed up with Airzone?
Advertisement
[adrotate banner="34"]
Kapes Patel, Pulse Cinemas COO, explains, "Well, we strongly believe the company is bringing something new to the market and the solutions we are going to offer are tailor-made for our sector. We showcased the new brand at the recent EI Live! The reactions received were great. The dealers recognised a product that fits perfectly into their world and allows them to confidently add a full heating and aircon service to their portfolio."
Airzone belongs to Corporación Empresarial Altra, a business group focused on the research, development and production of innovative products designed to boost comfort and rationalise energy consumption globally. All the company's products are designed and created at the company's HQ in Spain from a location in the Andalusia Technology Park (Malaga) since 1997. The company has a strong presence in the United States, France, Greece, Ireland, Italy, United Arab Emirates, Spain, Jordan, Kuwait, Mexico and Portugal. It has now partnered with Pulse Cinemas to begin its journey in the UK market.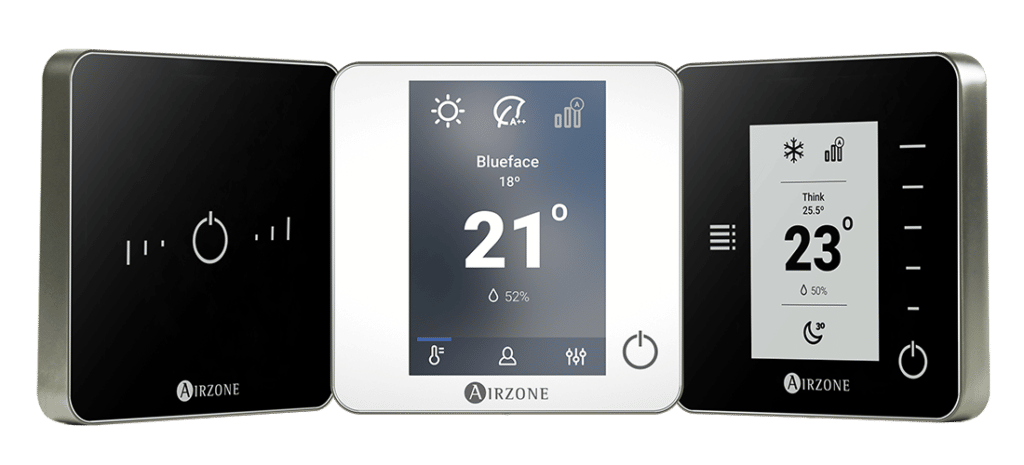 The company's wide range of products allows installers to create new AC and heating systems, but also retrofit control onto even the oldest AC units. Airzone is compatible with more than 90 HVAC brands in the sector with more than 14K unit models.
For example, the maker's Aidoo Pro Fan coil allows control of any number of fan coil units of any type all from the same App, with the option to integrate this control into BMS platforms. The Aidoo Pro Fan coil can control many types of fan coils including 2 pipes, 4 pipes, 3 speeds, 0-10 V control, proportional valves or all/nothing valves.
Each Aidoo Pro Fan coil device manages an individual AC unit and via the in-house created Airzone Cloud App, can switch products and systems off, set temperature, choose fan speed, change operational mode, manage timed events, access special functions such as dehumidifier and offer system analysis such as open window occupancy detection. Configuration via the App can take place over the cloud or via Bluetooth. For larger projects, groups of fan coils can be controlled via the App allowing for easy maintenance of large applications.
The Aidoo Pro Fan coil also delivers plug-and-play operation with hydronic applications without the need to communicate with the home automation system or BMS. It also adds useful functions that eliminate the need for additional programming.
The whole Aidoo family of products has been created to deliver modern, simple control of any home no matter what the age of the home or the requirements of the family. A complete range of products and systems account for every type of control and the environmental requirement that a domestic building could demand.
Apart from the App, another attractive and useful point of control can be offered by the Airzone Blueface touchscreen thermostat, the company's most high-performance and fully functional wall-mounted controller. The unit offers an attractive full-colour graphic interface with 3.5 in IPS capacitive display and 24-bit resolution. Other wall-mounted control options include the Airzone Think, which delivers an e-ink graphic interface with a front light and polarizing filter complete with electronic capacitive sensors. Lastly, the Airzone Lite is designed to be a simple interface for turning systems on/off or raising/lowering performance.
Tom Hawes, Technical Sales Manager, one of the Pulse team spearheading the introduction of this brand to dealers, explains, "One of the key reasons for taking on Airzone as a brand is its ability to control both AC and heating from the same interface. It also has over 25 years of global experience delivering HVAC and heating controls with a huge catalogue of products for every type of heating and cooling application possible.
"They also have current certified integration drivers for RTI, Lutron, Creston, Control4, Savant and ELAN so the platform is perfect to bring to our dealers as a simpler solution both for installation and programming. Yes, there are other solutions out there and they are good, but most of them usually only control heating or only AC and not both. Airzone has also recently employed a dedicated sales rep based purely in the UK, so we are confident they are here to stay and certainly see the UK as a growth market that we are very pleased to be representing Airzone."
Like the entire Pulse Cinemas family, dealers can come and see the system in full operation at company HQ. An Airzone system controls all of the AC and heating throughout the entire building. Airzone and Pulse Cinemas are of course offering full training and technical support for the brand.
Advertisement
[adrotate banner="30"]