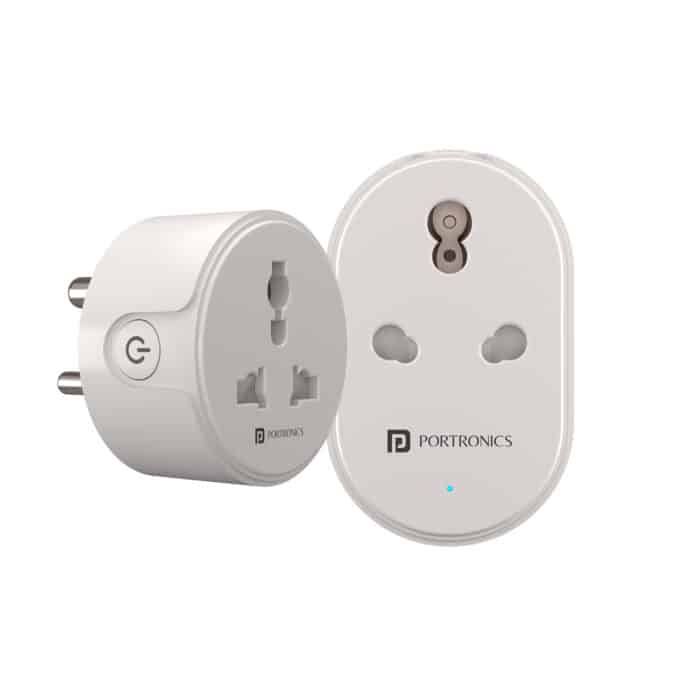 India's leading consumer electronics maker announces the launch of two Wi-Fi Smart Plugs- Splug 10 and Splug 16. These Wi-Fi smart plugs allow consumers to add intelligence to many appliances and operate them on the go even with Alexa and Google Assistant enable voice control feature.
Energy-saving has become a major concern where consumers want to control their home energy consumption. To overcome these consumer woes, Portronics has come up with these smart plugs, an affordable alternative to turn any home into a smart hub.
Advertisement
[adrotate banner="34"]
The Splug 10 and Splug 16 have been designed to offer users an innovative smart home experience with an intelligent energy-monitoring system. Furthermore, these Wi-Fi smart plugs are easy to use, just plug them in a socket, connect them to a Wi-Fi network and pair them with any device using the Portronics Smart Home Mobile Application.
With a current rating of 10 Amps, Splug 10 is suitable for appliances like TV, Lamps, Music Systems, Mobile Chargers, etc. Whereas, with a current rating of 16 Amps, Splug 16 is suitable for heavy appliances like Water Motors, Geysers, etc.
Features :
Wi-Fi Smart Plug – These 10A and 16A smart plug comes with 2.4 GHz, Wi-Fi connectivity enabled with Alexa and Google Assistant for voice control.
Mobile App and Energy Metering– Just connect the smart plugs with any mobile phone through the Portronics Smart Home and enjoy the ease of switching on/off home appliances from anywhere in the world.
Multi-functional and Durable – Both the smart plugs are made of Polycarbonate, making them fire-resistant and durable.
Wireless Control – Control appliances remotely from anywhere in the world by connecting them to the Portronics Splug 10 and Splug 16.
Smart Savings / Energy Metering – The smart plugs will help consumers by reducing their devices' energy consumption through the smart metering feature to keep a check on the daily power consumption by each appliance.
About Portronics:
With over 1600+ successful product launches and innovations, Portronics is a household name in revolutionizing the Portable & Innovative technology that has been dominating the Indian landscape. It offers a range of products which includes Portable Bluetooth Speakers, Earphones, Car Accessories, Hubs & Cables, Power banks, and many more. Since its inception in 2010, Portronics has been working on transforming the face of gadgets and aims to make high-end technology available at every doorstep.
To know more please visit, https://www.portronics.com/
Advertisement
[adrotate banner="30"]