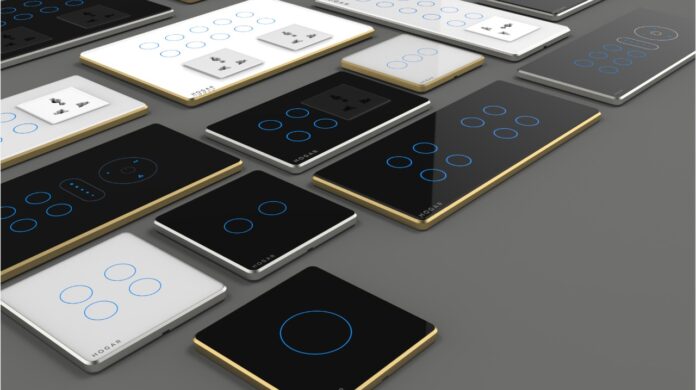 Advertisement
[adrotate banner="23"]
No one could have imagined, even a couple of years ago, that switchboards could look this extraordinary.  Meet Prima, Hogar's Smart Touch Panels.
Most smart panels look better than ancestral switchboards. With Prima, Hogar has pushed the envelope of utility and flexibility. Prima is the first of its kind touch switch with a wide range of customizable panels.
Advertisement
[adrotate banner="34"]
Apart from obviously being shockproof, Prima's glass panels can also withstand excessive heat and humidity. Heat and humidity are the unseen factors that cause wear and tear. Even Prima's outer metallic frame is precision engineered for structural rigidity. The panels and bezels come with multiple color variants, so it blends seamlessly with its surroundings.
Prima touch panels function on the latest Z-wave plus wireless protocol. They can be configured to work with your phone, tablets and most importantly, through your voice. It just takes a couple of minutes to configure it with the Cerebro Pro master controller. Which means you can control your smart home from anywhere in the world.
Prima is primed to meet the diverse requirements of every home, office, or hotel. They have a wide range of modules with solutions for all relevant gang box variants. They have a plethora of touch, dimmer, and socket combinations too.
For unmatched flexibility, Prima has an internal dual-sided logic board. This is backed by a sensitive, multi-capacity touch sensor that can register even the minutest of touch sensations.  The touch buttons can be customized with icons to suit your interiors.
All the switches are programmable so you can control appliances directly or trigger pre-configured scenes. Its backlit dual-colored switches support both mono-stable and bi-stable function modes.
Perhaps its biggest benefit is that Prima has a retrofit form factor, so it fits perfectly into your existing electrical systems, without any need for an overhaul or reconstruction. It is built as per exact specifications for the India market. It also has variants for the USA, Australia, New Zealand the Middle East.
Your search for the perfect smart home panels stops here.
To know more visit – https://hogarcontrols.com/
Advertisement
[adrotate banner="30"]