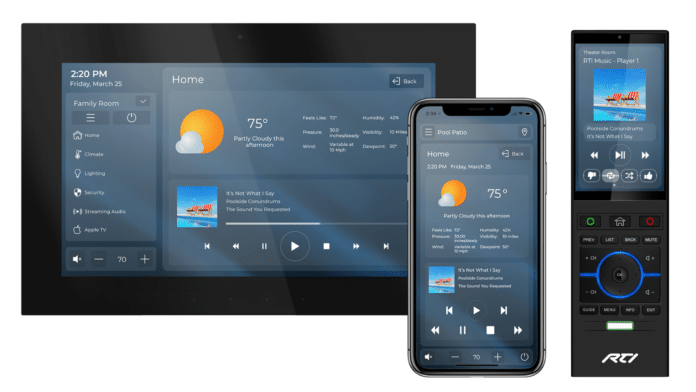 Advertisement
[adrotate banner="23"]
Building on its growing presence in commercial markets, leading control and automation manufacturer RTI will highlight solutions for both residential and commercial integrators at CEDIA Expo 2023, on Sept. 7-9 at the Colorado Convention Center in Denver. The company will demonstrate its `one platform, unlimited opportunities' focus, anchored by the Integration Designer 11 programming platform that enables both auto-programming for fast residential installs and the full customization essential for commercial projects. New hardware solutions for both residential and commercial applications will also be introduced.
"RTI creates solutions for all verticals, and we are looking forward to meeting with residential and commercial integrators at the combined CEDIA and Commercial Integrator Expo," said RTI Head of Global Marketing Bill Hensley. "It begins with Integration Designer 11, our singular software platform creating unlimited opportunities in residential and commercial projects of all sizes. It's Coral' interface enables fast, elegant results while allowing the 100% customization for which RTI is renowned. No matter what technologies and subsystems need to be controlled, RTI helps systems integrators be more efficient and effective at achieving customer objectives within budget and ready for any upgrades required in the future."
Advertisement
[adrotate banner="34"]
RTI will host a hands-on training Friday, Sept. 8 at 9:30 a.m. to show RTI integrators how to do faster more repeatable installations using Integration Designer. This training will be especially useful for dealers who haven't yet experienced the power of Installation Designer 11.
RTI + Blustream = Control plus AV Distribution
Visitors to the RTI booth will also experience the seamless integration of RTI and Blustream AV Distribution. Blustream is control brand agnostic, but with the deep product, sales, and distribution relationships between Blustream and RTI in the U.S., integrators benefit from a large, connected portfolio that begins with 100% customizable automation and extends to a broad range of market-leading AV distribution options. "Together, RTI and Blustream help integrators create exceptional solutions for their clients in residential and commercial markets," concluded Hensley. "We look forward to many great conversations with dealers at the show."
For integrators who have not yet experienced Blustream, product manager Jason Fitzgerald will host a training on Friday, Sept. 8 at 11:00 a.m. to show how Blustream delivers solutions to maximize integrator opportunities in each of the five pillars of AV distribution: extension, splitting, switching, matrixing, and converting. Jason will show how the Blustream portfolio addresses each of these to help integrators do more, do it better, and achieve smarter installations.
For More Information www.rticontrol.com or Register at the CEDIA Expo site
Advertisement
[adrotate banner="30"]