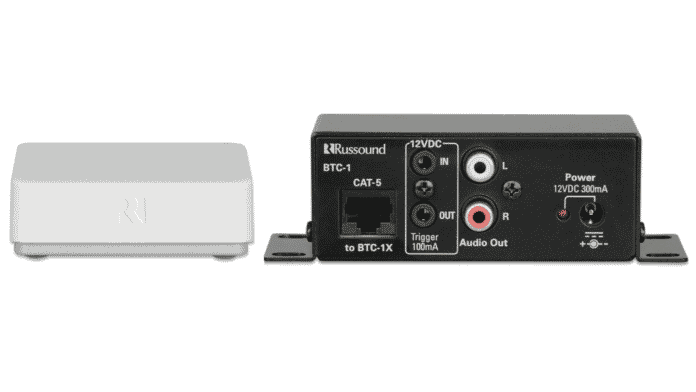 Advertisement
[adrotate banner="23"]
The latest iteration of Russound's acclaimed Bluetooth source kit has been produced. The BSK-2 is a complete source kit that includes Russound's BTC-2X Remote Transceiver and the BTC-2 Audio Hub in a unique two-piece design
The device offers a complete solution for audio wiring and power connections, with the Bluetooth transceiver able to be located up to 300 feet from the connected audio devices. It is scheduled to ship in Q4.
Advertisement
[adrotate banner="34"]
"Even the most complex custom installations call for a dependable Bluetooth solution that is both technically advanced and easy to implement," said Charlie Porritt, CEO, Russound. "The BSK-2 is as easy to install as it is to use," added Porritt.
With a range of up to 300 feet, the BSK-2 brings Bluetooth audio to any audio system. The kit is used to provide numerous Bluetooth inputs to a Russound MCA-66 or MCA-88 controller using the BTC-2X transceiver, which adds a single Bluetooth audio source to Russound controllers with built-in audio and power connectors.
The BTC-2X remote receiver may be put in any room of the house. Within 300 feet, a Cat-5 wire connection is formed between the transceiver and the source box near the home audio system or standalone amplifier.
Furthermore, when the extended 300-foot range is not required, the BTC-2X may be utilised as a solo Bluetooth audio source. The BTC-2X additionally has a unique contact closure option to start pairing mode, making it ideal for use in hospitality or MDU setups.
The BSK-2 has analogue and digital inputs, automatic and manual pairing modes, and complete album art and metadata when used with Russound's MCA-66 or MCA-88 controllers. The Russound controllers support up to eight Bluetooth receivers.
Advertisement
[adrotate banner="30"]