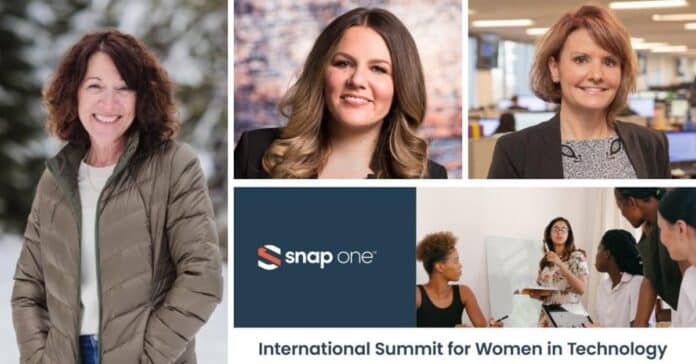 Advertisement
[adrotate banner="23"]
Snap One has launched registration for its first-ever Women in Technology Summit, a virtual event that promotes women to take leadership roles in the technology industry, to celebrate International Women's Day on March 8th. The worldwide conference will have two 90-minute sessions with the theme "Break the Bias."
"There is an unfortunate bias that women can't work in the technology field. We are living proof that not only can we work in this industry, but we can make a significant positive impact as leaders," said Dawn Boland, SVP of Partner Services and Technical Support, Snap One. "By spreading the word about our accomplishments, we hope to embolden other women to apply for careers in the field, while simultaneously encouraging industry organizations to bring on more female talent", added Boland. 
Advertisement
[adrotate banner="34"]
Female panellists from CEDIA, AVIXA, Snap One leadership, and Dealership owners will participate in the two 90-minute sessions, which will also include a live & interactive Q&A round. The following items are on the agenda:
Session 1 (March 8th at 9:00 a.m. EST / 2:00 p.m. UTC) will feature guest speaker Margie Meyers, Principal Product Manager, Snap One, and a panel discussion with Joe Lloyd, Senior Director of Communications, AVIXA, Dawn Boland, SVP of Partner Services and Technical Support, Snap One, Jen Mallett, Owner of Level Up Automation, and Connie Gray, Sr. Director of Engineering, Snap One.
Session 2 (March 8th at 3:00 PM MST / March 9th at 9:00 AM AEDT in Australia) with guest speaker Susan Cashen, Industry Board Member, Consultant & Advisor, and a panel discussion featuring Patty Manning, Latin America Regional Manager at CEDIA, Ashley Swenson, Senior Vice President, Marketing, Snap One, Louise Brandish, Owner and Senior System/Network Engineer at Eagle Technology & Solutions Pty Ltd, and Lisa Morf Senior Principal Software Engineer, Snap One.
"We can #breakthebias and encourage young women to develop their STEM talents and strengths," continued Boland. "Simultaneously, we can educate hiring managers about the implicit bias that prevents women and women of colour from rising in the ranks. By identifying challenges and obstacles, we can take steps to overcome them. And the first step is a discussion."
Snap One will launch a resource page and forum at the end of the event for industry professionals to use on a regular basis. To more about Snap One , please visit : https://snapone.com/
Advertisement
[adrotate banner="30"]