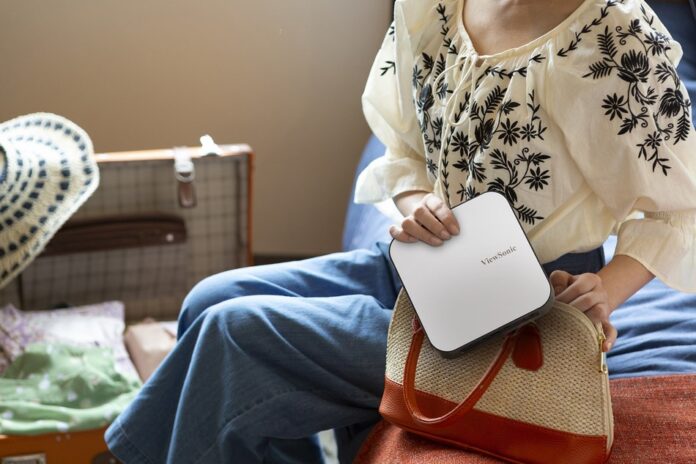 Advertisement
[adrotate banner="23"]
ViewSonic Corp has introduced its latest M2e Instant Smart 1080p Portable LED Projector. Time-of-Flight (ToF) technology is used by this newly added projector, to achieve instant autofocus within 1 second. The technology is 3-5 times faster than the current methods and delivers immaculate optical accuracy. Besides, the setup is completely hassle-free.
"ViewSonic is an industry-leading manufacturer in visual technology, constantly dedicated to innovating and upgrading LED projectors, making them smarter, easier to use, and thus enhancing the user experience," states Dean Tsai, Head of the Projector BU. "By applying ToF technology, we have reached a new milestone which fulfils carefree usage at home. As in the current situation we are staying at home more often, the new M2e allows us to enjoy an unprecedented audio-visual feast and the precious moments with family instantly and effortlessly", adds Tsai.
Advertisement
[adrotate banner="34"]
Devised especially for all-inclusive home entertainment and mobile meeting room, the M2e is easy to connect, weighs only 1 kg and can be easily stuffed inside a backpack or a handbag. Content can be cast from smartphones to big screens using Wi-Fi, input/output audio via Bluetooth or direct single-cable streaming via USB Type-C. It offers crystal clear full HD visuals and cinematic colours covering 125% Rec. 709, short-throw at 2.1 m to create 80 inches of screen size. M2e has a low running temperature and a unique thermal design. Therefore, users can now peacefully indulge in the audio-video experience without the interference of fan noise. Customized by Harman Kardon, the integrated dual speakers extend an unparalleled sound quality.
Advertisement
[adrotate banner="30"]