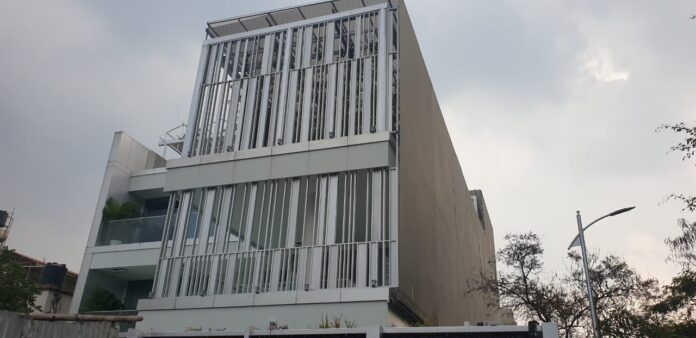 Advertisement
[adrotate banner="23"]
The house combines modern architecture in contemporary style with the highest possible energy efficiency and, at the same time, a comfort that leaves all wishes fulfilled. Comprising ground + 2 floors, this 20000 sq. ft. luxury villa is owned by the founder of one of the top IT tech companies in India.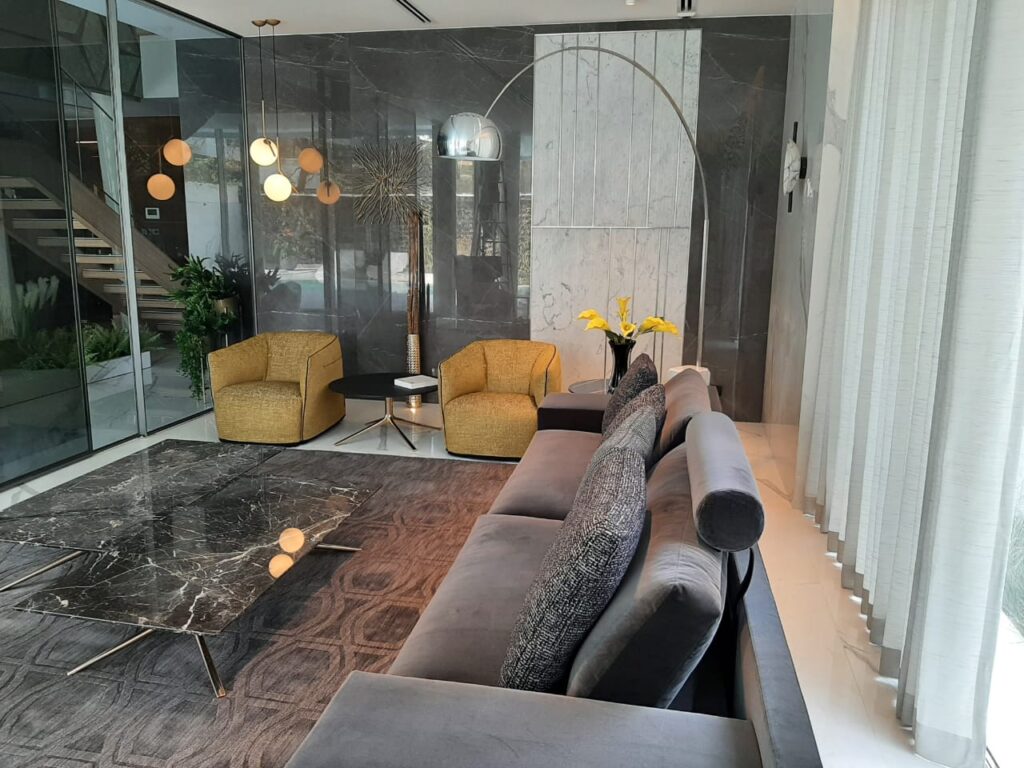 The Purpose
Advertisement
[adrotate banner="34"]
The main objective of the architects was to create transparency at all levels and create visibility both inside and outside. The basic concept was to use simple yet a state of the art materials, simple design language and a flow of different design elements merging to create a mirage of objects.
The main intention was to provide a state-of-the-art smart home automation system based on open protocol to primarily control – lighting, HVAC, security, AV. The system and design had to be flexible and upgradeable for any future requirements. The user interface and control function had to be very simple, considering that users in the house would be of all age groups.
The initial requirement of the client and SI Solutions!
Since the client is from an IT background and is also an angel investor in few home automation start-ups, he knew exactly what he wanted in this house. He was looking for a system, which was future-proof, IoT enabled, multi-protocol, cross-platform gateway enabled, cloud-enabled at Edge and Web. The brief was to provide a fully integrated automation system that will offer ultimate comfort while managing and maintaining the available energy resources.
Entelechy System was appointed as a design integrator by the stakeholders. KNX was selected as an automation system, as it is a standard-based system and was designed keeping in mind the requirements of the client. It is flexible, reliable, secure and connected.
Applications that were asked for and system designed for,
Lighting: Switching, dimming, light scenes, timed control, automatic occupancy detection, lighting colour control.
Heating, Ventilation & Air conditioning (HVAC): VRV controls, central & automatic control, timed operation modes, individual room control/zone control, co2 / humidity measuring, operation integrated with window contacts, displaying error codes of VRV systems on the visualisation and touch panels.
Blind and Shutter Control: Individual control, group & central control, pre-set positioning.
Security and Safety: Smoke/fire detection , faults (e.g. leak detection, glass break detection, window contacts) , access control biometric , intrusion detection / alarm systems , emergency lighting ( via ups), supervision/ surveillance (vdp/ cameras).
Operation and Visualisation: Switches/push buttons, pc visualisation, web servers, touch panels & display panels, tablets and smartphones.
Automation and Remote Access: Logical functions, system supervision, internet access, remote programming, messaging (e.g. SMS).
Energy Management/Smart Metering: Metering, data logging, visualisation, water tank level monitoring, peak demand monitoring, use of renewable energies.
AV: Whole house AV distribution based AVoIP ready,
Managed VLAN for different subsystems, VLAN based access to the internet with firewall/ w/o firewall. QoS for KNX, Security and AVoIP systems.
Network Security: SWG ( secure web gateway and UTM device) firewall, anti-virus systems.
The First step taken
The planning started from empathically understanding the requirements of the client and all residents of the house. Their comfort level with automation systems was also considered. Certain discovery documents were given to the clients to fill up and discovery questions were also verbally discussed. These answers eventually helped in ideating the solutions. The concept form was shown to the client so that they get clarity on what they could expect from the solution. A system demo was shown and all key components of the systems were explained and physically displayed. Based on the selections, all approvals were taken from the Client and Architects.
An example of a "System Architecture" showing subsystems and interconnections which were shared along with the design basis, is shown below.
Other systems like data/ AV/ telecommunication and network systems are designed and defined in the "Master system Architecture".
Example of Subsystem system architecture
Stumbling Blocks
During the execution of the projects, various discussions and requirements popped up from the client's end.
The biggest challenge in this project was,
Peak demand monitoring and management:
The client requested architects and electrical consultants to install a utility meter for a lower rating than the connected load. Since the client believes in sustainability and wanted to save energy, he asked to design a system for peak-load-demand monitoring and management. Rooftop solar renewable energy was also utilised as captive energy for the house. The connected load in the house was over 100 KVA, while the utility sanctioned load was 40KVA and renewable energy was around 20 KVA. Therefore, ideally, whenever the load in the house increases beyond its installed capacity, the automation system should be able to manage critical load and non-critical load to switch between different energy sources.
System is designed to Implement BMS functions like smoke/ fire monitoring, water level monitoring of tanks, pump monitoring, visualisation, storing and printing of reports, trends, history, faults and alarms etc.
Since the whole house is open and with walls only on one side
( back), security was of paramount importance. 5 (layers) levels of security were created in the house. Starting from Perimeter IR detectors as level one, cameras as level 2, watchdog sensors as level 3 and door/ window contacts as level 4 and indoor sensors (occupancy cum intrusion) as level 5.
Different zones of security were created ( intrusion) and all these zones could be individually armed. For example, if the daughter is alone in the bedroom on the 2nd floor, all other areas besides the 2nd floor will be armed and secured. Any movement in those areas will trigger the alarm and send messages to predefined phone numbers.
Overcoming the Challenges
During the design process, system flexibility was considered.
In this project, every possible technique got integrated with the KNX system so that only 1 app will be required to visualize the entire infrastructure of thousands of functional group objects. To realise the above functions, Logic Machine 5 ( LM5), the world's leading logic controller, a multiprotocol cross-platform gateway visualisation, was considered
LM5 was used as a visualization tool for monitoring and control of all the systems installed in the house like lighting, curtain motors, security, HVAC, metering, it also provide APP controls and Voice controls.
LM5 was used as an interface between the HVAC system (VRV) and KNX System so that HVAC can be controlled from Moorgen thermostat keypads and smart devices.
LM5 is also acting as an interface between Grid Power/ Solar Power Electricity meters and KNX system and its readings can be shown on the visualization software.
ABB Security Panel GM/A 8.1 was considered for Zone based controls. KNX interface displays alarm states of smart panel to control automatic functions with the support of security sensors. The system can also be remotely accessed and monitored.
Overall Experience
"Thanks to KNX technology for the various logic functions and better monitoring of energy usage, it offers. The system is Flexible and easy and to modify as well", states Bhavesh Doshi, KNX Tutor, Educator, GEM CP, and Founder of Entelechy group of Companies.
"With so many functions and subsystems interacting and interfaced across the entire house, without any Central controller, implementing visualisation was extremely important and has proved to be very helpful in critical preventive maintenance.
This project also demonstrates that energy-saving functions and high-level BMS functions can be implemented with KNX using advanced devices like LM5, and there is no need for traditional BMS controllers", he adds.
Doshi further adds, "Standards-based systems like KNX will ensure a cost-effective future up-gradation system. Distributed intelligence characteristics of the KNX system helped in reducing cabling and its cost. Using TCP/IP as a medium of communication, we could reduce the number of distribution panels across the building floors and also ensure faster and reliable communication of the system. Smart homes and buildings are always an upgrade in comparison to a conventional installation. Thanks to the usage of KNX, the door is now open to integrate new innovative solutions, using the worldwide standard for home and building control".
"The practice of designing for flexibility and keeping clients' requirements and ease of use in focus, will eventually lead to happy clients", he concludes.
Project Details with Products Integrated
KNX gave freedom to designers to choose switches and keypads (user controls), application-specific controllers, security systems, and central components from various range of manufacturers.
Project
Villa Transperence 

Architects
Aijaz Hakim Architects, Pune ( AHA)

Design Integrator
Entelechy Systems
Brands used
ABB
Logic Machine 5
Busch Jaeger
MOORGEN Germany
Schneider Electric
Hager
Arcus
Meanwell 
EKEY

KNX Transmission media
Twisted pair / IP
Man-hours

2.000+
Advertisement
[adrotate banner="30"]