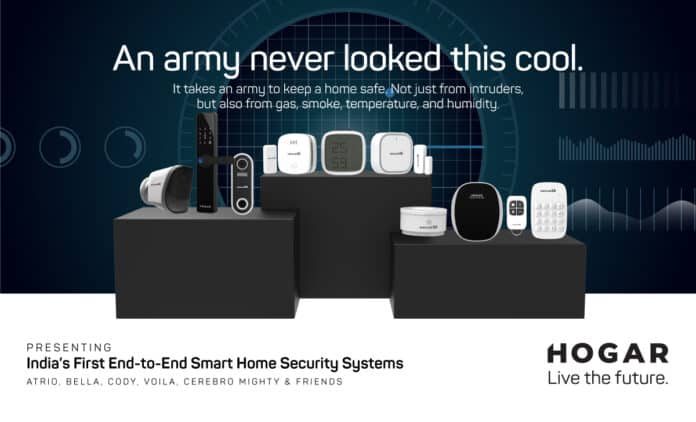 Advertisement
[adrotate banner="23"]
Offering a sense of security and utmost convenience with devices like smart alarms, door locks, motion/gas/smoke, video doorbells, and many more, smart home security systems act as a dynamic defense shield that commits to safeguard homes from both inside and outside. After all, a safe home and a happy, caring family is something we all deserve.
Advertisement
[adrotate banner="34"]
A house with a convenient setup, where all appliances as well as devices are interconnected through a hub and can be monitored and seamlessly controlled from even a remote location with an internet connection using a mobile or other networked device, is what is commonly termed as a "Smart Home". An urban house, today, comprises a plethora of home devices/appliances ranging from lights, speakers, TV, vacuum cleaners, ovens, refrigerator, air conditioners, thermostats, air purifiers to door locks, CCTV cameras, and video doorbells. In the case of a smart home, all these devices are connected through wired or wireless networks, which allows smooth, uninterrupted communication between all the devices. Technology like the Internet of Things(IoT) has made a smart home setup extremely hassle-free. Fundamentally, IoT is a network of physical objects or devices that can assemble and share electronic information. All devices, once connected through a network, become a part of the IoT technology. 
Today, technological advancements have introduced automation to all major home device segments like lighting, entertainment, and security. Post pandemic, though people started realizing the importance of home automation, a complete smart home setup is yet to be a part of most mid-income households in the country. In tier 1 cities, due to the rising number of nuclear families with all working members who need to leave their houses locked with kids or pets inside, for eight to nine hours a day, safety is prioritized more than anything else. Today, security systems play a vital role in every such house to deter crime and protect loved ones as well as other valuables. A smart home security system connects to a Wi-Fi network and allows the user to control the connected devices like door locks, alarms, CCTV cameras, etc. sitting anywhere, through smartphones or tablets. Also, they receive notifications of any unusual or unexpected activities, if taking place inside or outside their houses in their absence, so that immediate actions can be taken. Smart smoke alarms or carbon monoxide detectors are designed to instantly notify the user of emergencies like gas leakages that can lead to fatal accidents. Also, smart security systems allow better electricity management, which eventually leads to low electricity bills. Motion sensors protect rooms by sensing any startling movements, taking place in the entry-prohibited areas and notify the users immediately. Intrusion alarms ring, a notification is sent to the user, when anyone tries to trespass into private property. 
Designed with cutting-edge technology, Hogar's smart home security solution comprises futuristic security devices that are super-intuitive, easy-to-install, and feature elegant touch panels. The Hogar Smart Extension series or Hogar SE offers a plug-and-play solution. Individual devices can be installed and made a part of the HSE family in a wink of an eye. In a nutshell, the series features a perfect amalgamation of aesthetics and science. 
ATRIO Smart Security Series
Presenting fingerprint, smart card and password, app & mechanical key access, the Atrio -Digital Door Lock enables one to enjoy keyless convenience to unlock the door. Also, Hogar's digital door lock offers smart intelligent access control. Access through the Hogar Pro app ensures a conducive user experience. It effortlessly pairs with voice assistants like Google Assistant and Amazon Alexa. 
BELLA Smart Security Series
An avant-garde security device Bella-Video DoorBell offers two-way communication and delivers High-Definition (HD) video to any device. As a diligent sentinel, it keeps a track of visitors. Also, it enables the user to communicate with visitors, at the door, through paired smartphones, comfortably sitting on a couch. The sturdy and well-built VDB can sustain any weather conditions. Besides, it is capable of recording videos even if the internet is down while allowing the homeowners to keep an eye on everything near the front door. "Hogar SE " app can be downloaded and installed on the device to ensure an uninterrupted device performance and exceptional user experience. It supports voice assistants like Google Assistant and Amazon Alexa. 
CEREBRO MIGHTY Smart Home Hub 
A processing unit for all Zigbee-connected home automation devices, Cerebro Mighty is capable of seamlessly connecting with more than sixty Zigbee devices and controlling them through the Hogar SE app. 
CODY Smart Security Series
A security vigilance device, the Code ensures the safety of the user's valued ones. It notifies and alerts the user the moment it detects unexpected motion. Besides, it supports night vision, cloud storage, allows video playback, displays HD video with clear and big images, sends notifications and alerts to the user to inform them about any emergency situation at home. Also, it works well with voice assistants like Google Assistant and Amazon Alexa. 
Door/Window smart Sensor Series
These sensors detect and emit wireless signals on the opening and closing of doors/windows to let the user know if a trespasser is trying to break into the house. Used as an alert on the Hogar SE App, this enables one to trigger & automate multiple other smart devices connected to the Hogar SE Gateway & App. The sensor uses the principle of magnetic control and triggers a wireless signal immediately after the magnet gets separated from its main body by a 20mm distance. It is compatible with Zigbee, easy to install, and offers voice control and seamless linkage to other smart devices. Also, it is Alexa and Google Assistant-compatible. 
Gas Smart Sensor Series
These sensors detect gas leakages in a house and instantly trigger alarms to warn the user of the upcoming fatal accident so that measures can be taken before it is too late. It gets easily paired with Google Assistant and Amazon Alexa. Also, it is easy to install, compatible with Zigbee, and can be controlled through the Hogar SE app. It gives out LED signals (Red, Green, Yellow) along with a buzzer sound to denote different stages and the intensity of the leakage. 
INDOOR SIREN Smart Sensor Series
The siren connects with the existing security system through Zigbee Gateway and Hogar SE app and triggers the alarms if a security breach takes place. The Indoor Siren gives out a loud buzzer(>105 dB) while flashing a Red LED, immediately after the alarm sign is received by the security system. The volume, duration, and flash of the alarm can be easily adjusted through the app, as per the users' convenience. Compatibility with voice assistants like Alexa and Google Assistant acts as an added feature. 
KEYFOB Smart Remote Series
A compact, battery-powered, Zigbee, Amazon Alexa, Google Assistant compatible device, KeyFob allows the user to arm and disarm the smart security and alarm systems with a single click. The easy-to-carry handy device can send signals to a security system up to 100m away from the house without any internet. It features "Away Mode" that allows one to arm the house when he/she is away from home, "Stay Mode" enables one to arm the house when he/she is inside, "Disarm Mode" deactivates all the alarm and security systems, "Panic Mode" sends message in the format "[THE HOUSE NAME] HOGAR ASK FOR HELP" to the registered email id. 
MOTION Smart Sensor Series
The Motion Sensor detects unusual or unexpected movement of people in a room and notifies the user instantly. It can be retrofitted at any angle and once a trigger is set off in the Working Mode of the Motion Sensor, the Sensor enters into a one-minute Sleep State before returning to Working Mode. Also, it is compatible with Zigbee and voice assistants like Amazon Alexa and Google Assistant. 
SMOKE Smart Sensor Series 
The Smoke Sensor detects unforeseen fire breakouts and immediately triggers an alarm to inform the user so that necessary precautions can be taken in time. The Amazon Alexa, Google Assistant, and Zigbee compatible devices give out buzzer sound with LED(Red, Green, Yellow) blink to inform the user about the detection. 
TEMP & HUMIDITY Smart Sensor Series 
It detects and displays the real-time changes in the temperature and humidity of an enclosed area and enables the user to automate and trigger multiple smart devices connected to the Hogar SE Gateway and App. It can be easily paired with Zigbee, Amazon Alexa, and Google Assistant. 
VOILA Smart Remote Series
The Smart Remote enables the user to control and trigger predefined scenes of the smart devices connected through the Zigbee Controller or Hogar SE app. The Scene button can be triggered in three modes; Single-Click, Double-Click, and Long-Press(more than 3 seconds). 
VIBRATION Smart Sensor Series
Fundamentally, this Alexa, Google Assistant, and Zigbee compatible sensor emit wireless signals after detecting vibrations on doors/windows. Using the principle of magnetic control, the sensor brings about the wireless signal immediately after the magnet detects vibration on its main body. The Vibration Sensor is capable of triggering and automating multiple other smart devices paired with the Hogar SE Gateway & app. Also, it can be used as an alert on the app. 
To know more, please visit https://hogarcontrols.com/
Advertisement
[adrotate banner="30"]