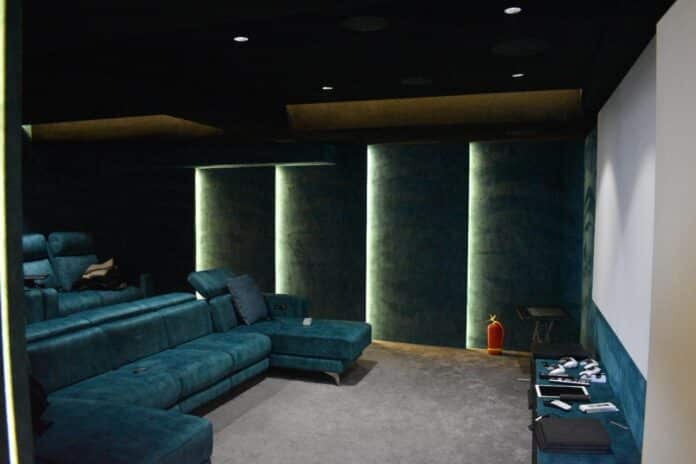 Advertisement
[adrotate banner="23"]
Complete Automation Solution by:
SISPL- Solutions India System Pvt Ltd
Advertisement
[adrotate banner="34"]
Through a reference, from a previous project, SISPL was awarded this residence. The residents of this luxurious dwelling, also own a large departmental store chain.
The project involved the complete automation of residence. Along with the solution for a fun zone, home den, consisting of a dedicated 10- seater home theatre, a gaming zone & sundeck.
The Scope of Work
The Scope included consultation, design, site management, installation, commissioning of:
Entire Audio-Video Solution for Residence and the Den – including Audio Distribution and Zoning.
Automation of both Residence and the Home Den.
Other support solutions like –Seamless WIFI, Video-door Solutions, CCTV, Biometric Access Control, etc.
Integration of all above into Automation.

Other value-added proposals made by SISPL:
Worked closely to understand and create macros for creating integrated controls combining various functions like light, drapes, temperature control for creating desired scenarios, proposed programmed timer-based functions, etc.
A proposed solution for Seamless WIFI using the latest components to support speeds up to 1300 Mbps for seamless gaming.
Proposed Single Integrated app for Automation and Audio Zone control – allowing control of music in all zones through Automation app
Proposed Hybrid Control for Automation involving Integrated app for all Controls of Home Theatre viz- Lights, AC, AV with separate scenarios for Gaming, Movie-watching, Music, Party, etc., along with Touch panels with buttons programmed for frequently used commands like Master-on, Master-off, Movie scenario, etc
Proposed different Brands for Home theatre, Game Zone, and Sundeck for best aesthetics and sound.
Proposed Acoustic solutions to minimize sound leakage to outside zones and other floors
Proposed an upgrade to a Tru-4K Projection Solution for the best viewing experience.
The Client's Vision
The client had broadly mentioned his requirement of complete automation for home with seamless WIFI, a fun zone with good music, and connectivity in all areas. The home theatre experience consisted of a large screen along with great sound for viewing movies. It was also specifically designed for gaming with zero / minimal sound leakage to other areas.
Automations Integrated

Details of Hardware / Solutions:
They worked on Control4 Processor, Zonal Amplifier so as to give the Single-app experience for both Automation and Zonal Audio. The other components used like Relays, Dimmers, Fan Control Modules, Curtain Control Modules, IR Emitters, Programmable Gateway modules, etc were from Control4.
The Third-party components were Coolmaster, Motors for drapes, Customized Dimmable Ballasts for Lights, Soundless Levitation fans for DB. The Touch Panels used for Automation were the 4.3" ones from Crabtree. The AVR was Denon 8500H to incorporate the speakers and to deliver the necessary power to Home Theatre Speakers. The Speakers used were Klipsch for HT and Sundeck as per budgetary indications from the client, and On-wall Speakers from Monitor Audio for great looks and the Punch required for the Game Area.
The Projector was Sony 4K one for justifying the 4K content of OTT, Sony PS, and 4K Media Player.CCTV, Video-door Phones, Sony PS, Apple TV, Dune HD 4K Network Media Player, and Biometric Access Control were provided and were all integrated into Automation for a single-app experience to the client.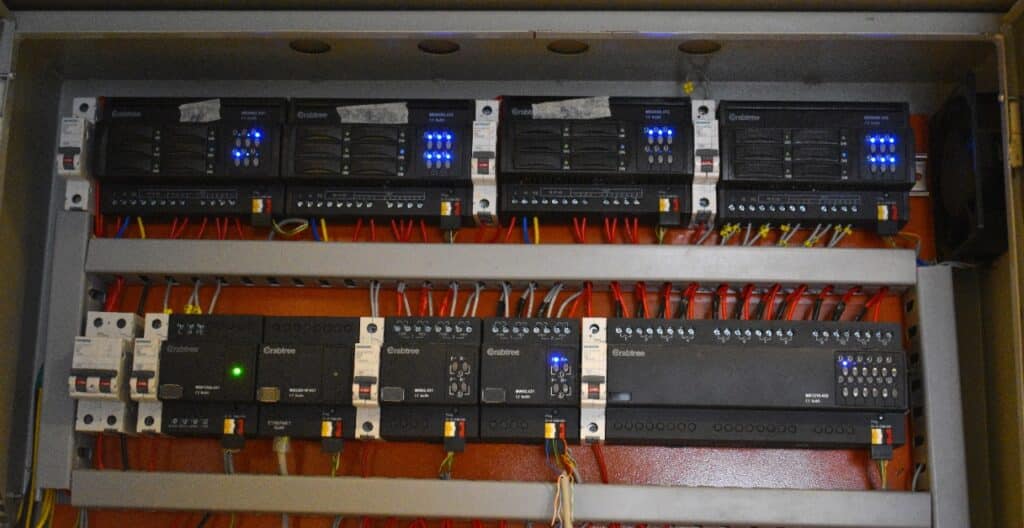 Network of Cat6 was provided from DB to all components – Amp, Projector, PS Console, Media Player, All Routers and Access Points with same SSIDS to create a seamless experience of usage for Automation, Gaming and also of usage of Wireless Audio Apps like Spotify, Apple ITunes and Downloaded Content from Media Player. Components used for networking were selected to work up to 1300 Mbps and with Wave 2 to give the necessary speed and bandwidth and to be future-ready for upgrades by ISPs
An Understanding Of The Progress In Phases:
Initial Meetings – For understanding requirements, sharing concepts, sharing broad solutions, finalizing the deliverables broad commercial terms, etc.
Integration with PMC and Architect (PMC-A)- Post the discussions, the client saw that the deliverables were in sync, and with value-additions to his wish-list, the team was integrated to the PMC and Architect to work on modalities of feasible and workable solutions as per the limitations of the site specified by PMC, the guidelines set by the Architect from aesthetics point-of-view and the budgets specified by Client, and all this without affecting the quality of deliverables and the end-user experience. The initial electrical and furniture layouts were taken with details viz -a number of lights per loop, length of LED strip, dimming/ on-off for each loop/strip.
Design – The design team, from inputs of the pre-sales team, created a v1.0 design in terms of – Hardware (Models, Specs, Placement), to share with the PMC-A group for a consensus and consent, a parallel sharing with the client, the Investment Summary v1.0, prepared by the Commercial team for the go-ahead and advances.
Implementation – Post consent of all stakeholders, Layouts with Products placement and wiring designs were shared and explained in detail.
Execution – involved assignment of a project manager to coordinate with electricians, carpenters, etc., coordination of supply of cables, wires, products, coordination with Company engineers for installations, etc.
Challenges Faced
Among the challenges faced were:
A Low ceiling along with additional floor height due to sound treatment posed a great challenge in giving the required screen size. Choosing a rimless screen and shifting resolution to 2.35: 1, helped resolve the challenge.
The low ceiling, coupled with all in-ceiling speakers posed a challenge for the proper spread of the Audio across the home theatre room especially to the corners of the Home Theatre. Detailed configuration of each speaker with reference to other speakers, helped clear the hurdle.
The compatibility of the Jio Router provided by ISP and other routers created separate IP ids which hampered the seamless integration of wired and wireless networks which were used initially for Automation. Appropriate changes of migrating all to the wireless network helped resolve the issue.
The main challenge was to review the progress and re-explain details to the implementation team after a good break of over 8 months due to lock-down. Having the necessary documentation in place, with the status-update reports, helped get back into action without any errors.
Eventual Outcomes
In a nutshell, it was a great experience to bring all the components to one platform, ensuring the smooth functioning of all solutions, for the effective and timely handover of all the necessary deliverables.
It was a great pleasure to have the client choose SISPL, based on a previous project. Also showing complete faith in the recommended brand/make/type of speakers, was a great motivation to the entire team. They were able to achieve and exceed the client's expectations in terms of audio quality and the automation experience.
Final Takeaway
This project reinstated the belief in the fundamentals:
Understanding client's requirements and Usage patterns thoroughly
Sharing all options of best solutions and technologies with the client and delivering the expected.
Sharing the necessary information and advising the client on the best options.
Customizing the shortlisted solution/s to the requirements of the client.
Well defined and distributed, scope-of-work for each stakeholder with approx. timelines, coupled with well-documented sharing of information to all stakeholders in easily comprehensible diagrams and texts.
Disciplined visits with clear objectives of each visit to monitor and ensure directional progress of the Project.
Genuine and achievable deliverables, to be communicated to the client, in well-documented format and to deliver to excel the committed levels and client's expectations.
Advertisement
[adrotate banner="30"]