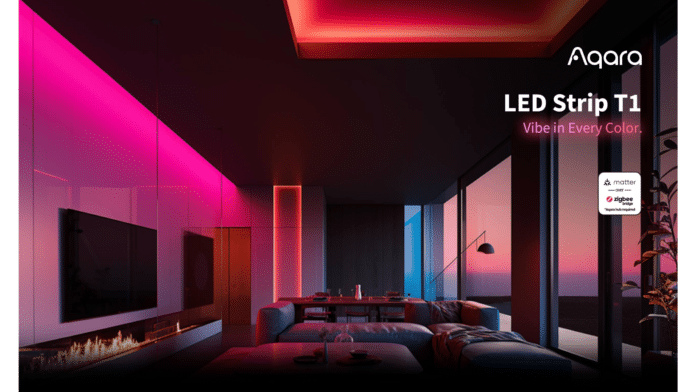 Advertisement
[adrotate banner="23"]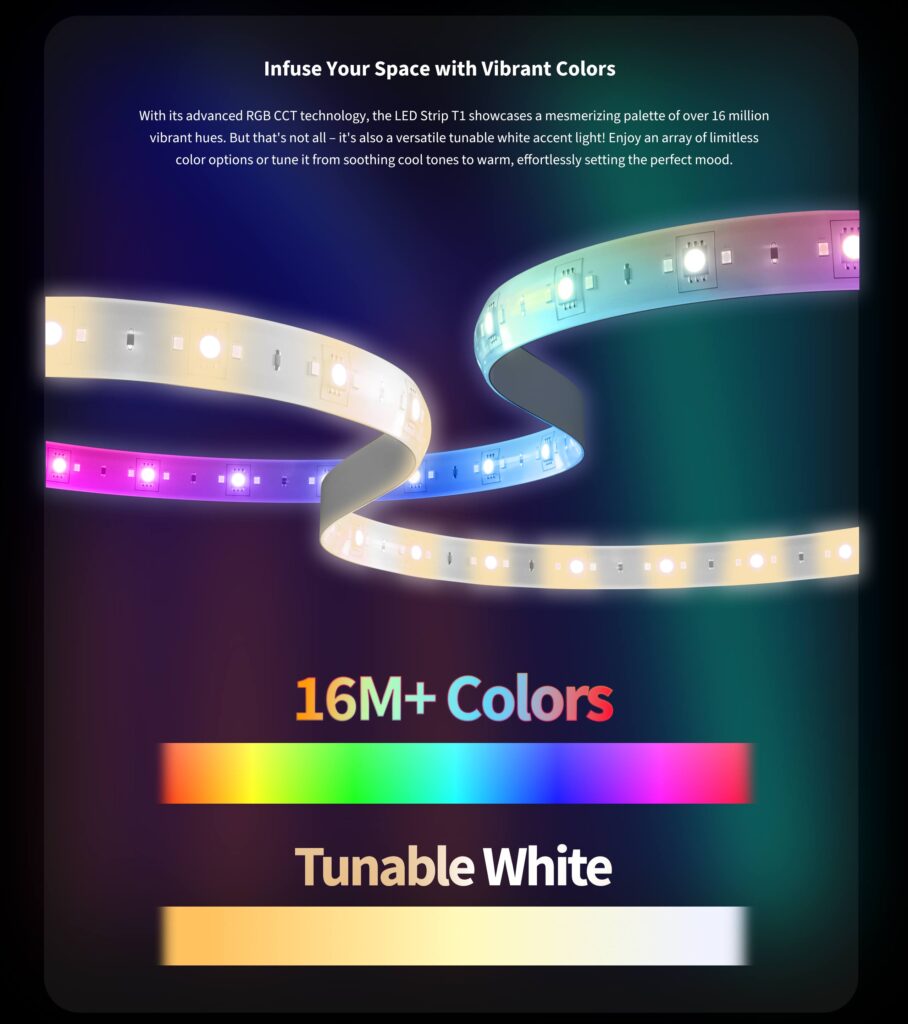 Aqara, a leading provider of smart home products, introduced a multipurpose, RGBCCT lightstrip, the LED Strip T1, to the global markets. As the Company's first smart lighting device that is widely sold across multiple continents, the LED Strip T1 not only displays up to 16 million vibrant colors but also provides tunable white accent lighting. Moreover, it supports a wide range of third-party smart home platforms and can be seamlessly integrated into various smart home setups.
Built upon the Zigbee protocol, the LED Strip T1 has a lower idle power consumption than the Wi-Fi based light strips, making it eco-friendly and cost-efficient. It also serves as a repeater of the Zigbee network, which further strengthens network reliability and responsiveness. With a compatible Aqara hub such as the Hub M2, the LED Strip T1 supports the new IoT standard Matter as well as popular systems like Apple Home, Amazon Alexa, Google Home and IFTTT, and can be controlled by major voice assistants2.
Advertisement
[adrotate banner="34"]
The LED Strip T1 is 2 meters (ca. 6.6 ft) in length, and can be extended using the Company's 1-meter Extension Kit3. It supports a maximum length of 10 meters (ca. 33 ft). The light strip can be cut at 20 centimeter (ca. 7.9 in) intervals4, making it highly customizable. The cut or unused part of the light strip can also be reattached to a separate Aqara LED light strip using extra standard 5-core ribbon cables and 5-pin connectors5.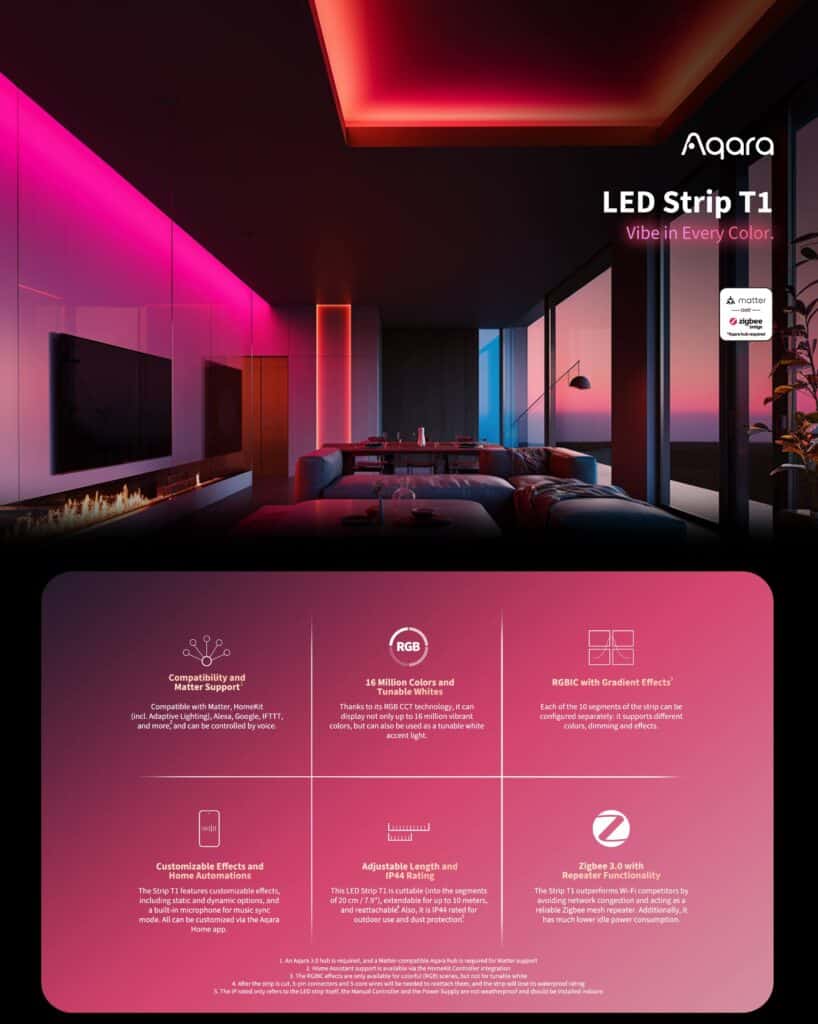 More importantly, the RGB effects of the LED Strip T1 are independently addressable with a 20-centimeter interval, which means that it can display up to 10 different colors with dimming and other effects6. The Aqara Home app provides various built-in effects for the LED strip – both static and dynamic- and allows users to customize the lighting effects as they prefer. All these built-in and customized effects can be used for home automations and scenes so that users can integrate smart lighting into the holistic smart home experience.
For example, users can amplify the home alert system with the LED strip, using different colours or effects to indicate whether the security system is armed or not and if there is a potential threat. It's also possible to create customized home scenes, such as an evening scene with warm lighting or an entertainment scene that dims the lighting for a better movie watching experience. The Aqara Home app recently introduced a new feature allowing users to sync the scenes to HomeKit7. This means that users can set up specific scenes that were previously only available via Aqara app and be able to control these scenes with third-party apps such as Apple Home, Alexa, and Google Home.
Other features of the LED Strip T1 include:
Manual controller for easy access: a physical controller allows users to turn on/off, switch lighting modes and activate the music sync mode without using any mobile apps.
Local music sync mode: the LED Strip T1 can sync to the music locally without relying on the mobile device.
Circadian lighting: the LED Strip T1 supports Adaptive Lighting in Apple Home and allows users to customize the circadian lighting schemes in Aqara Home with automations.
Outdoor friendly: the LED Strip has an IP44 rating and can withstand dust and moisture, making it suitable for some outdoor user cases8.
The Matter compatibility of the LED Strip T1 requires a Matter-compatible Aqara hub (such as Aqara Hub M2, Hub M1S/M1S Gen 2 or Hub E1) and may be in Beta by the time of its launch. The Matter compatibility of the G3 Camera Hub is being rolled out, and is expected to reach all users by the end of August.
For more information: www.aqara.com
Advertisement
[adrotate banner="30"]