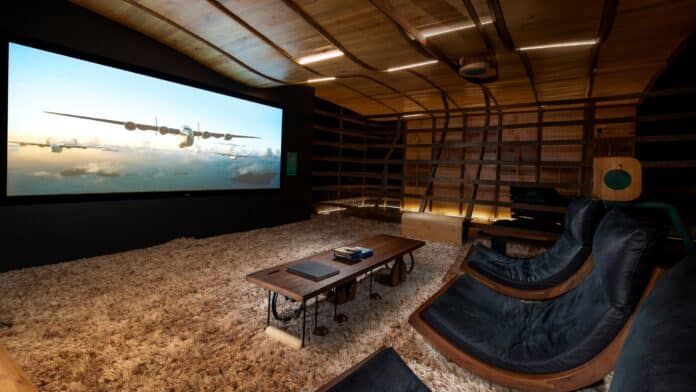 Advertisement
[adrotate banner="23"]
Evenflow Eternal, an Audio Visual specialist based out of Surat, Gujarat had a simple brief for Ar. Dhaval Rangani, where they wanted their studio to aesthetically display their high-end product range and also provide a unique experience to the customers.
Breaking away from the typical showroom design, Ar. Dhaval has skillfully created an interactive space where the project provides a superior audiovisual experience to the customers.
Advertisement
[adrotate banner="34"]
Scope of Work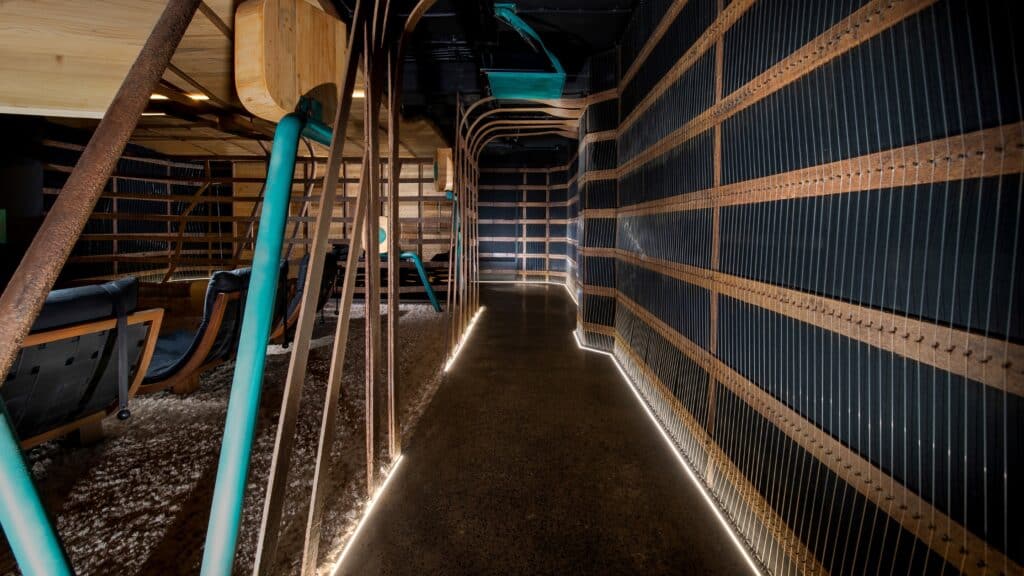 Evenflow Eternal theatre is intended to be dynamic, as opposed to the rigid form of their prior theatre. Dhaval carried out the concept by designing spaces with minimal enclosures and unconventional materials that are not generally considered audio-friendly, yet produce the ideal audio-visual experience. The elemental ethos is based on how the human senses work in a fixed space.
The Client's Vision
The client desired a new and upgraded theatre that would provide a premium experience to its clients. Their objective was to offer an unparalleled experience. The customer wanted Dhaval to design a studio that challenges the visitor's perception of what is normal. As a result, unconventional materials were used in the project, such as absorptive and diffusive materials like vehicle dampening substances on metal.
The client requested that smart automation technologies be deployed to ensure the hassle-free operation and to create a seamless environment. It was intended to provide users more control over different ambiences at the touch of a button, making it more user-friendly.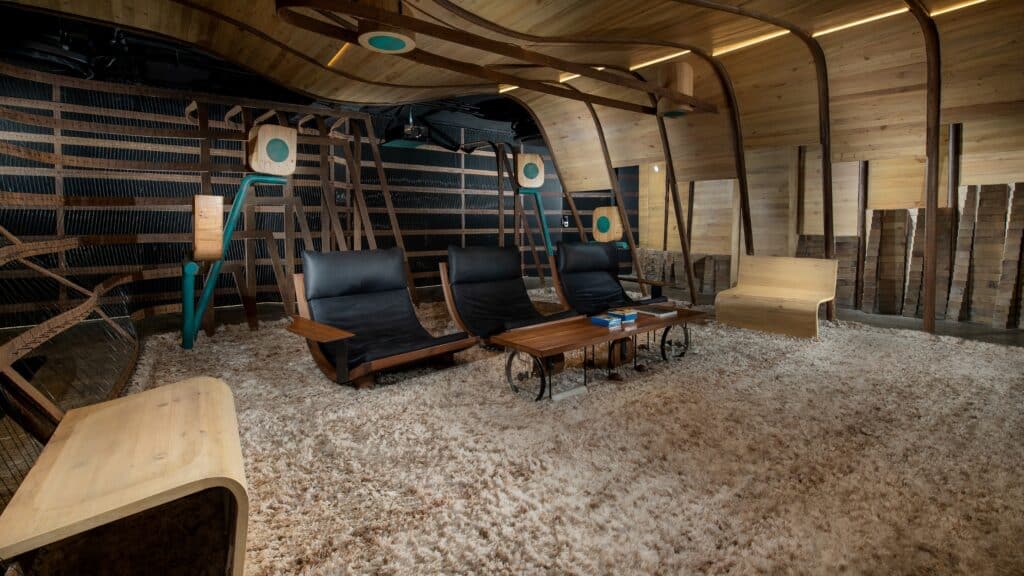 Project Planning and Implementation
Dhaval treated the space like a blank canvas, where major civil changes were executed, especially in terms of the flooring. After careful analysis, planning, and meticulous preparation, Dhaval and his team established a plan to execute the one-of-a-kind spatial narrative based on the elemental `ethos of human senses'.
To begin with, the spaces were organised in a way that the entrance area acts as a pause point and the service areas are sheltered behind a twisted brick wall. "The brick walls symbolise the theatre's having a traditional foundation while emerging as a contemporary expression," explains Dhaval.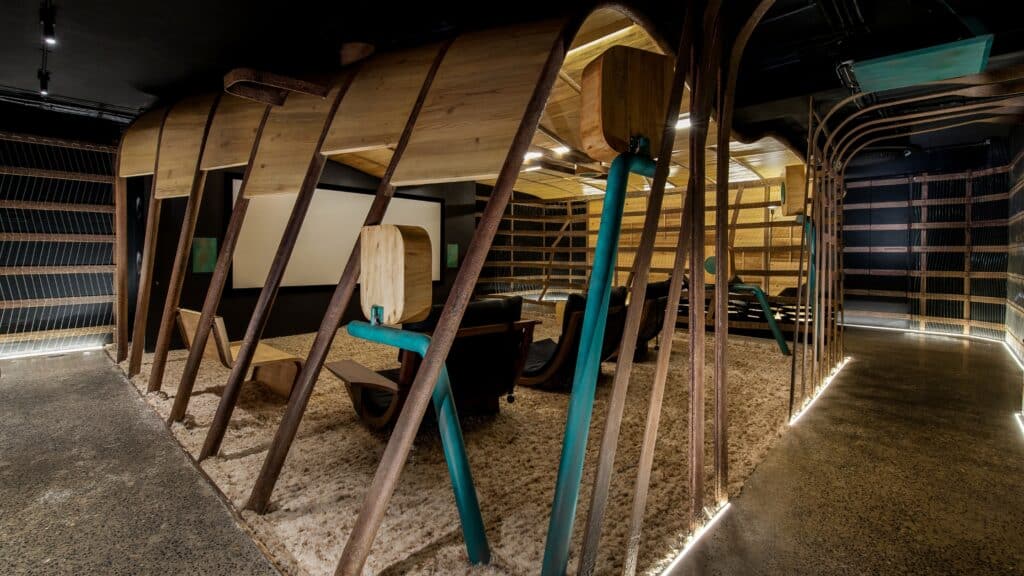 The listening area had the function of active entertainment while the lounge space was rendered with a relaxed and passive demeanour. Both spaces exuded different moods and were divided by a partition designed with seven metal members and strings. These members are symbolic of the seven notes called Saptak, which comprise a musical scale in Indian Classical music. Strings and lighting were used to segregate both spaces to allow a smooth transition between the state of mind of an occupant using both spaces.
To create a variation in level, the floor was raised with bricks to create a sunken theatre, which was layed with carpet to bring warmth and luxury to the space. Parts of the flooring were done in concrete with calculated grinding and polishing to generate the desired finish.
The intention was to create an experience for the visitors through their different senses. Further, to enhance that experience, the space was detailed with speakers and projector mountings made out of metal and wood in such a way that it could be adjusted as per the client's needs.
Smart Automation Integration
Audio Video
ArchiTech Premium Range Dolby Atmos Audio Speakers (SC-602f – 6-1/2″ 2-way Round In-Ceiling / Wall): To provide an enhanced auditory experience, Dhaval installed Dolby Atmos Audio with SC-602f. This home theatre demo setup relies on audio objects and involves a Dolby Atmos-enabled audio-visual receiver (AVR).
The receiver will automatically know how many speakers are being used, what type they are, and where they're positioned. From there, the object audio renderer (OAR) unpacks any metadata to scale each audio object appropriately and relay it through the designated speaker. This is all done instantaneously.
ArchiTech Premium Range Audio Speakers (SE-LCRSf – 5-1/4″ 2-way In-Wall Loudspeaker): Keeping in mind the human senses' elemental ethos, Dhaval chose the ArchiTech Premium Range Audio Speakers. Every ArchiTech model loudspeaker is `timbre-matched' ensuring sonic uniformity throughout the line.
This means all models used in the installation have been carefully engineered to have a family sound; this is also referred to as `voice matching'. As special effects from movie soundtracks move about the room, timbre-matching ensures a consistent tonal balance throughout the sound space. This creates a convincingly realistic three-dimensional spatial image, which completely absorbs the viewers into the cinematic experience.
JVC Projectors (D-ILA Projector with 3D Viewing – DLA-X7900BE): JVC's cutting-edge technologies for high-quality, high-definition images have realised the full potential of 4K; a dense, high-definition image of pristine quality, projected across every inch of a massive screen.
Visitors at Evenflow Eternal are able to fully enjoy beautiful picture quality with a powerful lifelike sense of realism for all types of video content, from movies to sports, music, documentaries, 3D etc.
The projector also supports next-generation technologies such as high dynamic range (HDR) content and video at 4K resolution.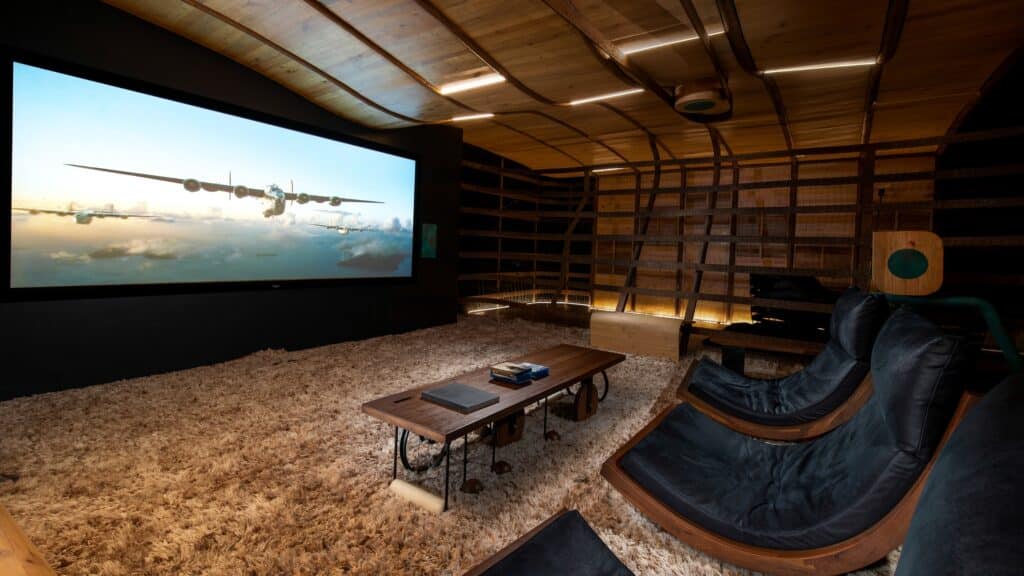 Smart Automation
Lutron Lighting Automation: Lighting plays an important role in the spatial experience of this theatre. It is designed to guide the movement of the visitor through the spaces and control the visibility in order to avoid any visual distractions from unnecessary elements and to help accentuate other senses than just the visual. Lutron Lighting automation is imbibed to control this experience of the space. Various lighting moods have been designed for visitors depending on the functionality.
A Lutron HomeWorks processor and a Universal Phase Cut Dimmer control all of the lights. Using the Home Server Module and Casadigi's unique programming protocols, the lights can be automated in tandem with the rest of the space.
Casadigi Automation: The Casadigi application, combined with the Casadigi Home server and AV Module, controls the complete media system, allowing guests to have a highly smooth experience, obtaining value above normal, and creating an incredible atmosphere for their senses
CasaDigi supports iOS and Android platforms, making it an easy choice for Dhaval and his team. The solution supports wireless media transfers, playback, and search functions that allow visitors to quickly search by keyword, tags, and even location.
Yale Lock (YDR 414 Smart Lock): the team has opted for Yale YDR 414 to ensure the safety of the expensive technology on display at the Evenflow Eternal Showroom. The YDR 414 secures the premises with various access solutions: fingerprints, pin codes, remote control and mechanical keys override.
Benefits of Integration (In a Separate Box)
The adaptability of Dolby Atmos in this home theatre demo setup is one of the major advantages. Dolby Atmos may be played on any speaker arrangement with up to 34 speakers. With additional speakers, audio objects may be placed more precisely. Evenflow Eternal may always improve its system with this option.
There are a plethora of benefits to using high-quality audio speakers in this project.
Kevlar Woofers: The strength of Kevlar helps deliver a smooth and accurate response. The Kapton voice coil former and butyl rubber surround ensure that these woofers will provide years of consistent, reliable performance.
IR Receiver Knockouts: The loudspeakers feature a mounting provision for a remote-control signal receiver behind the loudspeaker grill. This allows discrete integration with an infrared receiver/repeater system.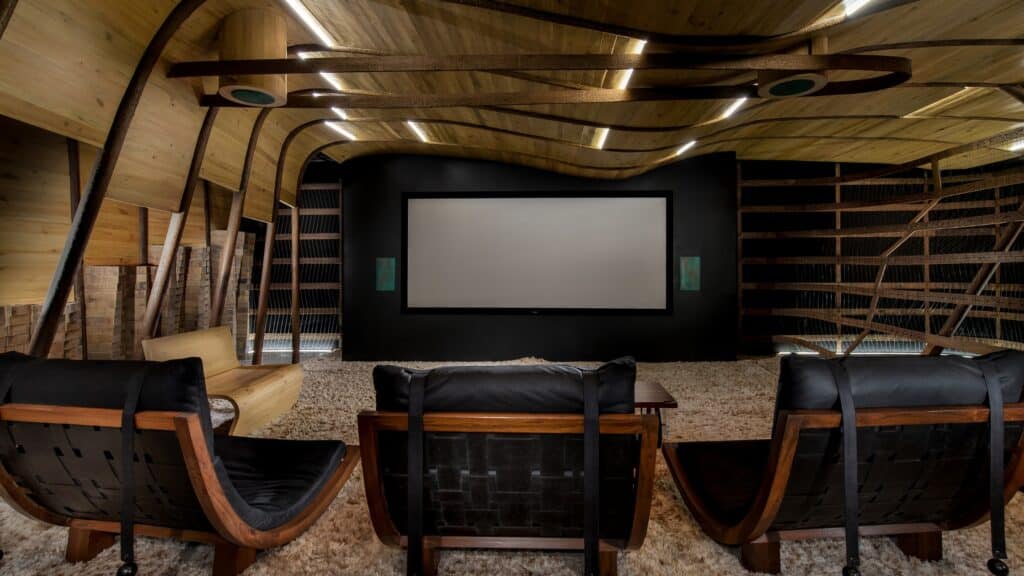 Phase Plug Technology: The phase plug pole piece extension improves driver performance and clarity by deflecting delicate midrange audio out into the sound space and minimising distortion-producing collisions.
Lutron and Casadigi automate the entire area, from start to finish. Casadigi is an AI powered premium entertainment platform that scales to match the visitor's lifestyle and mood. The system is fast to implement and has tools to make it exceptionally easy to manage and troubleshoot remotely. The entire design is simple to deploy, scalable to fit into any space, and flexible enough to address the individual needs of the client.
Experience and Take Away
Clients are blown away by the complete experience when it comes to exhibiting items at the Evenflow Eternal. They are left speechless in this architecturally sophisticated studio space due to the ease of automation, the impact of the audio system, and the stunning picture projection from the projector. The Entertainment system and end-to-end automation integration take the effect of this stunning room to a whole new level.
Advertisement
[adrotate banner="30"]