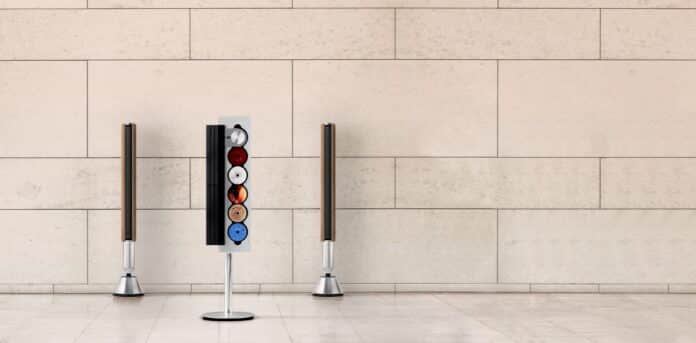 Advertisement
[adrotate banner="23"]
Luxury audio brand Bang & Olufsen has started offering an automatic software update to its new generation of home speakers. From Bang & Olufsen's iconic loudspeakers, music systems, and turntables of the 1980s to its modern wireless speakers, the new update to Beolink makes a generation of products across decades work seamlessly together, showcasing Bang & Olufsen's commitment to longevity by providing timeless connectivity between the past, present, and future.
The new update provides a simple way to wirelessly connect new Bang & Olufsen home speakers with classic Bang & Olufsen multiroom installations and iconic Bang & Olufsen products through decades of Beolink innovation.
Advertisement
[adrotate banner="34"]
"Bang & Olufsen first invented multiroom 40 years ago and we're pleased to announce our continuation of expertise in this field with our new software update that makes products launched decades apart work seamlessly together. Beolink Multiroom is built for the future and enables all our network-enabled products to be seamlessly connected, played, and controlled together across rooms. It also brings intuitive features that make starting a musical moment easy, such as One Touch to Music and Touch to Join. These features elevate your multi-room music experience and allow for greater control over your entire entertainment set-up which can grow with you over time", says Christoffer Poulsen, SVP of Product Management & Brand Partnering at Bang & Olufsen.
Bang & Olufsen's long-standing commitment to connectivity and compatibility has been a key differentiator since the early 1980's when the company pioneered multiroom audio technology with the launch of Master Control Link. In 1986, Bang & Olufsen introduced Beolink Multiroom which provided compatibility throughout all generations of its products and is the only multiroom audio company with 36 years of ensuring compatibility at the system level.
Now, Bang & Olufsen is celebrating 40 years of industry-leading multi-room by introducing Beolink Multiroom technology for its latest Audio Technology Platform in Beosound Balance, Beosound Level, Beosound Emerge, and Beolab 28. This brings Beolink connectivity to its latest technology platform, bridging Bang & Olufsen's longstanding heritage of connected products from 1986 and spanning different technologies and music formats including turntables, CD players, Mp3 media to the latest streaming media and music services. This showcases Bang & Olufsen's commitment to securing future connectivity and supporting longevity. The update offers value to its customers by giving them the freedom to upgrade and expand their collections, with the ultimate goal of ensuring a lifetime of music
As simple as flicking a light switch, One Touch to Music allows listeners to quickly and easily start a musical moment without using a phone. Users can simply tap on a speaker or use the remote to start playing music from their preferred source, whether it be from a turntable, CD player, or streaming service. The four favorite buttons offer the simple tap to choose preferred music experiences that are easily tailored for the user during setup in the Bang & Olufsen app.
Whether listening to the radio in the kitchen before heading into the living room or bedroom, Touch to Join allows the musical moment to follow the user wherever they go. By simply touching the speaker or joining via a remote, the music will start playing in a new room without needing to do anything else.
Whether a customer wants to use the Beoremote One, Beoremote Halo, or the Bang & Olufsen app, Beolink integration allows listeners to control all speakers and their entire home through their preferred choice of product.
Beolink Multiroom is now available on Beosound Level, Beosound Balance, Beosound Emerge, and Beolab 28. The software update also offers connectivity to Bang & Olufsen music systems on previous Beolink Technologies to integrate seamlessly with today's Beolink enabled products.
About Bang & Olufsen
Bang & Olufsen is a luxury audio brand founded in 1925 in Struer, Denmark, by Peter Bang and Svend Olufsen whose devotion and vision remain the foundation for the company. 
Every Bang & Olufsen product is still characterized by a unique combination of beautiful sound, timeless design, and unrivaled craftsmanship. The company's innovative and progressive products are sold worldwide in Bang & Olufsen stores, on bang-olufsen.com, and in select retailers. for more information, please visit https://www.bang-olufsen.com/en/int
Advertisement
[adrotate banner="30"]