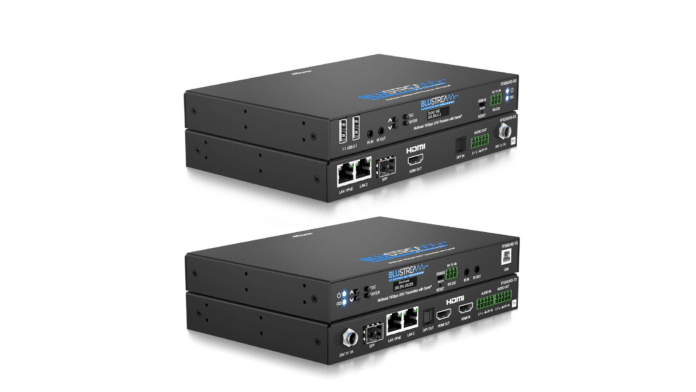 Advertisement
[adrotate banner="23"]
Blustream, a leading innovator in AV distribution, is set to showcase its cutting-edge range of video distribution solutions at CEDIA Expo 2023, taking place in Denver. The company will be stationed at booth 3612, where they will introduce their latest offering, the Dante-enabled IP350UHD video over IP system. This system is capable of transmitting up to 4K UHD content at 60Hz, supporting HDMI 2.0 18Gbps with a 4:4:4 ratio over a 1Gb network. Additionally, Blustream will present a wide range of matrix solutions, catering to various project requirements, including the 8×8 HMX88-18G HDBaseT™ matrix switcher, which boasts uncompressed 4K UHD resolution at 60Hz and 4:4:4 clarity.
Jason Fitzgerald, Product Manager at Blustream, expressed enthusiasm about the event, stating, "We are looking forward to showcasing our full line at the CEDIA and Commercial Integrator Expos in Denver. We'll highlight solutions addressing both residential and commercial applications, and give dealers the opportunity to learn more at our training session on Friday, Sept. 8, at 11 a.m. in room 709."
Advertisement
[adrotate banner="34"]
At the expo, Blustream will present its extensive family of video over IP solutions, spanning from the 1080p Contractor series to the IP500UHD-TZ, designed for SDVoE over a 10Gb managed network transceiver. Notably, the Dante-enabled IP350UHD transmitters and receivers will be featured, enabling the transmission of 4K UHD content at 60Hz with 4:4:4 HDMI 2.0 and HDR support at 18Gbps over a 1Gb network. The flexibility of Blustream's video over IP solution, offering multiple configuration options, makes it an ideal choice for various installation types. Leveraging lossless compression technology, this solution delivers HDMI, IR, RS-232, and USB/KVM signals over distances of up to 100 meters using a single CAT cable. Moreover, the IP350UHD-TX and IP350UHD-RX are capable of supporting both 4K UHD 60Hz 4:4:4 video and Dante audio distribution on a single network, with the option for separating the Dante audio network interface from the video over IP network. These devices can be powered via PoE or locally and seamlessly integrate with leading automation brands through the Blustream ACM210 control module.
Blustream also caters to various matrix needs, from the Contractor series to the Platinum 8×8 HDBaseT AV Matrix. A new addition to their lineup is the HMX88-18G 8×8 HDBaseT matrix switcher, offering uncompromised 4K UHD resolution at 60Hz with 4:4:4 clarity and 4K to 1080p downscaling. With eight HDMI inputs, eight HDBaseT outputs, two HDMI loop outs, and support for IR, serial, and Ethernet with audio return channel (ARC), this matrix switcher provides extensive control options via web GUI, RS-232, IP, and IR. It incorporates HDBaseT 3.0 technology for full support on every output, ensuring high-quality extension and management of HDMI 2.0 AV sources. The matrix also features full Dolby Vision support and pixel-perfect replication of each input on displays. Additionally, it offers Ethernet LAN distribution for smart TVs and audio return channel (ARC) support for distributing audio throughout the home. The matrix switcher's advanced control capabilities, including direct serial control via guest mode, make it a compatible choice with various control platforms, including native control in RTI systems.
Blustream will also unveil the FVE4K-KIT, a 4K HDMI over Fiber Extender Kit with SDVoE technology, enabling uncompressed video transmission up to 4K UHD 60Hz 4:2:0 with minimal compression at up to 18Gbps HDMI. The kit features 10Gb+ SFP+ connectivity for versatile fiber interface options, 1Gbps LAN support, as well as IR and RS-232 pass-through.
In the audio realm, Blustream offers a range of solutions, including Dolby and DTS downmixing options, eARC solutions, digital audio over CAT, and the PAC500AU, which supports analog audio over CAT. These solutions extend signals over impressive distances of up to 1640 feet using a single CAT cable. Additionally, Blustream offers an array of Dante networked audio solutions, featuring the NPA100DA networked power amplifier, DA44AU 4×4 digital audio converter, and a line of encoders and decoders.
For those unfamiliar with Blustream, Mr. Fitzgerald will host a training session on Friday, Sept. 8 at 11 a.m., providing insights into how Blustream delivers solutions that maximize integrator opportunities across the five pillars of AV distribution: extension, splitting, switching, matrixing, and converting. The goal is to demonstrate how Blustream's portfolio addresses each of these aspects to enable integrators to excel in their installations. Registration for the training session can be done through the CEDIA Expo website.
For more information www.blustream-us.com
Advertisement
[adrotate banner="30"]