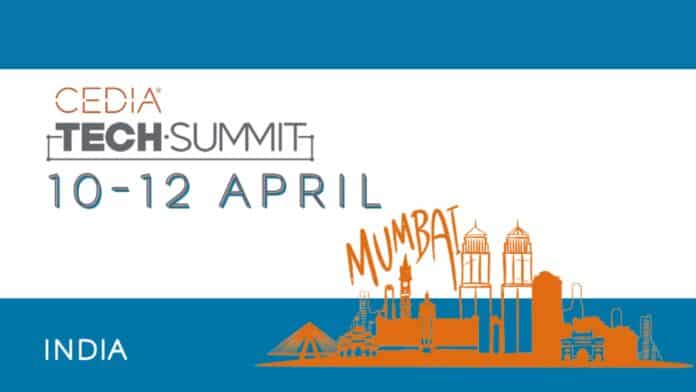 Advertisement
[adrotate banner="23"]
CEDIA brings a packed programme to its CEDIA Mumbai Tech Summit held at the Taj Hotel Mumbai from 10th – 12th April 2023.
The three-day event will provide the opportunity for home technology professionals to learn valuable insights from industry leaders, get face time with participating manufacturers, distributors and key decision makers, and experience the latest innovative and new technologies from the event sponsors.
Advertisement
[adrotate banner="34"]
The Tech Summit kicks off with a CEDIA welcome presentation on Monday 10th April, followed by a range of manufacturer product training sessions from companies, including Cinebels, KEI, Lithe Audio, Genelec, and more who will also be showing off their latest products at the event. Later in the day, selected participants (CEDIA Members & CEDIA Outreach Instructors) will be invited to join a presentation from CEDIA to interior designers and architects.
CEDIA also invites you to join them for reception drinks and dinner from 7.15pm as an opportunity to network with fellow industry professionals.
On Tuesday 11th and Wednesday 12th April, CEDIA experts will be delivering training on topics including: How to Optimise the Video System and the Room for HDR; Small Room Acoustics & Low Frequency Implications; Why Design Professionals are Important for You; Good Lighting Doesn't Just Happen… It's Designed; WiFi6 Next Generation Networks; and, Maximising Your Projects Potential – The benefits of integrating AV with BMS controls.
There is also foundational CEDIA Training taking place with a Cables, Connectivity and Structured Wiring Workshop and Rack Building and Wiring Fundamentals session. Presenters for these sessions include Manoj Soni, Vikas Gowrisetty, Fenil Mehta, Maulik Unadkat and Bhavesh Doshi.
This is a must-attend event for all smart home tech experts. For further information about the event and to register, please click here.
Advertisement
[adrotate banner="30"]