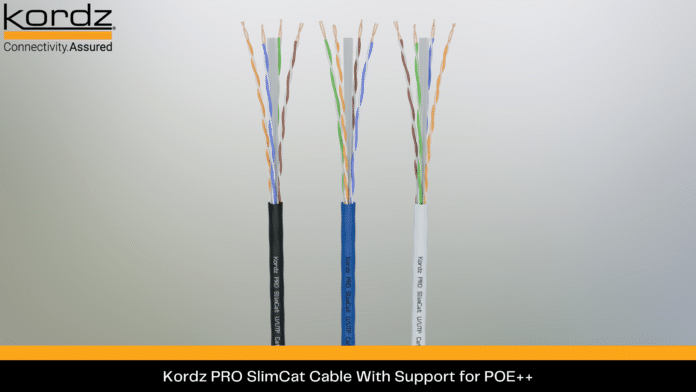 Advertisement
[adrotate banner="23"]
Dedicated to providing systems integrators with the premium cabling products, tools, and support they need to deliver exceptional connectivity to their customers, Kordz has authored a comprehensive, insightful article on the history, evolution, recommended practices, and growing use cases for PoE++ network cabling. This newest generation of PoE (Power over Ethernet) technology offers great promise to systems integrators by delivering more power to high-wattage devices like PTZ cameras, videoconferencing systems, and large displays.
The informative, comprehensive article, PoE Demystified, is available to systems integrators at Kordz official website. Replete with fresh, relevant content, it provides integrators with a strong working knowledge of PoE and how PoE++ can extend the capabilities of a networking system. Covered by Kordz's resident networking experts are the seven steps and best practices for proper PoE++ design and deployment, including power requirements, equipment selection, power loss considerations, system protection, redundancy planning, and more. The availability of the article follows on the heels of Kordz's recent introduction of its new Cat6 28AWG, award-winning networking solution, PRO SlimCat™ Network Cable System, a complete suite of networking products that support PoE++ at 100W and 1 Gbps connectivity up to 50 metres.
Advertisement
[adrotate banner="34"]
"Networks have come a long way since their inception in the late '70s. Network cable technology has progressed along the way, leading us to the next generation of Cat6, Cat6a, and PoE++ compliant cable — solutions that push the boundaries of home and business networks by supporting bigger bandwidth, more reliable and stable connectivity, and delivery of more power to more devices," says James Chen, Kordz Managing Director. "Systems integrators looking to stay ahead of the technological curve should embrace new PoE standards to deliver the networking experiences their customers demand."
As outlined in the article, PoE technology revolutionised the design and implementation of hardwired networks by supporting the delivery of both power and data to connected devices via a single network cable. By precluding the need for traditional power outlets, devices can join the network easily, especially those in areas like the outdoors, where running power is a costly and complicated endeavour. PoE++ boosts the power output to 100 watts so that devices that draw significant power can now populate a network.
For more information about Kordz, its comprehensive line of networking products and range of resources available to integrators, please visit www.kordz.com/new-from-kordz
Advertisement
[adrotate banner="30"]