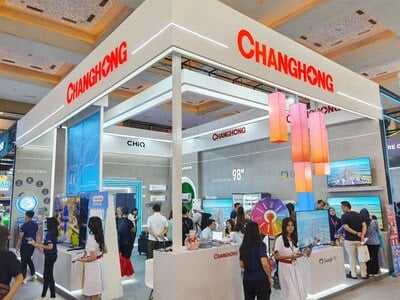 Advertisement
[adrotate banner="23"]
Changhong, an internationally leading home appliance manufacturer, has displayed a wide array of home appliances to exemplify its commitment to technological advancement on the 54th Jakarta Fair taking place from June 14th to July 16th at Jakarta International Expo, including the 98-inch jumbo-screen TV, new Google TV, 360° Pure Fresh Air air conditioners, Space Pro refrigerators, and washing machines.
The 98-inch TV offers a cinema-grade display with 4K resolution and 120Hz refresh rate for an immersive viewing experience. Additionally, the new Google TV is equipped with 4K resolution, MEMC motion compensation, Dolby Atmos, and Dolby Vision for a more engaging entertainment experience.
Advertisement
[adrotate banner="34"]
The 360° Pure Fresh Air air conditioner employs dual-level dust-proof tech with sealed vents to keep out dust particles for a 360° dust-free air experience. It combines oxygen enrichment, air purification, and other features for comprehensive air quality control and user convenience.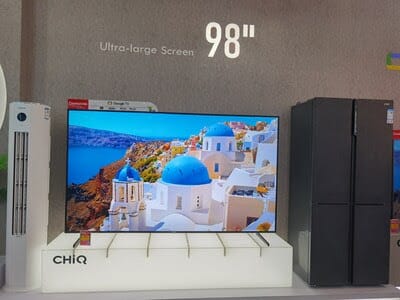 The Space Pro series refrigerators and washing machines incorporate cutting-edge thinning technology throughout their architecture, reducing the overall volume while increasing the effective capacity. By utilizing space efficiently, the device fits comfortably in small spaces with just a 1cm clearance, while offering practicality and a contemporary appeal.
The new Changhong M Fresh refrigerators and wave wheel washing machines were also highlights of this year's exhibition. The M Fresh fridge utilizes water molecule activation preservation tech, which can keep roses fresh for 33 days. The washing machine has multiple core technologies and a one-touch intelligent washing function for convenience. Its dolphin bionic design prevents clothes tangling and inadequate cleaning for an efficient washing cycle.
Coinciding with the exhibition, Changhong debuted the Google TV and wave wheel washing machine on Shopee, while also collaborating with the Tokopedia, Tiktok, and Blibli platforms to offer exclusive cashback promotions to consumers during the exhibition period.
As a gesture of gratitude for the enduring support from Indonesian consumers, Changhong launched the "Buy Changhong, Enjoy Free" campaign during the exhibition, providing shoppers with an opportunity to enter a complimentary lottery and have a chance to win exciting prizes
Changhong has established a strong presence in Indonesia and garnered significant recognition and trust from Indonesian consumers over the past two decades. Its appliances, including televisions, air conditioners, refrigerators, and washing machines, are highly popular and top sellers on e-commerce platforms.
Advertisement
[adrotate banner="30"]