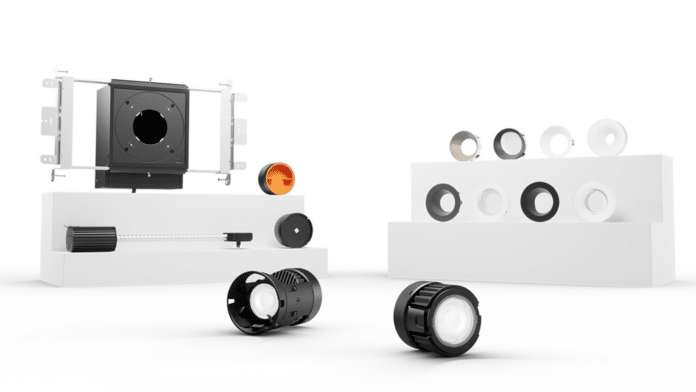 Advertisement
[adrotate banner="23"]
DMF Lighting, the leader in modular downlighting in the custom integration channel, announced the iX Series 2-inch Retrofit Conversion Kits, expanding the retrofit applications available to custom integrators. Eliminating the need to tear up ceilings and remove old housings, the unique DMF solution converts existing 4-, 5- and 6-inch fixtures to a 2-inch opening, creating new sales opportunities for the CI integrators to utilize iX Series products in the residential market.
The retrofit kits are available in three configurations:
Advertisement
[adrotate banner="34"]
4-inch/5-inch to 2-inch conversion, round
6-inch to 2-inch conversion, round
6-inch to 2-inch conversion, square
The round kits are provided with a round collar and mud plate conversion cover, and Square kits come with a square collar and mud plate conversion cover and are compatible with the Standard Flange, Flangeless, and Micro Flange iX Series trims in all colors. "We're excited to expand the new construction and retrofit offerings to our CI channel dealers to allow them additional opportunities to target new customers with a unique solution for converting the old four-cans and fan lighting configurations to a modern, quiet ceiling," said Mike Libman, National Sales Director, Residential Systems, DMF Lighting. "There are very few solutions available in the market to convert existing fixtures to be compatible with popular 2-inch products."
DMF is known for its modular approach to maximizing customization, and the iX Series takes seamless ceiling light integration to a new level with these features:
Precision trims in architecture-grade finishes
Deep die-cast aluminum knife-edge trim options are meticulously engineered in California to provide unmatched precision and exceptionally easy installation. Every element of the iX Series is designed to complement or disappear into any space, creating a modern, quiet atmosphere throughout the home.
Dimming compatibility guaranteed
DMF Lighting's integrated driver was designed in-house to optimize performance and ensure compatibility. DMF guarantees the iX Series to be seamlessly compatible with every major lighting control system, local and centralized.
Match the mood to the moment
Warm Dim gives people the flexibility to choose the light that's right for them by dimming from vibrant, full-spectrum lighting to warm, comfortable illumination.
"The iX Series 2-inch Remodel Conversion Kit is super-easy to install and provides the most even and cleanest edges of any flangeless fixtures we have worked with," commented Russ Pritchard, President of The Audio Warehouse in Charleston, South Carolina.
The new iX Series continues to elevate the DMF brand and solves existing installer issues associated with 2-inch products on the market. As a result, the company opens up new opportunities for installers to delight homeowners and designers alike.
For More Information: www.dmfluxury.com
Advertisement
[adrotate banner="30"]