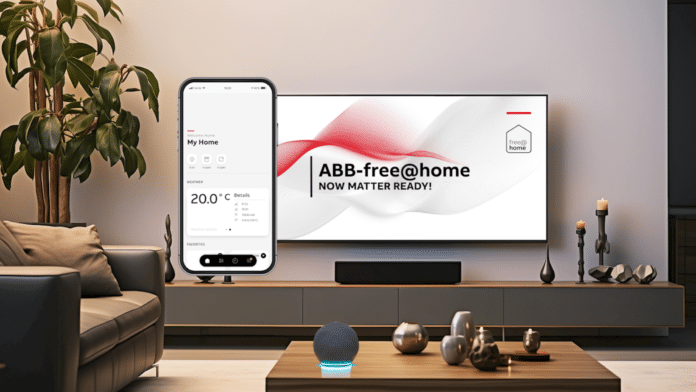 Advertisement
[adrotate banner="23"]
ABB Smart Buildings has announced a significant advancement in its smart home technology by incorporating the Matter smart home connectivity standard into its ABB-free@home® system. This update allows users to seamlessly integrate Matter-ready smart devices and appliances into their ABB-free@home® setup without requiring specialized installation. Matter is the emerging consumer retrofit connectivity standard for smart homes, accompanied by the Thread wireless protocol.
The Matter-ready ABB-free@home® System Access Point was unveiled at the Eve Systems booth during the IFA consumer electronics fair in Berlin. This development comes in the wake of ABB's acquisition of Eve Systems and their joint effort to expedite this integration in response to growing market demand, with projections indicating a doubling of smart home users in Europe over the next four years.
Advertisement
[adrotate banner="34"]
Lucy Han, Head of Global Product Group Building and Home Automation Solutions at ABB and Managing Director of Eve, emphasized the significance of Matter in expanding ABB-free@home®'s connectivity options and promoting interoperability across various platforms. This universal standard aims to facilitate secure, future-proof, and seamless interconnection of previously disparate smart devices and technologies.
The integration of Matter enables ABB-free@home® to be accessed through popular home management apps alongside other smart home devices, offering enhanced control over home comfort, energy efficiency, and security. While ABB-free@home® already supports retrofit capabilities with ABB-free@home® wireless or flexTronics wireless, the addition of Matter further broadens users' choices and allows the incorporation of specific Matter-ready consumer devices without the need for professional installation. At IFA, a demonstration showcased how ABB-free@home® building control system, one of the pioneers in adopting the Matter protocol, seamlessly networks with new retrofit devices, including those from the Eve product range of retrofit Matter and Thread smart home technology.
Jerome Gackel, CEO of Eve, emphasized that Matter enables the combination of building automation and retrofitting solutions, offering installers and customers greater flexibility in design options to create safe, smart, and sustainable homes and buildings.
This Matter enhancement is applicable to all ABB-free@home® models manufactured after 2018, and customers can update their devices with a free firmware upgrade for the system access point. Moreover, ABB-free@home® can now integrate with other Matter-compatible technology from major brands such as Apple, Google, Amazon, and Samsung, enhancing interoperability and potentially increasing the adoption of smart home technology among users.
For More Information www.abb.com
Advertisement
[adrotate banner="30"]